Durham Lords women's volleyball head coach, Tony Clarke, continues to lead the Lords to success…even through a pandemic…and even when the team is rebuilding.
In his sixth season as head coach of the program, Clarke holds a record of 118 wins and 40 losses. The Lords have just completed a perfect 8-0 Ontario College Athletic Association (OCAA) regular season and are 18-6 overall throughout pre-season and tournament play. (The Lords start the OCAA playoffs later this week, with dates to be announced.) The Lords have done this with a roster featuring eight rookies out of the 12 player team.
As a result, Clarke views this season as a "transition year.
"We just want to get them used to playing with each other… results are a bonus kind of thing," he said.
This season had a delayed start, but the team played in a few exhibition tournaments before the season and won the Adidas Cup at Durham College without losing a set.
Clarke hasn't had to change much about his coaching due to the pandemic, but adjusts his coaching playbook to get the most out his players.
"Every year my style somewhat has to adapt to the athletes that I am coaching… some athletes I can push a little harder, other times some athletes would need a little more attention to detail," said Clarke.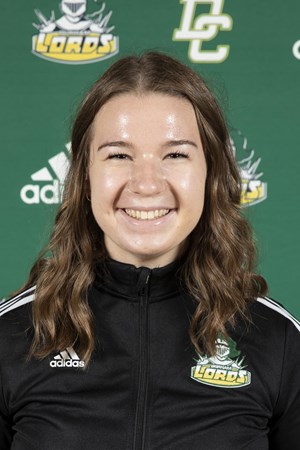 Mia Hildebrandt, of Winnipeg, Man., is one of four players who have played college volleyball before this season. She was a recruitment signing out of the Northern Alberta Institute of Technology.
The pandemic has brought more guidelines to OCAA games. Players and coaches need to be tested either the day of or the day before games and they must be negative to participate.
"He's done a lot for the COVID process to be easier for our teams moving forward and he's always working hard to make sure all of us are safe and ready to play," said Hildebrandt.
"COVID or not we are always looking for a seamless transition for our out-of-province athletes…it (DC) is almost like a second home for all of us," said Clarke.
Clarke checks with all the players on a personal standpoint and ensures the three other out-of-province players feel at home, said Hildebrandt.
"He truly cares for every person on this team and wants the best for us on and off the court. He pushes us to be both better players and people," said Hildebrandt.
"It's an incredibly supportive team and that starts with Tony [Clarke] as he sets the tone and culture for us."