While some Durham College (DC) students have been able to attend their programs entirely online during the pandemic, that has not been the case for those in the Dental Hygiene program.
In addition to a few online classes, Dental Hygiene students have had to provide in-person services to the community for free since the beginning of the pandemic.
"We had the clinic running seven days a week and 12-hour days," said Jennifer Kellett, professor and program coordinator.
"We needed to ensure that the students all graduated with the experiences that previous graduates had, so we needed to ensure they had the correct number of hours, and that they saw all the required clients."
Since the program is registered through the College of Dental Hygienists of Ontario, it is necessary for professors to demonstrate graduating students are just as competent as the previous graduating years prior to the pandemic, Kellett said.
Kellett, 48, credits her students with responding to the increased operational hours of the Dental Hygiene clinic, which were put into place to ensure the students met the requirements of working on patients.
Fiona Weeden, 23, a student in the Dental Hygiene program in her third semester, had to do the bulk of her early learning online. Although she is currently on campus doing clinical work, she said there are some pros and cons when it comes to learning virtually.
"It's nice that everything was recorded. So if you were studying and wanted to look back on something, you know, the lectures are all there," Weeden said. "But definitely not being able to connect as much with classmates or with professors it makes it a little bit harder."
Mental health has also played a major role in the pandemic affecting students and teachers. For Weeden, sitting in front of her computer at her desk all day took a toll.
"It's definitely starting to get better now that we can have a little bit more normalcy and get back to in-person learning or more at least than we were before, but it was really hard learning online," she said.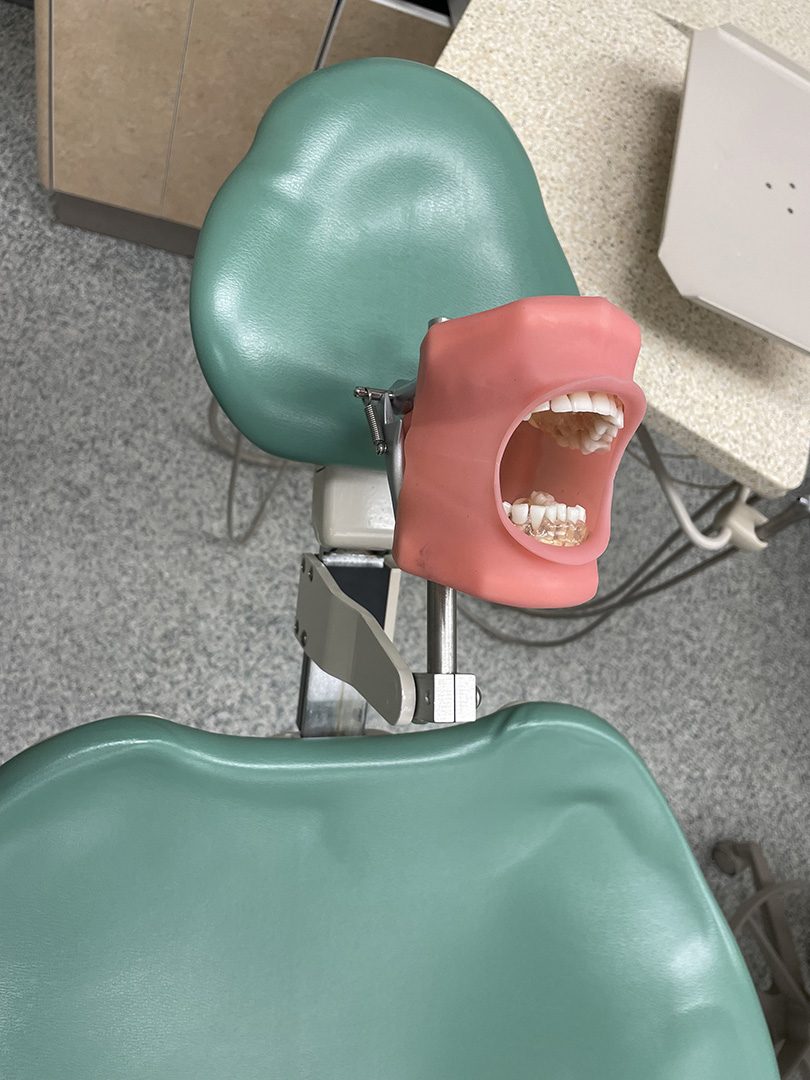 Students in the program start working at the clinics in their third semester. They do assessments, examinations, come up with a treatment plan for their clients, perform cleanings, polish and give oral hygiene instructions. Since it is a requirement, students have been back on campus since July of 2020.
"As faculty, we're teaching the theory and clinical courses in the dental hygiene program. Working as a coordinator, there's a lot of oversight that needs to happen, because we have client care clinic, where we're offering services to the public," Kellett said.
Because of the pandemic shutting everything down in March 2020, the dental students were delayed a semester, Kellett said. Because of that, students were back on campus in July of 2020, working with clients in clinics by August and working seven days a week to complete their required pre-clinical skills.
"We needed to recover a lot of missed time that happened between March and August, in terms of all of the client care hours," Kellett said. "We were running our clinics seven days a week until we finally got caught up and so it was very busy for us."
Kellett said the dental hygiene program was prepared in some ways for the pandemic and adjusted precautions to provide care safely.
"We had such clear processes that really followed strict infection control guidelines, it was really just enhancing those as we needed to, to ensure that everybody's protected," Kellett said.
For Kellett, it was challenging at the beginning of the pandemic because of all the unknowns. Having to plan when provincial policies were constantly changing made it difficult, Kellett said.
"Seven days a week was tough. There's no break, there's never a break. And so that was, I think that was definitely a tough time. But, you know, I'm really happy that we're able to get through," Kellett said.
"We had such clear processes that really followed strict infection control guidelines, it was really just enhancing those as we needed to, to ensure that everybody's protected," Kellett said.
In 2004, Kellett graduated from the Dental Hygiene program at DC. She then went to Brock University to get her Bachelor of Education, graduating in 2015, deciding she had an interest in teaching. Kellett started working part-time at DC in 2008 until becoming a full-time faculty in 2016.