A team of event planning students at Durham College (DC) has won a major international award. They placed first among 12 schools in the Professional Convention Management Association (PCMA) North American Student Challenge, held virtually due to the pandemic.
Second-year event planning students Naomi Brock, Michelle Corradetti, Emily Last, Nicole Rayment and Ryan Windsor along with Professor Christine Baily are the winners of this year's challenge. It was the first time DC competed and they were the only Canadian post-secondary school to participate.
The Durham team submitted a 64-page proposal. The group earned top marks for building an event proposal aimed at combatting human trafficking. The task for the competitors was to build an event proposal that focused on educating the hospitality industry on the impacts of this real-life issue.
"Combatting human trafficking and human trafficking in the events industry is a very deep subject with lots of information to learn so that consisted of a lot of research as well through the process," Last says.
The event was a one-day conference for hospitality and tourism professionals, groups and students to come and learn about how human trafficking impacts each of those three sub-sectors of the hospitality industry.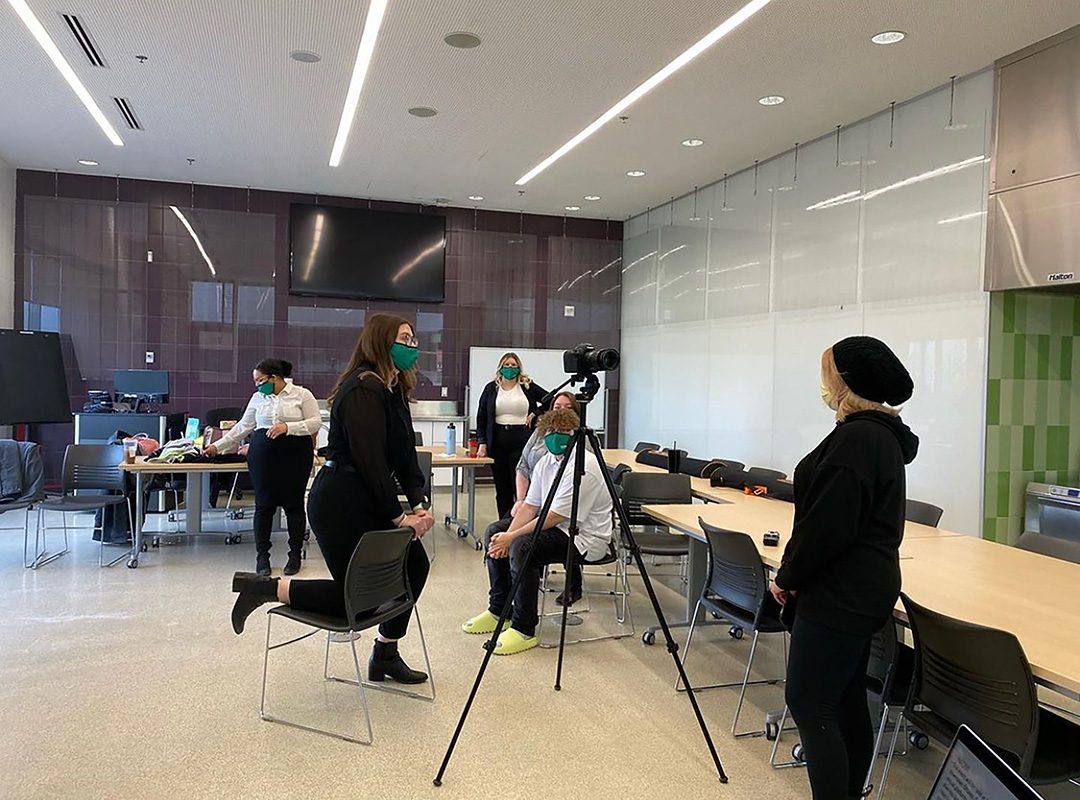 The students virtually presented their proposal to event planning professionals which was broadcast globally. Since not all DC team members were able to attend the live presentation, Last and Corradetti answered questions from the judges and were selected as the winning group.
Corradetti says it was "exciting" but also very "nerve-wracking" not knowing how many schools were submitting proposals. The team also had no idea they were the only Canadian entry until they won.
"We were unsure of how many schools were submitting their selves and how many people were submitting their proposals but once we found out that we were one of the top finalists, it was an incredible feeling," Corradetti says. "Personally, I jumped up and down. I'm sure everybody else did, too."
Last says making the proposal was a month-to-month process that started in September and was submitted in November. The team heard back from PCMA in December about being among the finalists.
Originally, some parts of the challenge were given as an assignment in the first semester. "Christine, was the one who said, 'you know what?' This is a great submission," says Last. "She helped us with some editing and then encouraged us to be able to submit this proposal."
Since the pandemic already taught the students to work in a virtual environment, it was already familiar to them.
"It wasn't any more or less difficult," Last says, adding they would have preferred it to be in person, but they have all learned to communicate and work independently to make things work during these times.
"It was just that we knew the circumstances that we're in and we took the opportunity and ran with it, and we didn't make any excuses, either. You know, it wasn't like, 'oh, it was too difficult, or we can't do it because it's virtual or we're not going to make this happen because we can't meet face-to-face'. The five of us were very eager, very motivated, very determined to be like you know what? This is a competition, and we want to win. Whether we are together in person or not," Last says.
Winning the PCMA Student Challenge has "put these students on the map," Baily says.
The students are proud of what they have achieved and where it can take them in the future.
"PCMA is such a well-known events professional association but the fact that we were the first and only Canadian team to do so, it does stand out and I think that helps us towards our career growth in the future," Rayment says.