Varsity athletes at Ontario Tech University come from all over Canada. A couple of student-athletes from beautiful British Columbia found themselves discovering Ontario for different reasons.
However, one thing rings true for both of them: They miss the nature and rugged beauty of their home province.
"It's different at home," Brooke Vial says. "There's the forest and you look through the forest and you see the mountains."
Vial has been a goalie for the women's hockey team at Ontario Tech since she moved to Oshawa from Port Moody, B.C., in 2017.
She was born a natural on the ice and hockey was her obvious sport from the beginning.
"My parents always joked that I took my first steps in hockey skates," Vial says.
Vial's parents were born and raised in Ontario so when it came time to go to university she started looking at schools in the Greater Toronto Area. She was in contact with recruiters from University of Toronto, Ryerson University and York University.
Then one day she got an email from the Ridgebacks women's hockey team and the rest fell into place.
"I came out here all the time to visit extended family," Vial says, who adds she misses the amount of rain out west and seeing the mountains every day.
Vial has also missed playing regularly this season, as the Ridgebacks schedule has been put on hold due to COVID-19.
The mountains of British Columbia were also an important part of soccer forward Ashlynne Koly's childhood growing up in Whistler, B.C.
Koly says she grew up in a family that was always skiing, "literally anything outdoors – anything on a mountain."
Having played soccer throughout her childhood and high school career, Koly had her eyes set on going to an American college on scholarship. However, that shifted in 2016 when she tore her ACL.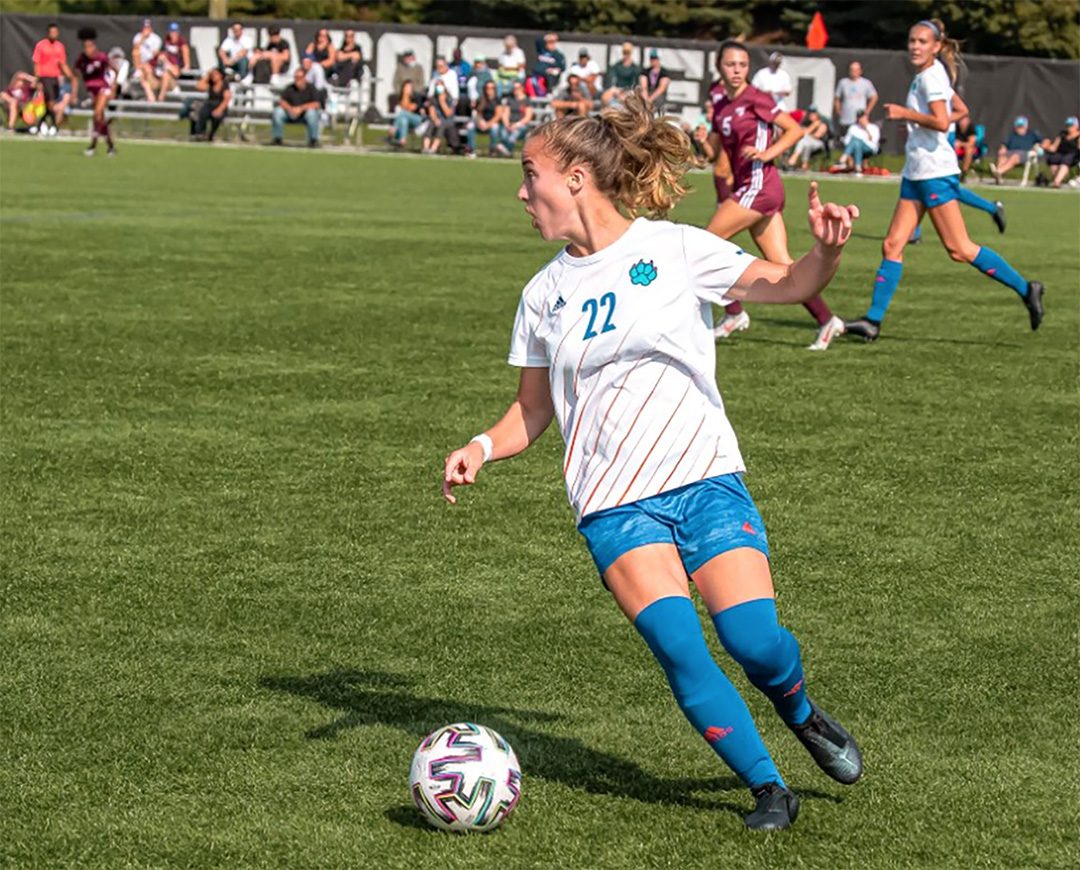 Koly's knee injury ended her search for an opportunity with an American school.
"I wasn't getting a lot of contact with coaches during my recovery," Koly says.
Then in April 2018, Koly was playing at the Vancouver Whitecaps Showcase when the coach of the Ontario Tech women's soccer team ended up sitting beside her dad in the stands.
"It was funny because my dad had no idea who it was, they don't really try to stick out," Koly says.
The conversation between the coach and Koly's dad turned into a chat about Ontario Tech's varsity soccer program when the coach realized the man he was talking to had a daughter on the field.
A month after that Whitecaps Showcase, Koly came to Ontario for a tour of Ontario Tech's campus and signed with the Ridgebacks while visiting.
Koly scored one goal for Ontario Tech during the fall, 2021 season against Queen's.
Koly says she came to Ontario Tech "purely for the experience", being close to a major city like Toronto, there is a lot more to do and more culture to experience.
"There's just more stuff out here that it's kind of cool to experience I think," Koly says, "especially in your 20s."
Koly's friends from B.C. have come out to visit her during her time at Ontario Tech.
She says they all agree, "one aspect of home that I think you can't really replace is the nature."