Co-written by Cheyenne Jarrett and Emily McPhail
"No one is safe there right now."
That's Olesia Loeffen's reflection on the ongoing war in Ukraine.
The student from Zaporizhzhia, Ukraine, south of Dnipro River, is studying Accounting – Business Administration at Durham College and works as a security guard on campus. She's been living in Canada for six years with her son and daughter. The rest of her family is still in Ukraine.
Her mother and sister are hiding in their basement from bombs, while her brother is protecting Kyiv, the capital.
"We also didn't hear from (her brother) for several days," Loeffen said. "I have all my family in Ukraine. I didn't hear from my grandparents for a week. Their village was bombed and right now they're surrounded by Russian soldiers."
She said she never expected that this could happen in modern-day Europe.
"It's terrible what Putin is doing right now," Loeffen said. "People said after World War Two, never again, and we have this again. It's crazy."
She said what's happening in Ukraine is "war."
"We try to avoid the word 'conflict' because Ukrainian people think that it makes it less important. It's a war," Loeffen said.
Loeffen said she was "mentally dying" and couldn't sleep for 10 days during the first two weeks of Russia invading Ukraine. For her, continuing school was impossible.
She met with professionals at the Campus Wellness Centre during this time, and said her professors supported her through her studies.
"My professors were amazing. They posted an announcement on DC Connect and said, 'Guys, Olesia needs some sleep so let's not have classes today.'"
Loeffen has been helping refugees through the Ukrainian Canadian Congress since the war started in late-February. She helps them connect with people willing to house them for free.
She said she has also received a lot of help from the college.
Durham College president Don Lovisa said the college contributed to a donation of $200,000 to UNICEF's Ukraine Emergency Fund, which was "a joint effort" between DC and 18 other Ontario Colleges.
"We are all affected by it," Lovisa said.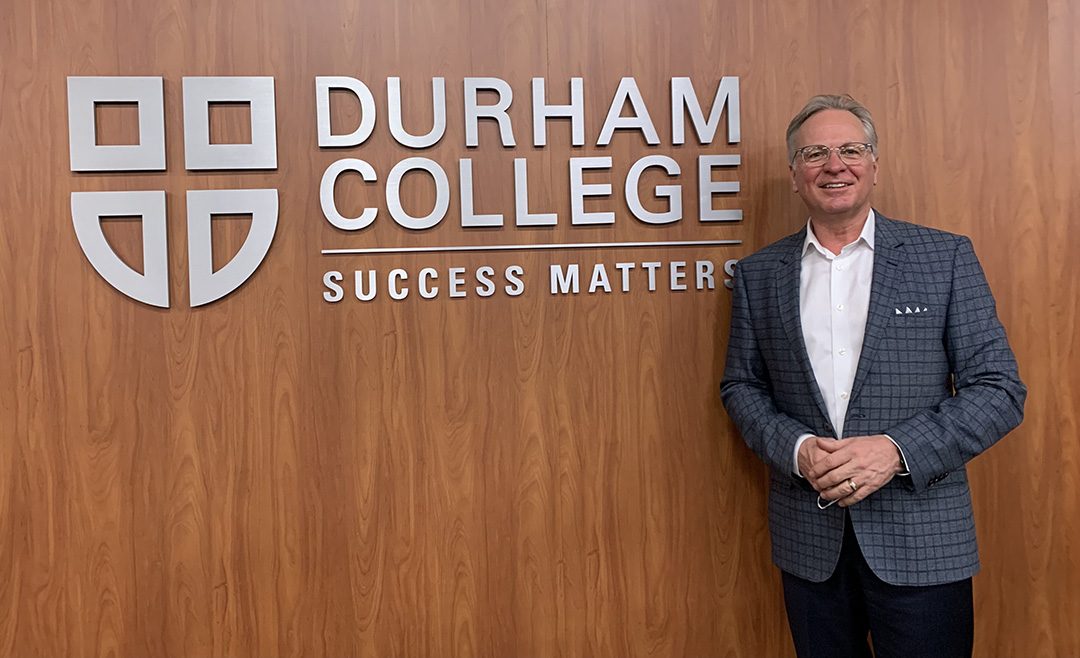 DC plans to set aside 10 dorm rooms to house Ukrainian families, couples, and students as they transition to living in Canada, according to Lovisa.
"It is a small thing that DC can provide to do its part as a college," Lovisa said. "But they have a place to at least land and have a safe place to live until they find permanent accommodations."
The college's International Education Office is also making efforts to support its Ukrainian students and community.
An international student emergency bursary was made accessible to students prior to the war, but Janine Knight-Grofe, director of International Education, said it's a pre-existing framework that supports students in "all types of crisis."
There are currently seven Ukrainian and 15 international Russian students enrolled in the college, according to Knight-Grofe.
She said the Campus Health and Wellness Centre is supporting students with "targeted mental health kits and tools."
Meanwhile, Loeffen said Ukrainian students at the college should use these tools and ask for help if they need it.
"I realized for the first time in my life, I need help," Loeffen said. "Ukrainian people are tough and we're raised with the thoughts that we don't need any help. But I told myself, 'it doesn't matter how strong I am, this time is very hard.'
She said it's important for Ukrainian students to know they're not alone.
"Don't be afraid to ask for help. We have a huge Ukrainian community here," Loeffen said.