As the war in Ukraine continues into its sixth week, Durham Region residents are taking to the streets twice a week to make their voices heard.
Odarka Matyczak, along with Kateryna Rohowska of the Ukrainian Canadian Congress (UCC) Durham Region branch have organized support rallies on the 401 overpass by LVIV Hall in Oshawa every Thursday and Sunday since the conflict started in February.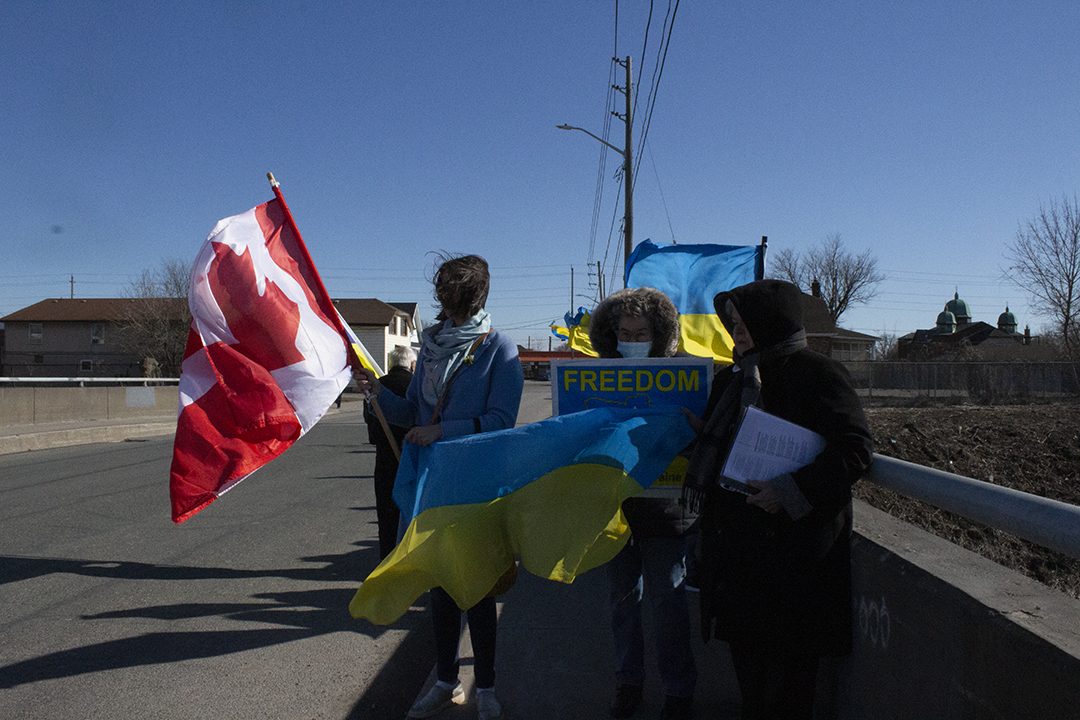 More than 20 Durham residents attended the March 31 rally. Matyczak said at some Sunday events they've seen up to a hundred people gathered on the bridge, stationed between three Ukrainian churches and a Ukrainian heritage centre.
"As long as the war continues, we'll always be thinking of things to do, ways to support Ukraine," said Matyczak, herself a daughter of Ukrainian Immigrants.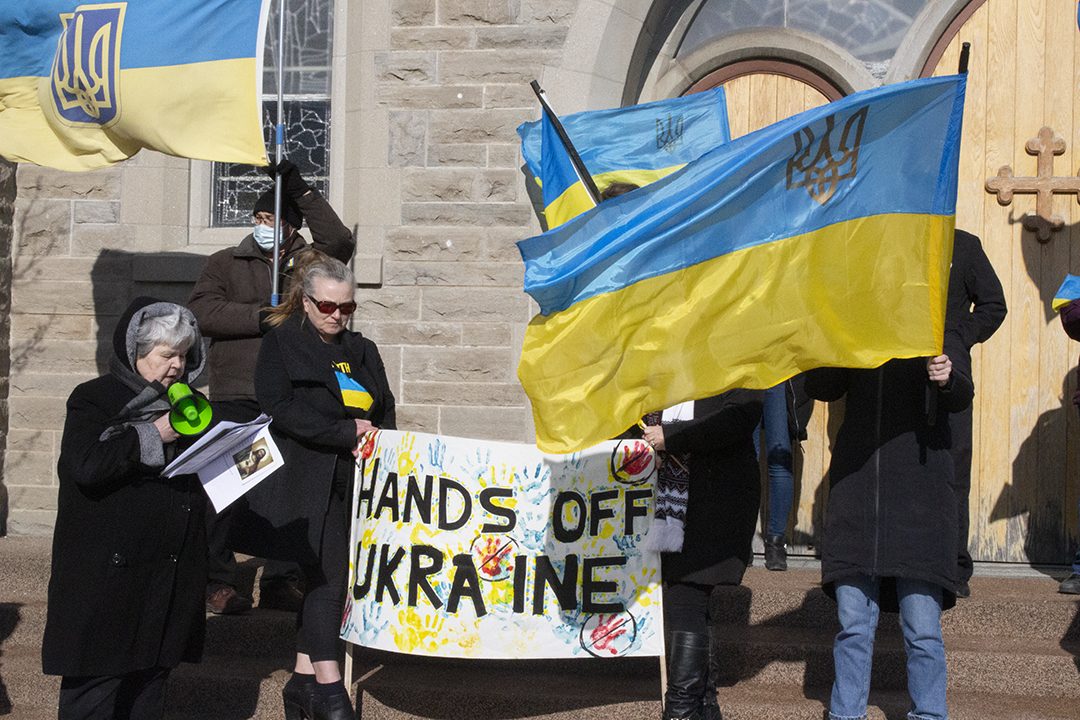 Matyzcak's husband handed out large Ukraine flags to attendees, some of whom dressed in yellow and blue. Others carried signs with 'freedom' printed in English and Ukrainian.
Rohowska wore a blue coat, jeans and scarf, complemented by a blue and yellow flower pin on her chest. She was born and raised in Odessa, Ukraine. Her mother and sister recently fled there, with the exception of her father, who by Ukrainian law must remain and fight as he's under the age of 60.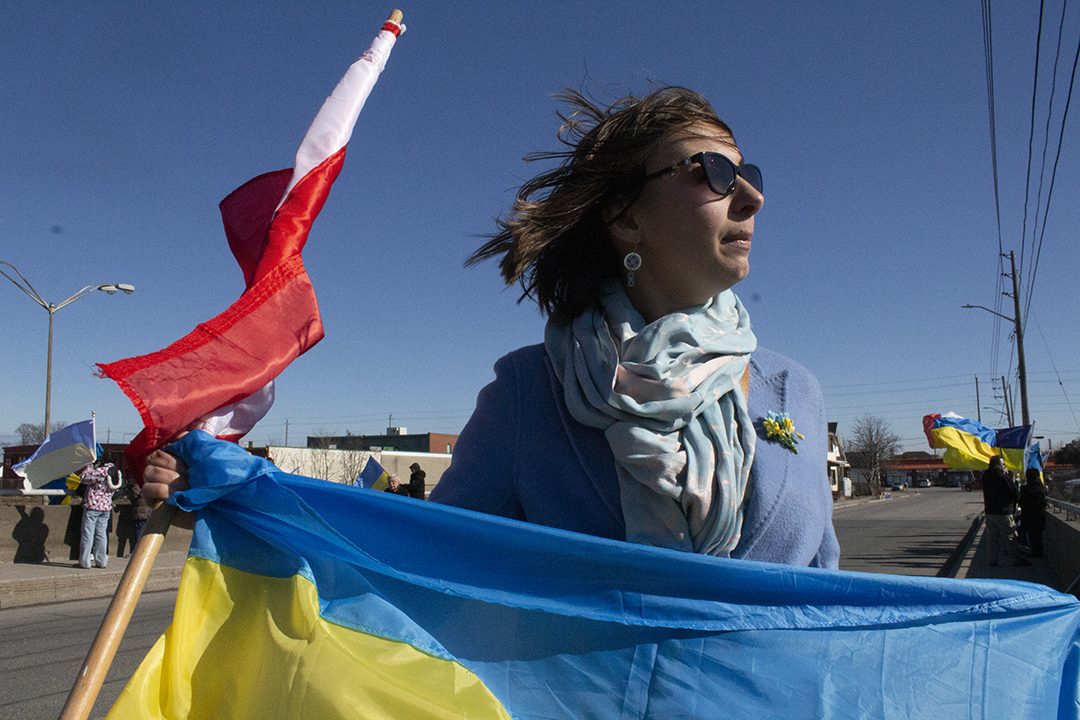 She's worried about her family but trying to stay focused on sending support to the Ukrainian community in Oshawa.
"Now we have a committee that gathers once a week and people from different communities, not only from Ukraine, coming to us and supporting us, giving their skills, their time to help with websites, housing, with education, everything they know and are specialists in," said Rohowska.
The committee, UCC, has gained support since the conflict began, according to Rohowska.
"The community has absolutely stepped up, 100 per cent and above, the Ukrainian churches and organizations, and Durham citizens at large. They've been fantastic, in spite of the weather," said Matyzak, holding tightly to a Ukrainian flag as it flapped madly in the strong winds. "They've been out here."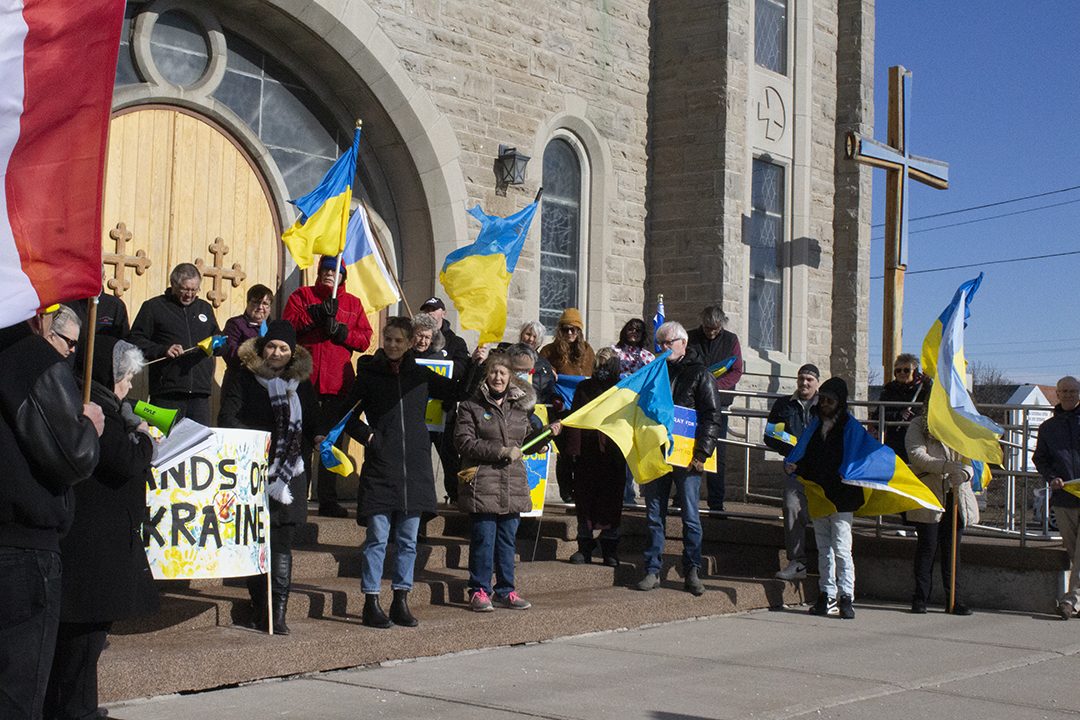 Rally attendee and first-generation Ukrainian-Canadian Orysia Hunter said while awareness about the crisis is widespread, it's important people continue to support Ukrainians as the war rages on.
She said she's worried about how the federal government will handle the surge of Ukrainian refugees. However, she said Durham Region is doing its part.
"We have several groups and organizations in Oshawa right now that are gathering, between the churches, the halls," said Hunter, "even some non-Ukrainian organizations are gathering donations and are helping."
Hunter attends every rally, but it was a first time for John Henry, Durham Regional Chair and CEO.
"I think Canada is doing an amazing job, you can turn on the news every night and find something that is going on somewhere in this great country that is helping the people of Ukraine," said Henry, "whether it's firefighters in Edmonton coming together or people right here in Oshawa and Durham Region standing on a bridge. There is an amazing story of care, help and hope."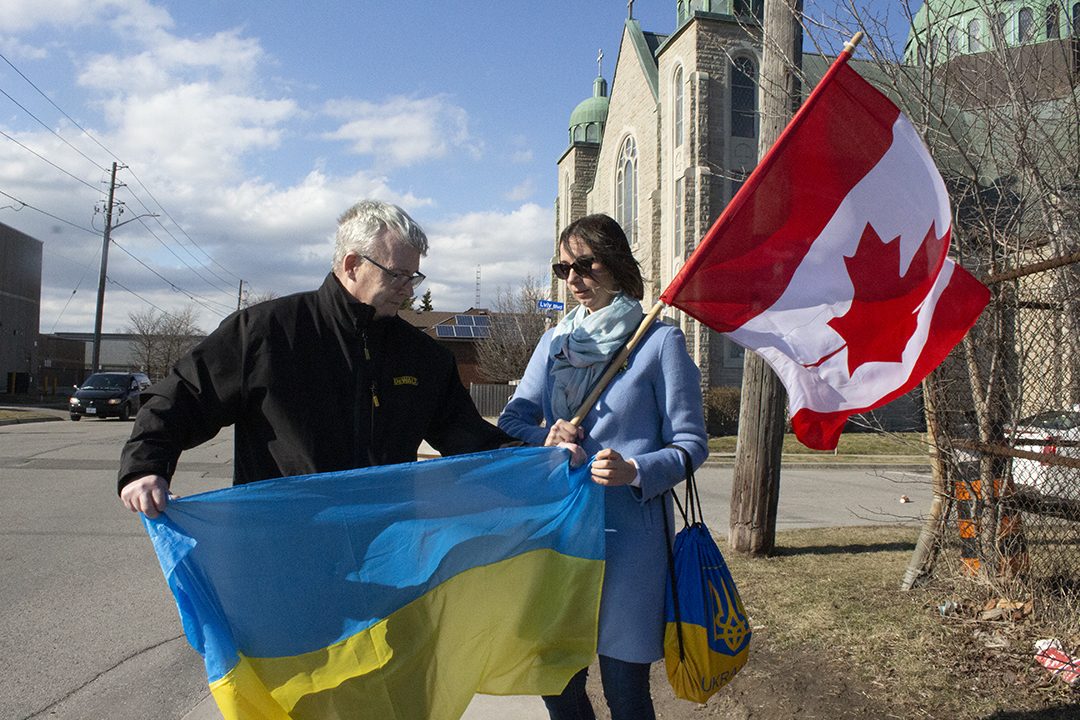 Rallies will continue until the conflict ends, according to Matyczak.
"It's a very emotional thing," she said as tears welled in her eyes and her voice began to crack. "We pray for them, we pray for the end of the war, for peace. To keep them well and strong and never give up. We're with them, all the way."
Henry echoes her sentiment.
"To our families in the Durham Region, we're here to help, to the people in Ukraine, if you choose to come to this part of the world, there is help here for you. We look forward to greeting you with smiles," said Henry.
Rohowska said new members to the UCC are always welcome, whether they have Ukrainian ties or not. For more information, visit their Facebook page @UCCDurhamregion.