After leaving in January to play professional hockey in the East Coast Hockey League (ECHL) former Ontario Tech men's hockey player, Austin Eastman, returned to Ontario earlier this month to deal with lingering health issues.
Eastman played 15 game with the Greenville Swamp Rabbits, putting up 3-7-10 numbers.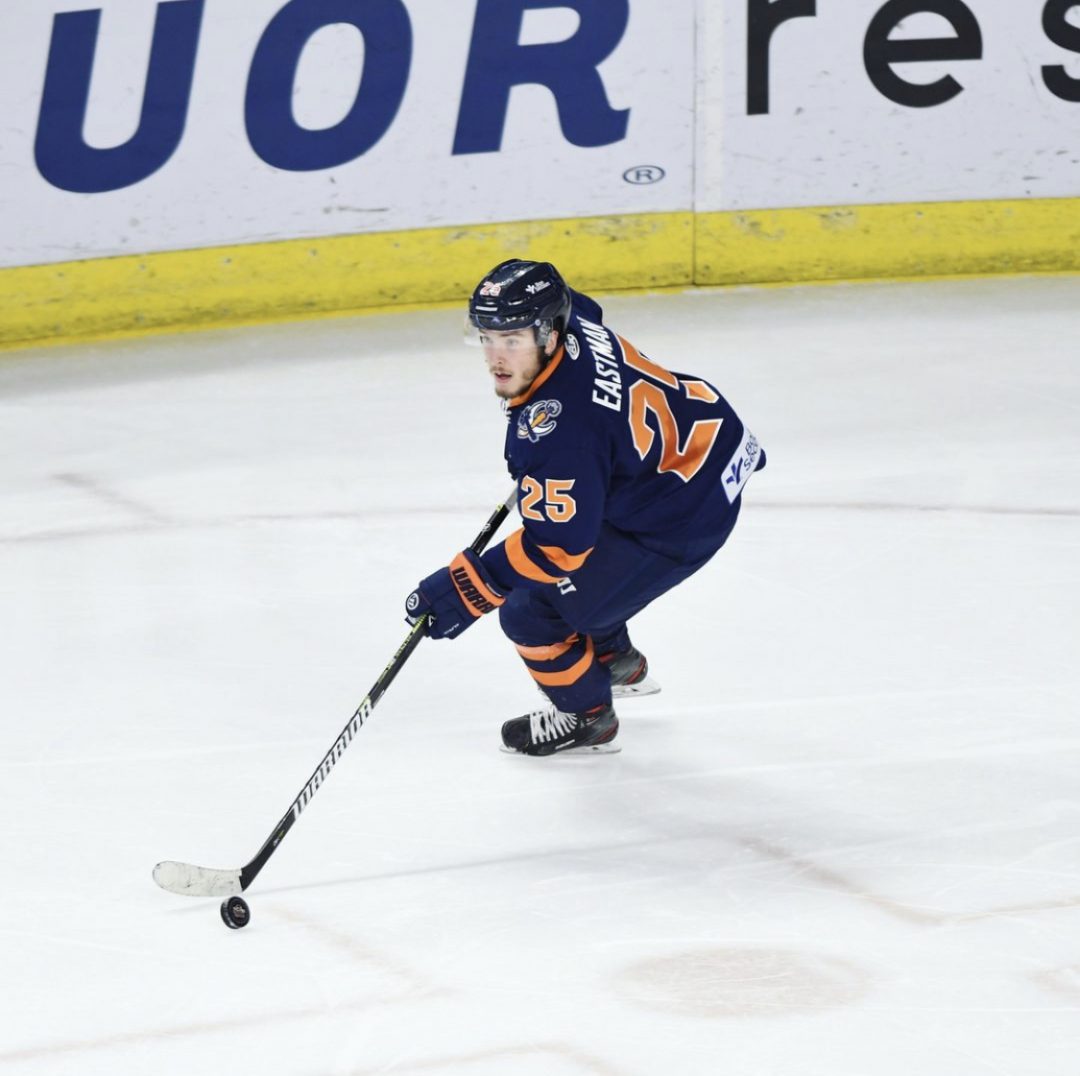 "I was kind of worried of post concussion syndrome kind of stuff, I've had my fair share… With the whole health care system (in the U.S.), the team only covers some stuff, so the rest was coming out of pocket which was a little bit difficult. So I came back to get these appointments done and hopefully find my way back down there," said Eastman.
Upon his return, Eastman attended the Ridgebacks final regular season game of the year, March 12.
Eastman mainly wants to get some physical imaging done in his head, he said.
Eastman was one of four Ridgebacks' players – along with Cameron Hough, Matthieu Gomercic, Michael Bullion – who decided to leave during the Christmas break. They made the decision to leave after Ontario reinstated some COVID restrictions that put a pause on the Ontario University Athletics (OUA) season.
Eastman was an all-star for the Ridgebacks. Before he left, he led the team with 2-8-10 totals in nine games and was close to the top of the league in those categories.
Eastman signed with Greenville to continue his hockey development.
"It was just important that I further my hockey career if the time presented itself and then I got this offer. So, I thought what's better than coming down here [Greenville], getting paid and playing a higher level of hockey," said Eastman.
Since Ontario Tech University has been offering some classes online, Eastman has continued his Commerce program in South Carolina remotely. He is in his final year.
Eastman is nothing but appreciative of Ontario Tech University and his head coach Curtis Hodgins.
"Hockey-wise, it was fantastic from the coaching staff, helping my game develop to the next level and they're really what got me here today. So, it was probably the best four hockey years of my life…it made me a better person, student and athlete," said Eastman.
Hodgins was nothing but supportive of all four players who moved to the ECHL.
"I can certainly understand my seniors and where they were coming from…they've been great Ridgebacks," he said.
Eastman was pleased to come back home and meet up with his former teammates and coaches.
"It made me feel comfortable because those are the guys I spent the last four years knowing, even like the coaches and stuff, they're like family to me right, I've spent so long with them. It's the same kind of people so it's a comfortable feeling to see everyone."
For now Eastman wants to give his head and body the recovery they need, but he will be ready to return to the ice when the time comes.
"I can see me taking this time for myself…the ultimate goal of mine is to be playing hockey. Whether that's at the end of this year or after the summer but that's definitely the goal."