By law, Brenda Jeffs's job took on a new path when the COVID-19 pandemic came to Oshawa.
Both literally and figuratively.
Jeffs is the director of Municipal Law Enforcement and Licensing Services (MLELS) for the City of Oshawa.
When the pandemic brought us into various lockdowns and then capacity limits, Oshawa's municipal law enforcement officers were responsible for enforcing regulations under the Emergency Management and Civil Protection Act.
"Early in the pandemic parks were closed, businesses were closed, so they had to do that enforcement to make sure people weren't on the playgrounds when they're not supposed to be," said Jeffs. "Or that businesses were not open when they weren't supposed to be."
Jeffs said she can't recall a time when officers have ever had to do this, except during the pandemic.
This has evolved into enforcing capacity limits, mask mandates, and more recently making sure businesses ask for proof of vaccination.
"It's been a change for the officers to enforce provincial legislation," Jeffs said. "They've been dealing with pretty tricky and constantly changing situations with COVID regulations."
Jeffs said municipal law enforcement officers worked closely with Durham Regional Police, the Durham Region Health Department and other municipalities to ensure everyone was on the same page with provincial legislation.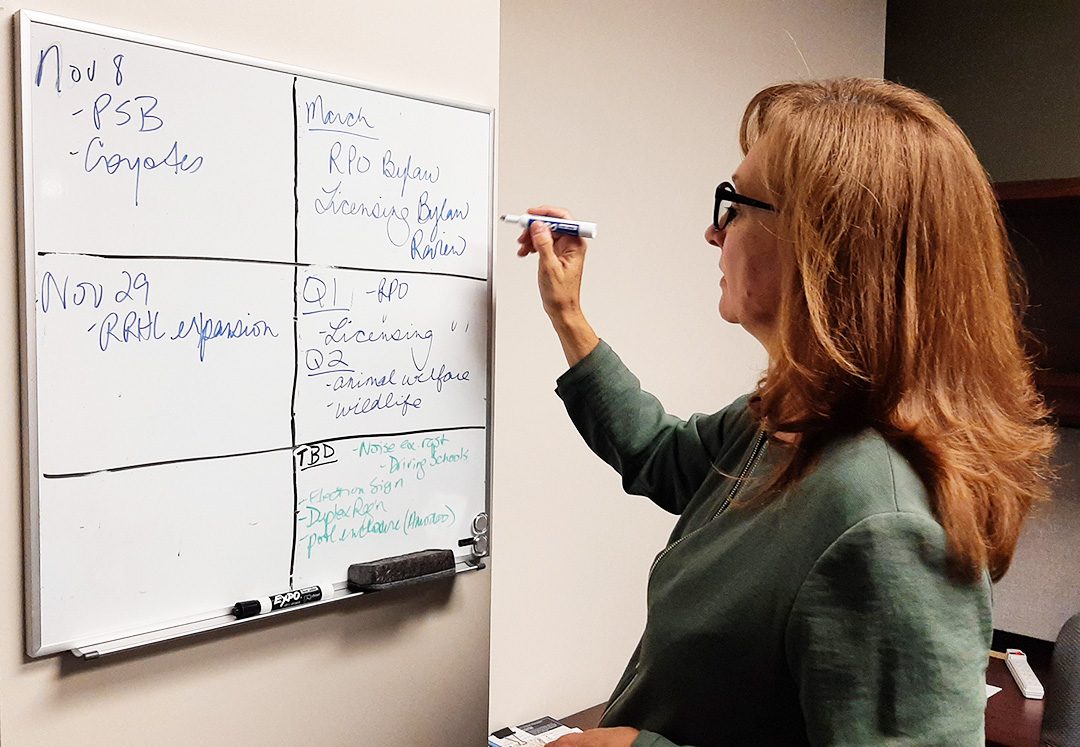 "Fingers-crossed, everything seems to be going in the right direction, and hopefully that's something we won't have to deal with very long into next year," Jeffs said.
At her office door in the MLELS building at 199 Wentworth St. E. in south Oshawa, there's a note with a Bitmoji figure of Jeffs saying, "Call Me Anytime" with her number attached.
Jeffs is responsible for three separate groups: Law Enforcement, Licensing and Standards, and Policy.
Jeffs makes sure each group is implementing Oshawa City Council directions. She believes it's part of her responsibility to look after the well-being of her employees.
"I want them to be a happy and healthy team," Jeffs said.
Before becoming director two years ago, Jeffs was the manager of customer service for the City of Oshawa.
While working as a manager she undertook a project called 'Service Oshawa' which is a one-stop customer service centre located at City Hall.
"Whether someone has a question about their garbage, their local park, or property taxes, there's one number they can call. Those customer service reps are trained on all the different materials and programs the city has," Jeffs said. That number is 905-436-3311 or 1-800-667-4292.
Jeffs said she was instrumental in implementing Service Oshawa and it's something she is "very proud of.
"Service Oshawa was a completely new thing for the city so that was really fun to be involved in implementing something from the ground up," Jeffs said.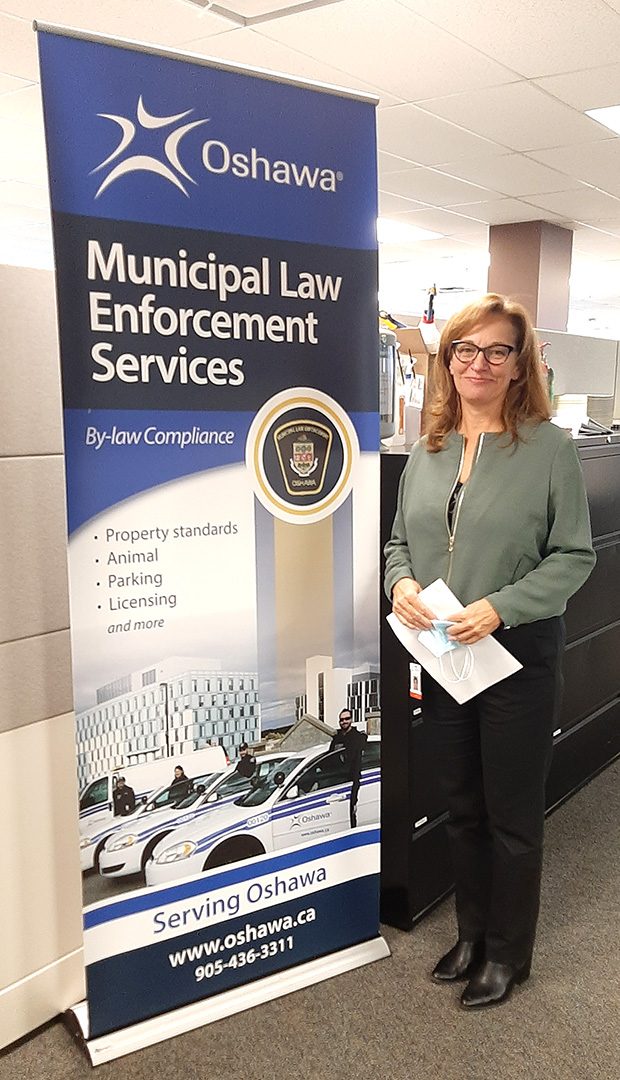 Now that she is MLELS director her department is working on more licensing issues in the coming months.
MLELS recently got city council approval to start licensing Uber drivers.
"Previously taxi drivers had to be licensed but not Uber drivers, and the taxi industry said, 'how is that fair?'," Jeffs said. "So there was a significant public consultation and council finally said, 'yes, we want them all licensed'."
Jeffs said this bylaw should go into effect by January.
Another recent bylaw in Oshawa deals with short-term rentals like Airbnb or VRBO, who now need to be licensed. One of the conditions of this new bylaw is "the owner has to live on the property" and can only rent out rooms in their home.
"This prevents the party houses from happening. Where people rent out a whole house and a bunch of people come in, have a crazy party all weekend, annoy all the neighbours and maybe trash the house," Jeffs said.
In 2020, there was a 20 per cent increase in noise complaints from Oshawa residents compared to 2019, according to a City report. The report shows 964 public complaints compared to 801 in 2019.