It's not every day you walk down the street and see someone writing poems with a typewriter, but for Nicole Bhersafi this is a regular practice.
Bhersafi, 26, is a poet and street artist who writes poetry based on a word or short story, on the spot, for anyone passing by in downtown Toronto.
"I set up my table, my typewriter, I bring a book and some coffee and I just let strangers come up to me and imprint tiny pieces of their lives onto me, and in exchange, I'll write them a poem. That's been the story this whole time," Bhersafi said.
She started her business called The Typist Inc. during the winter of 2017. After going through some mental health struggles she said she had an epiphany one night and decided to buy a broken typewriter off a local trading app.
"I traded a bag of coffee beans for a typewriter," Bhersafi said.
Bhersafi said the first day she decided to try her new business idea was on the Toronto Islands in the middle of December.
"I started in the dead of winter. And in the span of maybe 45 minutes I wrote one poem for someone, because it was December, and nobody was going stop for a poem in December," Bhersafi said. "But I don't know, I got it in my head that I was going give this thing a try. So I did, and I haven't stopped ever since."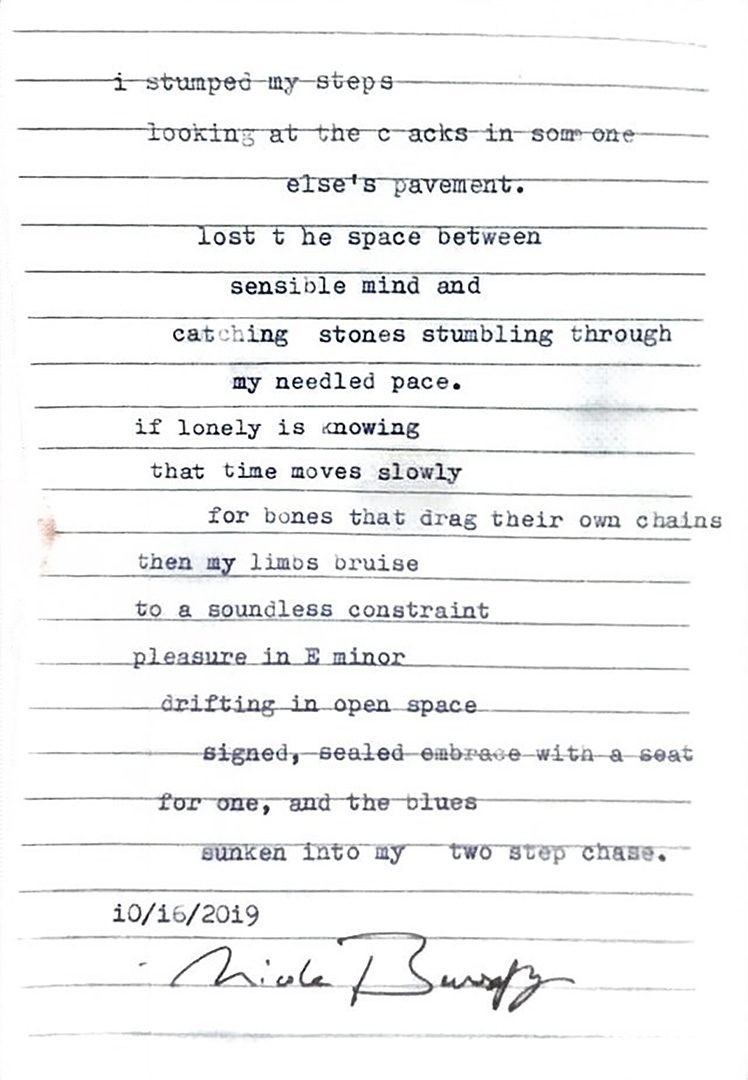 Bhersafi runs her business from spring to fall and is usually at Trinity Bellwoods Park.
"Regular customers will know that I'm there or other people will see me and sort of walk over and ask, 'what's going on?'," Bhersafi said. "They'll tell me a little bit about what's going on. And then I'll write them the piece. And we'll chat. Sometimes they'll read it on the spot, sometimes they want to take it home and do it personally. And then they give their donation."
She said she's been writing ever since she was a kid. Bhersafi initially went to university for English but found it too structured. She then decided to go to OCAD University for Criticism & Curatorial Practice, where she was able to focus on art and creativity.
"I have a pretty lengthy background being around different types of art communities in Toronto. So I would go to a lot of cypher circles where it was really common to throw words at each other and make up poems and pieces on the spot."
Although she's used to coming up with poetry on demand, she still finds she draws blanks sometimes.
"Usually it's because I'm overthinking. If I get someone that asks me for a dog poem, and I don't know their dog, then I'm stumped," Bhersafi said. "So I'll just ask as many questions as I can. And I try to get a feel for who is asking me for this piece and what's going on with them."
Bhersafi said one of the best parts of what she does is being able to connect with other people and their lives.
"Sometimes, most of the time, I never see them again. And other times, I get really lucky. And I have these customers that I see intermittently over like five years and I get to watch their life in these like snapshots."
When Bhersafi isn't on the street, she offers custom poetry and freelance/copywriting services through her website.