Editor's note: Chronicle reporters are examining how select programs at Durham College and Ontario Tech University have responded to the teaching and learning process during COVID-19. Most programs have moved online, but some classes are being conducted on campus.
How does a spa run with no clients? It's a question the Durham College (DC) Esthetician – Spa Management Program had to consider in March, 2020 when lockdown restrictions hit Ontario.
Since then, the DC spa that's normally open to the public by appointment has been temporarily closed.
In a typical semester, students in the program work on outside clients who come into the spa for services such as pedicures, manicures and waxing.
Now students are put in pairs and work on each other, according to Leslie Morris, Spa Manager and Program Coordinator.
"When the students come in, they have to act like they don't know their peers, you have to treat it like a real appointment," Morris said.
Second-year student Janella Panchamsingh, 39, said working in partners is not comparable to dealing with different clients every day.
"The two are completely different," Panchamsingh said.
Panchamsingh said because students are in partners and working on the same person during labs they are not exposed, for example, to working on a variety of different skin types.
The students also don't get any formal training in booking or regularly dealing with new and varied clintele in-person.
According to Morris, despite not being able to have hands-on learning experience booking in-person clients, professors are expected to replicate the procedure with students.
"The faculty are putting together schedules and creating appointment scenarios with their peers," Morris said.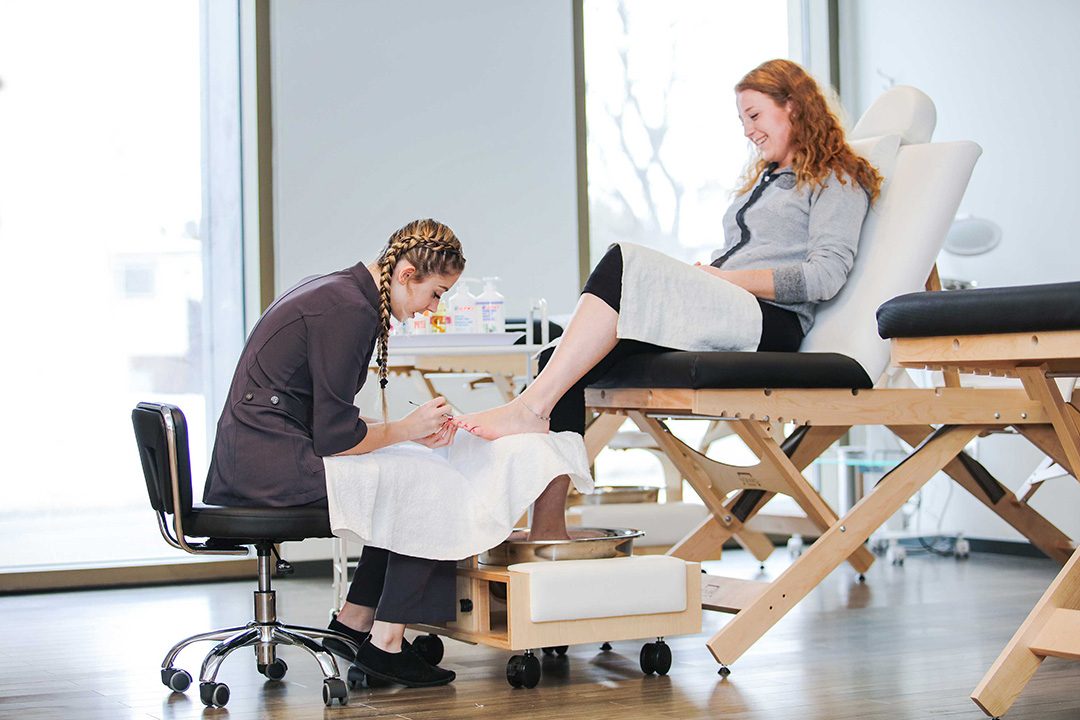 For Panchamsingh, the change has been an adjustment.
"Due to the regulations put in place we can't roam freely to different stations," Panchamsingh said. "Now it's a lot of making sure we follow the lines and where we can walk at which time."
Because of the restrictions from COVID-19, while in the spa students are expected to wear a face mask and shield that's provided by the college and they must fill out a brief questionnaire prior to entering the campus.
"We have to fill out the questionnaire every time we go on campus," Panchamsingh said.
After the form is filled out students receive a confirmation email, which is shown to a security guard. Students are then asked to sanitize their hands before they proceed inside the campus.
The spa itself has also been modified to ensure students are able to follow safety protocols when walking around.
"We have social distancing markers throughout the lab, we have directional arrows," Morris said. "Normally, in a normal lab, they would just be going whichever way they need to go."
Morris believes this change is actually beneficial to students because they can learn to "manage themselves" in an atmosphere that is open.
Enhanced cleaning protocols have also been implemented in the spa. Students are expected to clean and sanitize their own workplace at the end of each lab.