co-written with Luke Mandato
Sitting in the heart of downtown Oshawa, at the corner of King Street West and Centre Street South is a small, locally-owned coffee shop: Oshawa Cafe House.
Walk up the steps and through the large glass doors dividing the hustle and bustle of the city streets, and into a bright, welcoming dining area. The smell of roasted coffee beans and fresh baked goods wafts over visitors even before the friendly staff says "What can I get you?"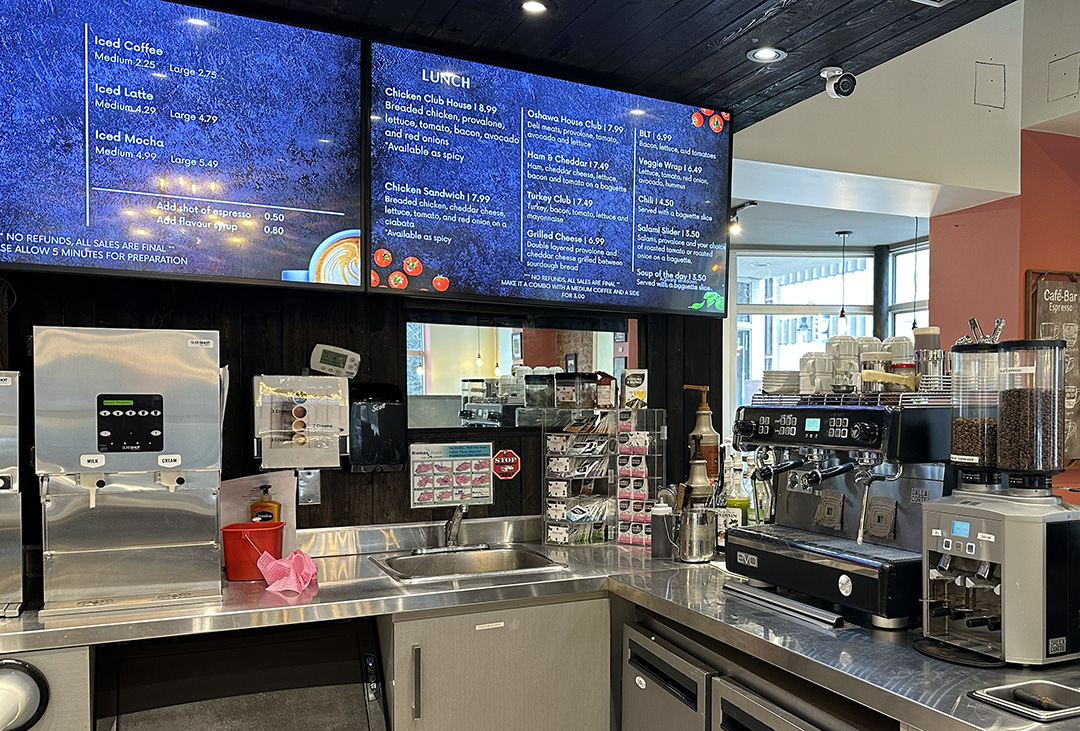 The menu hosts a wide variety of specialty drinks and quick bites, and the surrounding decor of picture frames are filled with local artists' work, which is the most interesting part of the atmosphere.
Local artists and independent coffee shops go hand in hand, and the Oshawa Cafe House is no exception. They are one of many standalone coffee shops in Oshawa supporting up-and-coming artists.
In a city with an art scene so diverse, from photographers, poets, musicians and more, coffee shops continue to provide a space for creators to showcase their talents publicly.
"They come to find us, sometimes it's Instagram ads, sometimes they just come in," said Jessica Normoyle, the manager of Oshawa Cafe House.
Normoyle is the new manager who started last year at the cafe. Her role not only involves pouring the perfect cup of coffee for guests but also keeping an eye out for local talent.
Some of that local talent can be found on the walls of the cafe, with photographs from independent shutterbugs contributing to the overall aesthetic design of the shop.
Currently, there are three artists' work on display in the cafe.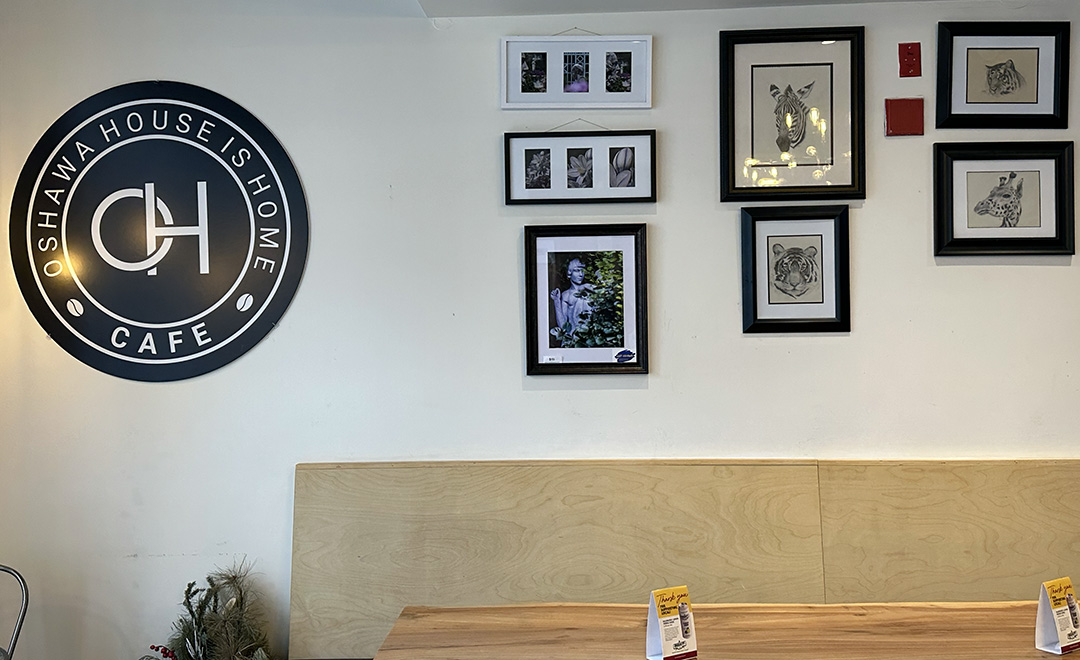 Oshawa Cafe House has multiple support systems in place for local creators of all kinds, not just photographers.
"We try to support and engage the community in any way we can," Normoyle said. "We have trivia nights and even a community board in the cafe that locals can post their events or news on for everyone to see."
Oshawa residents have taken notice of the effort put in by the cafe, with events such as trivia nights drawing crowds of customers to support the business.
These events, when paired with special deals for students, are helping to create the downtown community necessary for the art scene to flourish.
"We have received nothing but positive reviews for our community engagement efforts," Normoyle said.
Matthew Jones, a first-year student in the Mechanical Engineering Technology program at Durham College, is one Durham Region resident who has taken notice of these efforts.
"I think it's important for artists as well as engaging for customers," said Jones, a coffee lover.
Oshawa Cafe House is not the only coffee shop with an interest in nurturing the arts scene in Oshawa and the surrounding Durham Region. Downtown Oshawa has become a utopia for coffee-a-holics and art junkies alike.
Coffeehouses like Isabella's Chocolate Cafe, Cork & Bean, Aves Coffee Co. and Brew Wizards Board Game Cafe are all local favourites in the downtown Oshawa area: hardly the Tim Hortons and Starbucks infested monopoly that exists in other areas.
Tim Hortons and Starbucks are Canada's largest coffee chains and account for 75 per cent of the total branded coffee shop segment, according to a study by World Coffee Portal, an information platform for the global coffee industry, in 2020.
Regardless of the global popularity of these chains, you'd be french-pressed to find any support for the arts sector.
Despite multiple other options to aid local artists, open mic nights are a crowd-pleaser. Cork & Bean is well known in the area for its open mic nights, with Oshawa House Cafe looking to introduce something similar.
"It's something we are definitely trying to start up here too," Normoyle said.
Open mic nights are ideal for local musicians, giving both amateur and professional songwriters a platform to perform – and coffee shops do just that.
Derek Giberson, the current Ward 4 City Councillor for Oshawa, is very familiar with the local music scene.
Before getting his start in politics, Giberson spent the better part of 15 years making his living as a musician. He has played in a variety of bands, including The Professors of Funk, a nine-piece funk band he still jams with in his spare time.
Now, even as a city councillor, he acknowledges the importance of smaller local venues, especially coffeehouses.
"Coffee shops provide a different type of venue. They create a staircase for artists, and are a crucial place to make a name for themselves," Giberson said.
Even in a city with larger venues, such as the Tribute Communities Centre, smaller venues are necessary for an artist's career development.
"In Oshawa, the Tribute Communities Centre is the largest local venue," Giberson said. "Although that's great for performers in the music industry, it doesn't leave much room for development."
Independent coffee shops are more than just places to grab a cup of coffee – they are important community gathering spaces that are critical when it comes to celebrating and supporting the art scene.
"How do we make downtown more livable and welcoming?" Giberson wondered. "A huge part of downtown revitalization is the surrounding local shops." Cafes included.
Cafes create opportunities and help to build a strong and vibrant community, all well supporting local artists.
And it all starts with a cup of coffee.