Inside Trafalgar Park Community Centre, parents watch their kids grow and develop relationships to their coaches, friends and the Canadian game.
The sound of scraping skates and pucks skimming the ice echoes off the wooden arches of the arena roof, which is home to the Oakville Rangers, including the 2021 Ontario Hockey League (OHL) second overall draft pick, Calum Ritchie.
The Oakville Rangers made history with their U16 program for the 2021 OHL draft, when the team produced five of the first 11 picks on day one, never to be seen in OHL Priority Selection history.
"Development, training, coaching and natural talent. That year was kind of a perfect storm," says coach and vice president of AAA and player development, Jaan Luik.
"There must've been something in the water for that year," John Verdon, president of the Oakville Rangers, jokes.
Coaching is so important, according to Verdon, who says the Oakville Rangers have the best coaches they could get.
"We've been lucky with players and the players have been lucky with coaches," says Verdon.
But this level of success wasn't always the case.
Verdon says before the introduction of the elite AAA program, the organization lost a lot of great talent to the Greater Toronto Hockey League.
"We realized we needed to stop losing players to other minor leagues if we wanted them to go far in the program," Verdon adds. "We need parents to buy in to the long-term vision and realize their kids don't have to go to larger cities to be successful."
The vision worked.
From a young age, Ritchie showed up to his brother Ethan's practices and Luik noticed how dedicated he was.
"Cal would show up for every practice, every game. He was always there and always had a stick in his hand," says Luik. "You could see his passion for the game, it was obvious."
This passion runs through the Ritchie brothers. Ethan was drafted in 2018 to the Kingston Frontenacs, and now plays for the Sarnia Sting.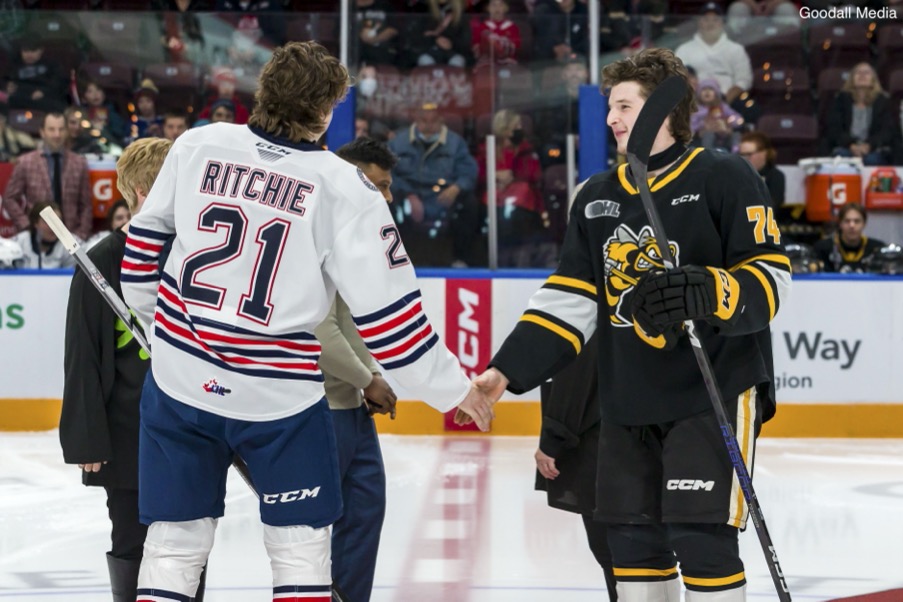 Calum Ritchie immersed himself in his brother's minor team and was always earshot away from the action.
"I used to ask if he wanted to practice with the team," Luik adds. "He was three years younger, and he fit right in. His abilities were so advanced."
Luik coached Ritchie throughout his minor hockey career and built on his talents.
"We always felt as though every player on the team was no better than the weakest link," says Luik who never felt the need to put a C for captain or A for alternate captain on jerseys. "But Cal was so exceptional, we felt like he not only earned it, but deserved it."
With no surprise come his OHL draft year, Ritchie went second overall to the Oshawa Generals.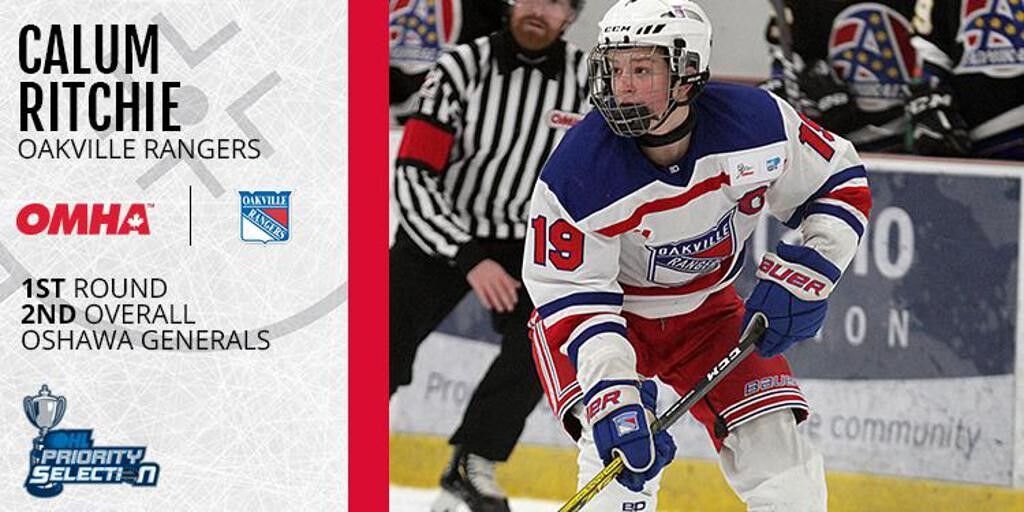 During his rookie season, he became the OHL's second-most productive Under-17 player and earned a spot on the league's First All-Rookie Team.
TSN's Director of Scouting, Craig Button, and TSN Hockey Insider Bob McKenzie, both see the 17-year-old going top 10 in the NHL.
Kyle Pereira, director of player recruitment for the OHL credits the league's overall commitment to the players for the great success they've had with top draft picks.
"Twenty-five per cent of the NHL's opening roster is made up of OHL alumni," Pereira says. "They spend and invest so heavily and make it such a desirable place for these high-end players to pursue their NHL goals."
Roger Hunt, general manager for the Oshawa Generals, says Ritchie is making a name for himself for all the right reasons.
"We've had some of the best players in this organization, and Ritchie could be one of them," Hunt says. "It's a story franchise, that comes some responsibility."
The Generals have been home to many hockey legends, including Bobby Orr, Marc Savard and the current Toronto Maple Leaf's captain, John Tavares.
"There is a responsibility coming to this organization as much as it is a privilege. That responsibility is to be a playoff team," says Hunt. "If you come here, you have to understand those are the expectations."
He adds: "Our team embraces the pressure. Some teams don't, and those ones never win."
Luik, who has been with Ritchie since he was waiting outside of his brother's dressing room, says Ritchie has "everything he needs" to make a career for himself in the NHL.
"He's got the motivation, the talent, the skill. He's going places."