Oshawa is known for many things – one of which is the beautiful waterfront on the shoreline of Lake Ontario. Over the years there have been many improvements made to draw residents from Oshawa – and all over – to the area, where they can spend time with their families and enjoy the scenery.
The Ed Broadbent Waterfront Park is the newest addition, located at Simcoe Street South and Harbour Road. It will be a place for reflection, a place for education, and a place to create important dialogue within a diverse community. It is also a place that Oshawa Mayor Dan Carter is excited about.
"I think it's going to do some wonderful things for our city," he says.
Ed Broadbent, who is 86 years of age, has been a major political figure in Oshawa, and Canada, for many years. Born in Oshawa, he was first elected to parliament in 1968. He served as an MP for 21 years, 14 of those as the leader of the New Democratic Party.
His focus has always been on human rights, including Indigenous and economic rights, women's equality and child poverty. Now Oshawa has a new park named in his honour.
"Well, certainly an extraordinary experience," Broadbent said. "I just felt a great wave of warmth passing over me. It's very special to get this kind of treatment from your hometown."
The new park is meant to be a place of gathering, according to the mayor. It consists of a new stage, amphitheatre seating, walking paths, green space, and a human rights garden.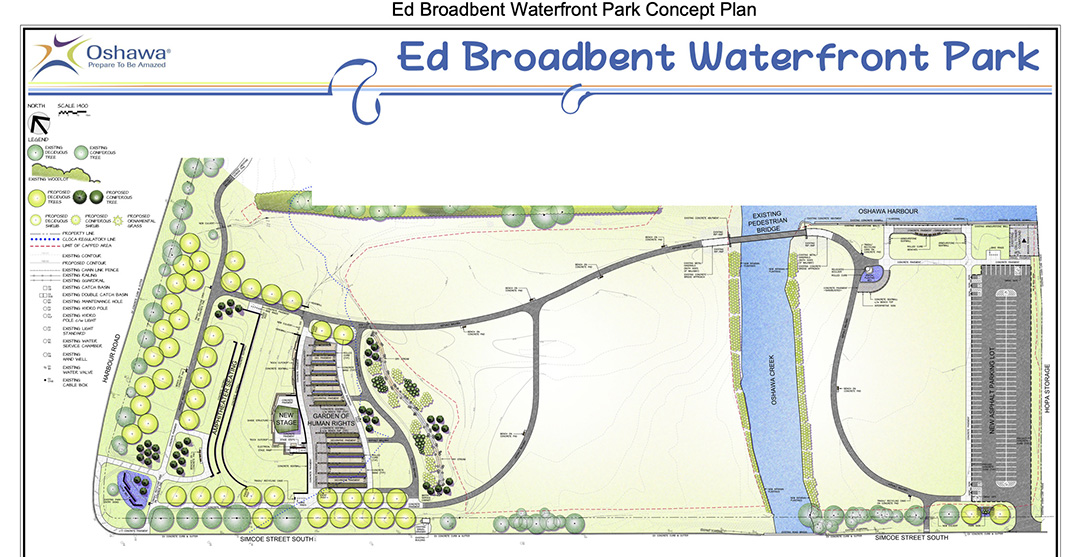 The idea for the human rights garden started almost 10 years ago, according to the mayor, but the city wasn't sure where it should go. Once the Ed Broadbent Park was designed, it was a perfect fit, he says.
"I think it goes hand-in-hand with Mr. Broadbent's long-term service in regards to human rights across the country," Carter says.
The idea is to create a place for conversation: to create a beautiful place where people want to spend time while becoming educated and having discussions.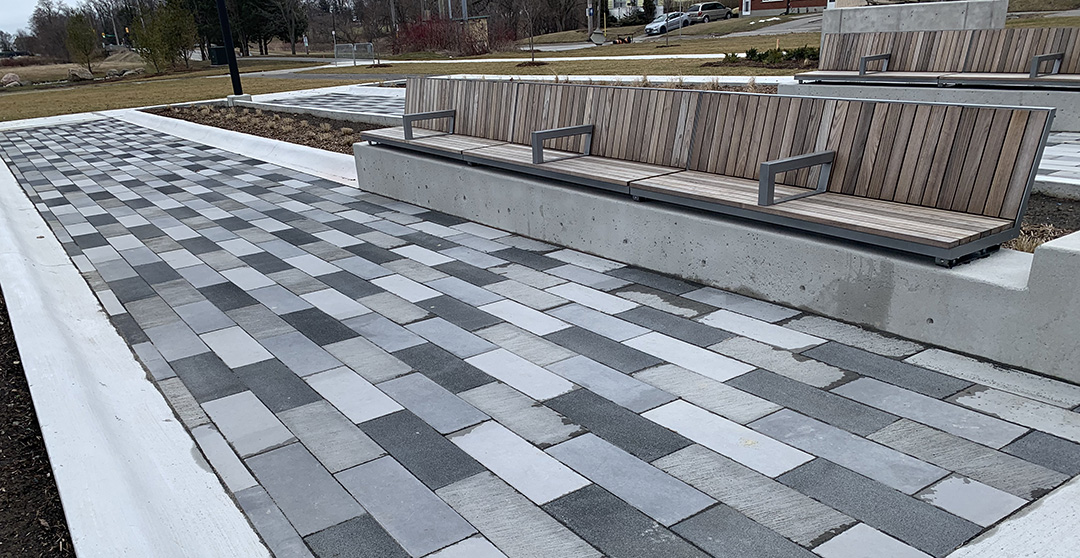 "I think it's an important step for our community," says Carter. "It's an important part that each generation will be able to have those dialogues and those discussions with regards to human rights and the diversity of our community."
"It welcomes everybody from different parts of the world to be able to have that conversation." – Dan Carter, Oshawa mayor
The city plans to put kiosks along the pathways at the park, where visitors can scan QR codes to learn more about Oshawa, the Indigenous culture and heritage, as well as Ed Broadbent.
"It will bring up history about, you know, our Indigenous community and about this place and the historical nature of our waterfront," Carter says. "But then it also gives you the connection back to Mr. Broadbent and his work and his contribution to our community."
Mayor Carter says a lot of thoughtful planning has gone into making this area what it is, and it goes a lot deeper than other parks in the area.
"It's not just about putting some swings in and hoping for the best," he says. "We're trying to make sure it's a unique experience, more so than the 135 plus parks that we have across the city."
The hope is that visitors come from all over and "take the time to really reflect," he says.
The park is connected to the "picturesque" Joseph Kolodzie Oshawa Creek Bike Path, the Waterfront Trail, and Lakeview Park, according to the city of Oshawa's Parks and Facilities website.
The play structure at Lakeview Park was recently renovated and re-opened to the public in June 2021. The updated playground, splash pad and waterfront have been a big draw for people in and outside of Oshawa. Carter says it has been an enormous success.
"Its first two years have seen ten years of wear and tear on it," he says. "It's another great space for, you know, for families coming together where it doesn't cost you anything. You can go down, you can have a picnic, you've got a beautiful place."
"I'm excited about the future of the waterfront." – Dan Carter
Arts and culture play a big role in Oshawa's community. Carter says the city is full of great artists, actors, singers, dancers and musicians and he hopes the Ed Broadbent Park has a "major influence" on the cultural community.
"Creating purposeful spaces so that culture can be a part of the experience of our community is so important," he says.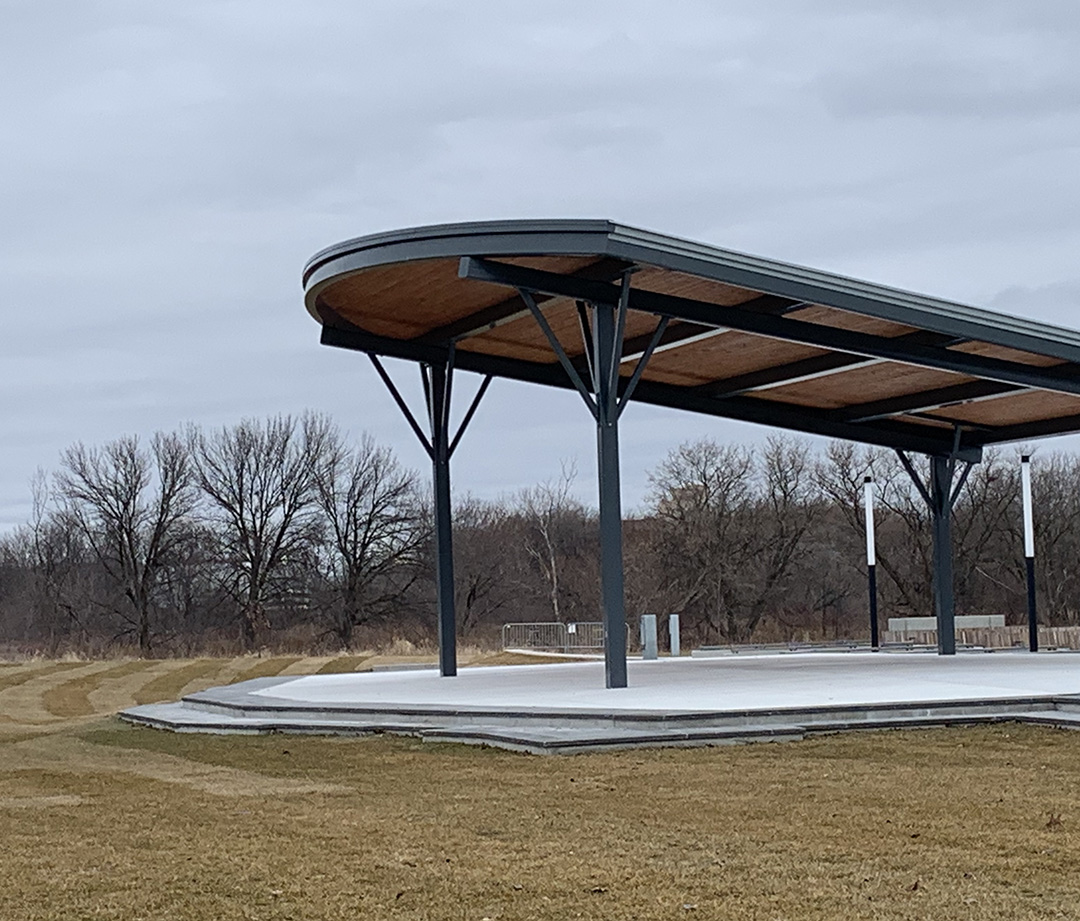 Carter also talked about his hope for other events being hosted at the park, including Oshawa's 100th anniversary in 2024, Canada Day celebrations and Indigenous drum socials.
"It's many of the Indigenous communities that come together, and they have a drum social," he says. "They have dance, they have food. I'm really hoping that we're able to see a drum social down at the Ed Broadband Park."
There has been close to $5 million invested in this park so far, with further investments expected to happen as new phases start. This includes consideration of components the public would like to see, according to the mayor.
The city is not looking at this as a revenue opportunity, but as a public place where people can come together and get to know their neighbours.
"I think we'd be blessed with an incredible waterfront," Carter says. "I want it to be accessible by everyone. I don't want a price tag on it."
Broadbent says while he hasn't seen the finished park, he looks forward to coming to the grand opening.
Mayor Carter says across the geographic 145 square kilometres of Oshawa, there has always been the north, south, east and west. His hope is the park will remind people from all parts of the city that "this is their community."
The Ed Broadbent Park is intended to remind people of the qualities we have in the "great city of Oshawa."