Project Arrow, Canada's first zero emissions concept vehicle, made its national public debut at the 2023 Canadian International AutoShow last week.
The car comes with advanced technology, including a steering wheel that monitors a driver's vital signs, as well as leading-edge autonomous technology and a range of 500 kilometres.
The fully functional concept car was built by a team of engineering students and faculty at Ontario Tech University with assistance from Canadian auto parts manufacturers.
Project Arrow was engineered to focus on Canada's Enhanced Nationally Determined Contribution and Net-Zero Emissions, which is why the front end will have carbon dioxide (CO2) capture, making Project Arrow a carbon negative vehicle.
According to the president of the Automotive Parts Manufacturers' Association (APMA), Flavio Volpe, the development presented a significant challenge.
"We had no business building up a prototype vehicle, we are a trade association, and we've got 14 people," he said. "So, the first challenge (was) probably a thousand people that touched parts, systems or plans on this car. So, the challenge was to inspire everybody to a single vision."
Students play a critical role
Volpe said the Ontario Tech team helped to "put this jigsaw puzzle together."
"It's should be no secret to anybody in the business that the pieces don't all fit together," he said. "You've got to re-engineer them and you've got to recut them. Sometimes you've got to throw them away and we cast them."
ACE Climatic Wind Tunnel executive director, John Komar, said Project Arrow demonstrates the capability of the research facility. He said it can manufacture an autonomous electric vehicle in a short time while also working with academic institutions and other Canadian suppliers.
"So, from concept to actual taking virtual designs into real math data, and then math data into real parts and then real parts into a vehicle," he said, "and that happened over a period of a year and a half in the final build started last fall."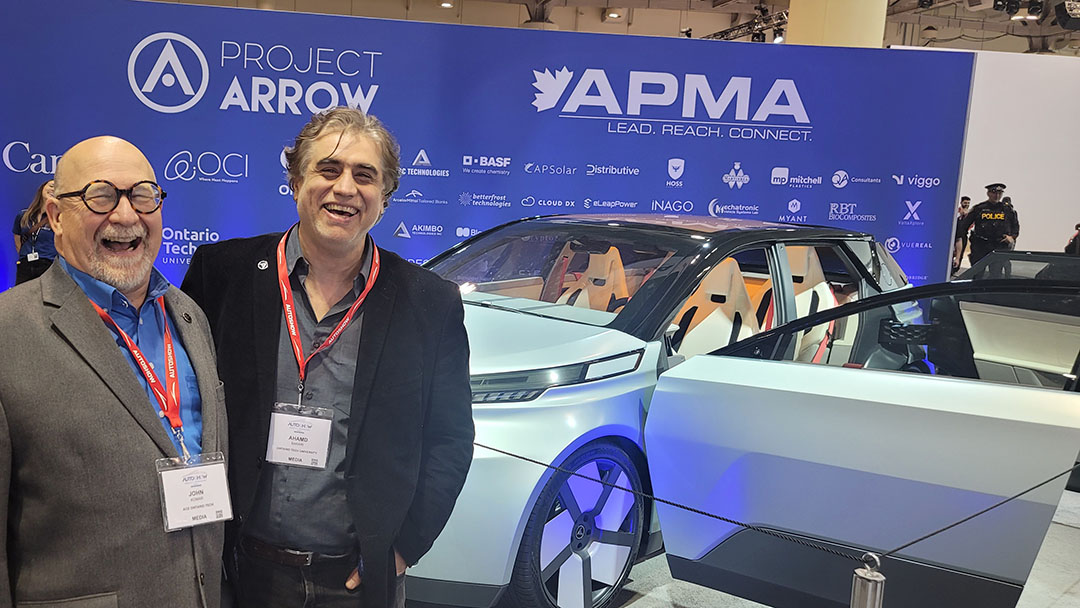 3D printing helps to create prototype
According to Komar, Project Arrow can revolutionize the Canadian auto industry through green and recycled materials and 3D printing.
The simulation advisor from AD2Mlabs of Ontario Tech University, Mohsen Tayefeh, worked on the chassis design and the 3D-printed parts for Project Arrow.
"This vehicle is 3D printed chassis that actually helped a lot on saving time and costs and the methodology to do that was to replace actual tests with the virtual test," Tayefeh said.
This technology permitted road simulation to evaluate the performance of the chassis structure under different road scenarios and "reduce weight and make things work better."
Project Arrow showcases unique battery management
Ahmad Barari, a professor in the Faculty of Engineering and Applied Science (FEAS), assisted Project Arrow as an advisor. He was responsible for the interaction of Project Arrow with the FEAS.
Barari said what makes Project Arrow unique is battery management.
"(The) structure is designed toward making the whole system as compact as possible while there is a strong philosophy in the packaging in this design process," he said. "How to manage all the weights around the structure's components to make handling better."
Barari said Project Arrow is a "motivation for a Canadian car electric vehicle with so many state-of-the-art features and a lot of research results."
Ontario Tech Assistant chief engineer, Paula Ambra, coordinates the building of the Project Arrow process and participated in initial design review meetings with potential suppliers.
"Instead of waiting two to three weeks to have a part shipped from another country, we are able to drive to Hamilton, for example, to pick up our parts directly," she said. "(It) helped us with some of those time crunch concerns."
Moreover, Ambra guided the Ontario Tech students during the build cycle technique.
"To see these students especially evolved in such a short period of time, we were all multitasking, taking on all responsibilities, big or small," she said. "So, it was an example of a (what) bunch of very creative minds can do."
Students learn industry skills
Marissa Kubien is in her fourth year in Mechanical Engineering, and she spent most of her time in project management and building Project Arrow.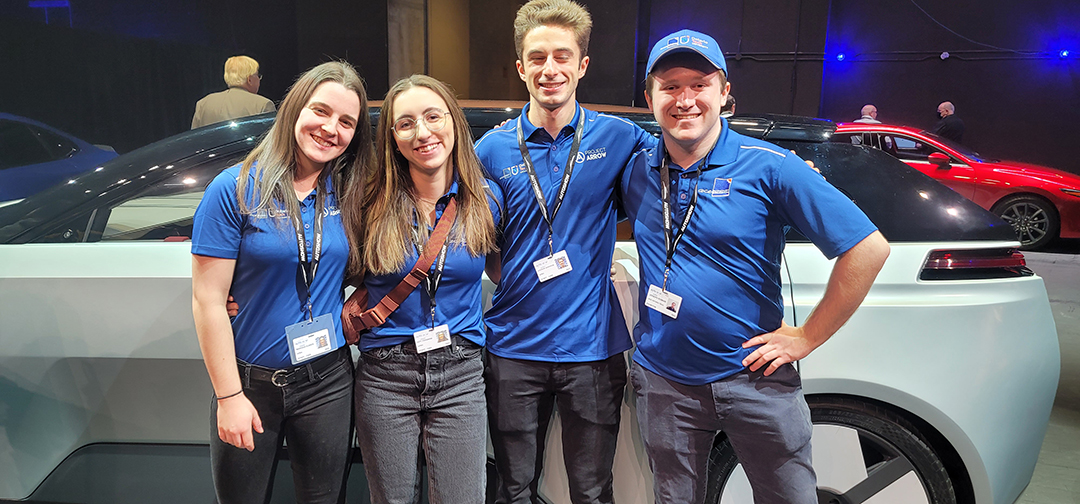 "I was working with suppliers. So, I've got a lot of experience working with people from the industry, talking to people, learning how things work and how to get things done," Kubien said.
Project Arrow helped to develop engineering skills and solve problems.
"I learned in class to be able to turn around and apply it into an automotive application," she said.