The Global Classroom was alive with Caribbean music and dancing – also known as socasize – to end Black History Month in a joyful way.
Tanya Morris, the EDI project coordinator at Durham College in the office of Equity, Diversity and Transitions, says it was an opportunity for people to get involved.
"I think that when Black History Month is typically done, whether here or elsewhere, there's a lot of focus on the history and I think socacize brings it into the future," she says.
"It's an opportunity for both students and for employees to enjoy and to collaborate with one another and to meet with one another."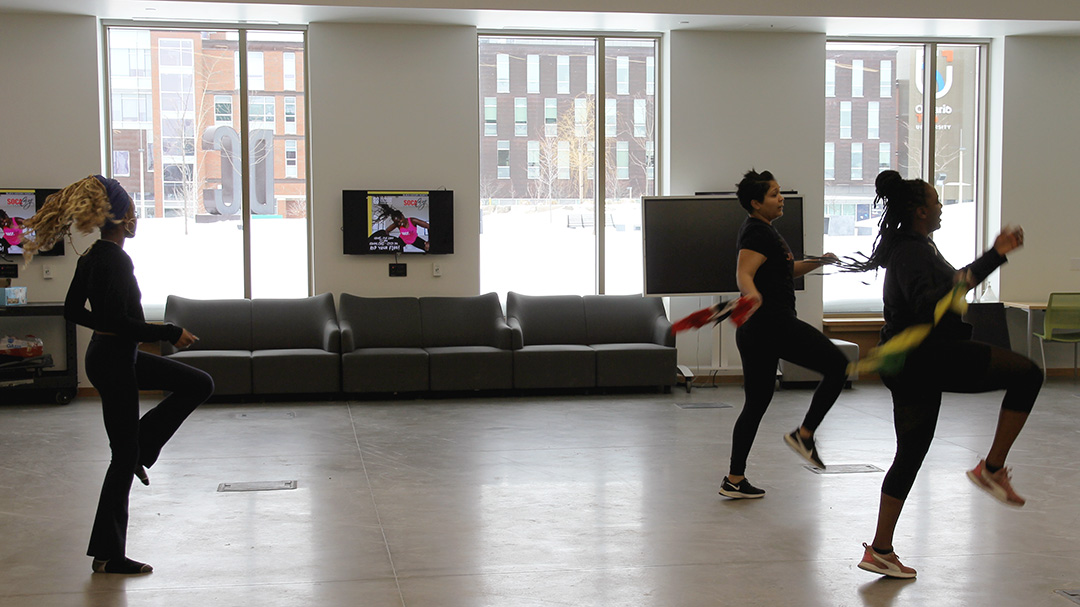 The purpose of the socacize class was to celebrate Black joy, Black movement and Black health, according to Morris.
Socacize is a type of dance fitness program that combines high-energy African and Caribbean music and dance moves with aerobic exercises.
It originated in Trinidad and Tobago, where 'soca' music, a genre of Caribbean music, is popular, and '-cize' meaning fitness.
Socacize classes typically involve a series of choreographed dance routines that incorporate elements of calypso, reggae, and other Caribbean dance styles, as well as traditional fitness exercises like squats, lunges, and jumping jacks.
Morris says the event wasn't just an opportunity for "Black folks" to come together.
"It's an opportunity to think about a diaspora and how we decorate across DC but also how we can bring that stuff into a fitness class, into a dance class, an opportunity to enjoy one another," she says.
The goal of socacize is to provide a fun, high-energy workout that helps participants improve their cardiovascular health, burn calories and tone muscles while enjoying the upbeat music and social atmosphere.
Jennifer Shand, a Durham College employment advisor who has a background in fitness, was the facilitator for the event. She praises the involvement of including a socacize class to promote Black History Month.
"It's about the heritage of African and Caribbean music to introduce that to people around the world," she says. "It's a great event to have for Black History Month because you're listening and dancing to the music and being able to have some health benefits with that as well."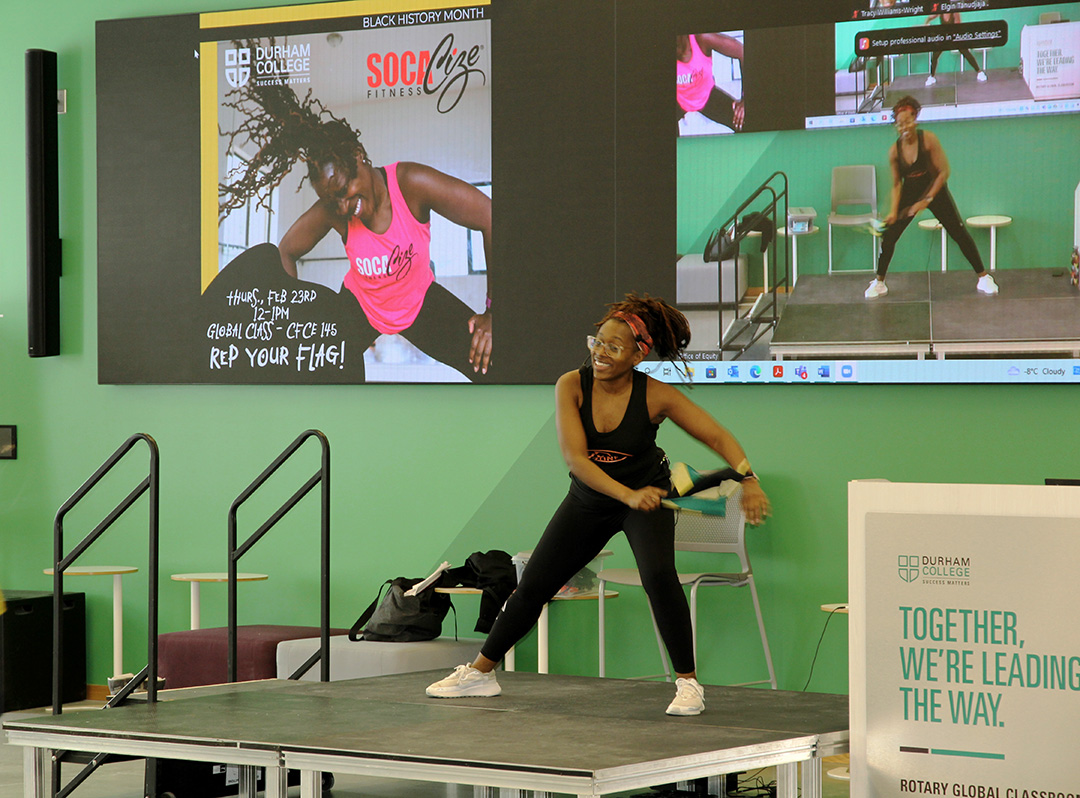 Morris says socacize also puts the emphasis on positive aspects of Black experience, beyond the focus on histories, legacies, contributions and challenges.
"There's also an opportunity here for us to talk about Black joy and to talk about what it means to be hopeful and we want make sure that that's very present here at DC," she says.
Black History Month provides an opportunity to consider the intersectional histories, identities, and accomplishments of Black people throughout the Black and African diaspora.
According to population projections from Statistics Canada, the Black population is expected to increase and could represent between five per cent and 5.6 per cent of Canada's population by 2036.
"I think that Black History Month is a great time to talk about that, celebrate that with within Black community, but also with our allies and, think about how we're going make plans for moving in particularly here at DC," says Morris.
DC recognizes the contributions Black Canadians have made to our history and culture but Morris says it's also important to focus on Black history outside February.
"All these things that are happening throughout the year gives us an opportunity to interject some opportunities to talk about Black communities, talk about Black experiences, to make sure that it goes year round," she says.
"February is just a little bit of a month where we can hyperfocus, but we want be able to do that year round and really be able to offer that introspective."