Durham College and Ontario Tech University are in the midst of a campaign to help combat gender-based violence. The campaign is called 16 to 365: Awareness to Action and started Nov. 25 (International Day for the Elimination of Violence Against Woman) and runs to Dec. 10 (Human Rights Day).
Gender-based violence is defined as abuse, assault or harassment towards someone based on their gender identity, expression or perceived gender, according to Ottawa's Coalition to End Violence Against Women (OCTEVAW).
Women in Canada are 20 per cent more likely to be subjected to violence, according to OCTEVAW. Statistics Canada reported in 2018 that 44 per cent of women had been subjected to some form of sexual, physical, or psychological abuse. An estimated $7.4 billion is spent on services related to gender-based violence annually. This spans from costs like emergency room visits or loss of wages, to funerals and counselling, according to the Canada's Department of Justice.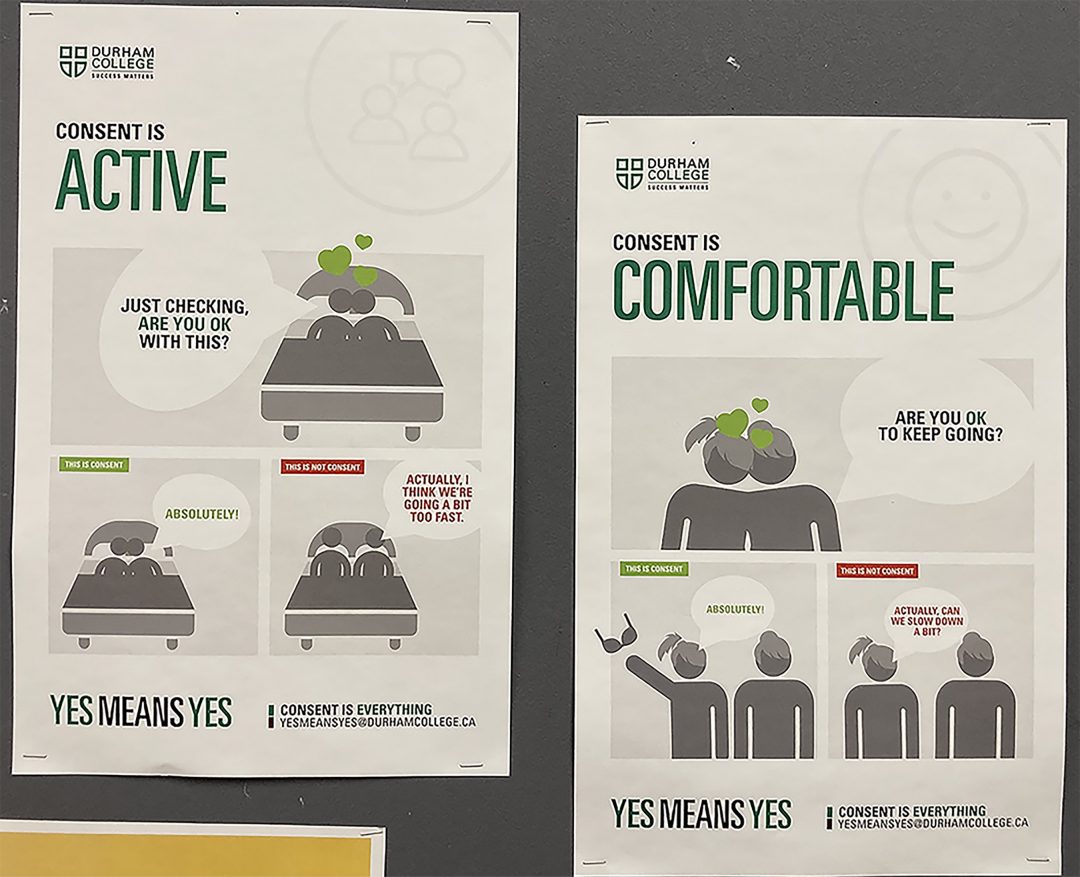 Additionally, Indigenous women are 12 times more likely to be murdered or go missing than any other women in Canada, according to the National Inquiry into Missing and Murdered Indigenous Women and Girls.
Victim Services Durham Region work alongside Durham Regional Police to provide services to victims or witnesses of crimes, including victims of gender-based violence.
The Chronicle met with Victim Services employee Riley Spigarelli and Tyler Creces, the Sexual Violence Education and Support Coordinator at Durham College to discuss gender-based violence:
The Chronicle: What are some statistics Victim Services have regarding gender-based violence in our region?
Spigarelli: Between 2019-2020 victim services supported 5,712 clients. Of those clients 3,357 experienced intimate partner violence, 525 experienced sexual assault and 264 experienced human-trafficking.
The Chronicle: What is 16 days of activism?
Creces: It's a global campaign, it started in about 1991 by the Women's United Panel. It's all about educating people and raising awareness of gender-based violence but also challenging communities to think about how we've been impacted by gender-based violence ourselves, how our community might be impacted and then think about how we can put an end to it. We've had the campaign at the college for about four years now and our goals reflect the global campaign's goals.
The Chronicle: A new study from the University of Guelph shows there's been an increase in violence against women since the start of the pandemic, why do you think this is?
Creces: That's actually what we call the 'Shadow Pandemic.' When everything shut down, people were stuck at home because of the stay-at-home orders and whatnot. So if an individual is experiencing violence and the world shuts down and they're told to stay home, you know in most cases perpetrators are someone known to an individual, a friend or family member. So a lot of people were stuck at home with their abusers, then on top of that, services shut down and we can only see people virtually, people can't escape.
The Chronicle: How can we spot gender-based violence in our community?
Spigarelli: Gender-based violence is everywhere, whether or not we recognize it is a different story, it's similar to how people fight depression. We can be mindful of if individuals are withdrawing from social supports like family and friends, one of the biggest tactics abusers use is to isolate their partners of any supports they have, so if you see that someone is withdrawing from family, friends or activities they used to do after they started seeing someone, that can be an important thing to be mindful of and address. I think it's just really important for people to check in on each other, if you haven't heard from someone in a while, check in and see how they're doing. Let people know you care about them.
The Chronicle: How can we support friends or family affected by gender-based violence?
Spigarelli: I think it's super important not to push somebody or judge somebody for something they're not ready for. There are a lot of barriers that exist in the system and trying to access support takes an average of seven times for somebody to successfully flee an abusive relationship. If somebody is reading this article and they know someone who keeps going back to an abusive, toxic relationship, to be there for them and support them despite that, because it is a really difficult thing to do. I think that being able to offer to make phone calls with that person or attend an appointment with someone to see someone like Victim Services can be helpful for people to know they're not alone. It can be really scary calling up a stranger and telling your story of abuse and so being able to hold their hand makes it a little bit easier. Being there for people.