Oshawa is growing up – literally and figuratively. According to Statistics Canada, it's one of the fastest growing cities in the country, with a 2.1 per cent population growth last year.
To make way for everyone, new homes and apartment complexes are being built. Yet, this expansion cannot proceed without proper rules and regulations.
Oshawa's Building Permit and Inspection Services (OBPIS) makes sure safety standards are met during this time of growth.
"The city is growing taller," said Tyler Stoddard, the director and chief building official for OBPIS.
Oshawa is expecting construction of several new high-rise buildings soon. Currently, large scale buildings are being completed in north Oshawa, on Simcoe Street, north of Durham College and Ontario Tech University and in the downtown core.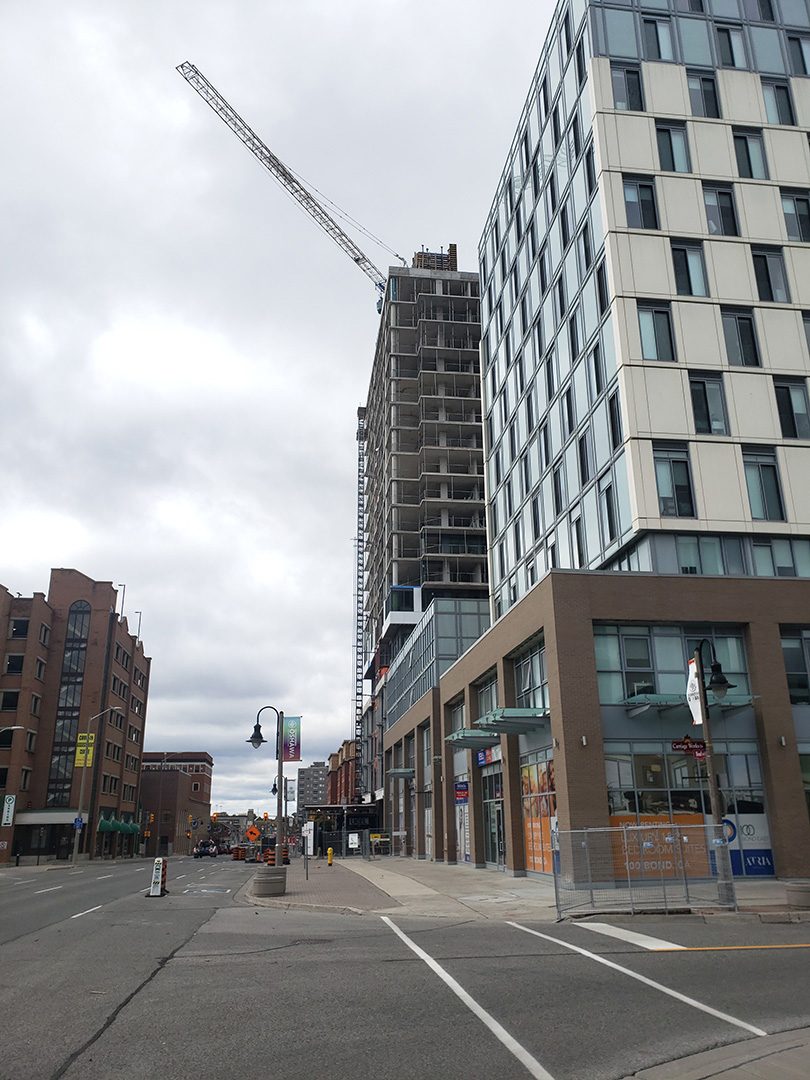 That's not all, according to Stoddard, the workload for building permits and inspections has doubled from last year. Stricter policies introduced years ago mean OBPIS must deliver a building permit for every building slated for construction within a tight deadline. The time frame could be as small as 10 business days or up to 30, Stoddard said.
Together, these two challenges have brought more pressure and deadlines along with them.
"We've had to increase the hours of our staff," Stoddard said, "allowed for more overtime, and you know, all hands-on deck."
With more than a decade in the building permit and inspection service, Stoddard has a few ideas as to why there is an increase in expansion. According to him, the increased pricing in the housing market is leading to smaller dwellings. Also, an increase in environmentally-motivated building practices have led to more applications for high rise buildings. It is Stoddard's responsibility to ensure all these applications comply with the Ontario Building Code, plans and inspections.
To meet these demands, Stoddard suggested it's easier to build up, than out.
"The city in general is moving taller," he said, "all of sudden in the last year or two we're getting lots of high-rise buildings; 25-storey apartment condos, 18-storeys, lots of others in the pipe."
With all the difficulties and increased demand in 2021, Stoddard said helping people learn to build, and learn to build safely, is one of the most rewarding parts of his job.
In addition to mega-projects, Stoddard is also charged with ensuring DIYers comply with City requirements.
To help aspiring builders learn how to properly construct things from finishing a basement, to building patio decks, OBPIS provides "fill in the blank" permits to help people gain a better understanding of what is required to build in Oshawa.
It's not all just help and guidance, however. When a contractor breaks the building code, and a building isn't up to the standard of safety, it's Stoddard's department that has to hold them accountable.
"Anyone with a hammer can be a contractor, no experience, no licensing," Stoddard said. When people are ignorant of proper building procedures they end up "rolling the dice with a contractor."
The department must conduct investigations of illegal construction and enforce the code. Stoddard says getting people to comply with the code can be the most challenging part of his job.
"Generally, people understand the requirements once we've educated them…but there is that small percentage where we have to take it through the court system.
"We're here to help, make sure buildings are safe, and hold contractors responsible," Stoddard said.