Most players who make it to a high level of hockey start skating between the age of three and five, but Austin Eastman learned how to skate when he was eight: the age most kids are a few seasons into their youth hockey careers.
"We lived on a farm, and the field would flood over in the winter time and my dad, or my brother gave me like, a hand-me-down pair of skates and threw me out there, and I just fell in love with the game," said Eastman. "We had a barn that had animals when we were younger, but when our dad got rid of the animals he turned the lower level of the barn into an ice rink."
Austin Eastman, 24, is an exceptional Ridgebacks hockey player, even though pathway into the game differs from others. From youth, junior, to where he is now in USPORTS, Eastman plays with determination every time he is on the ice.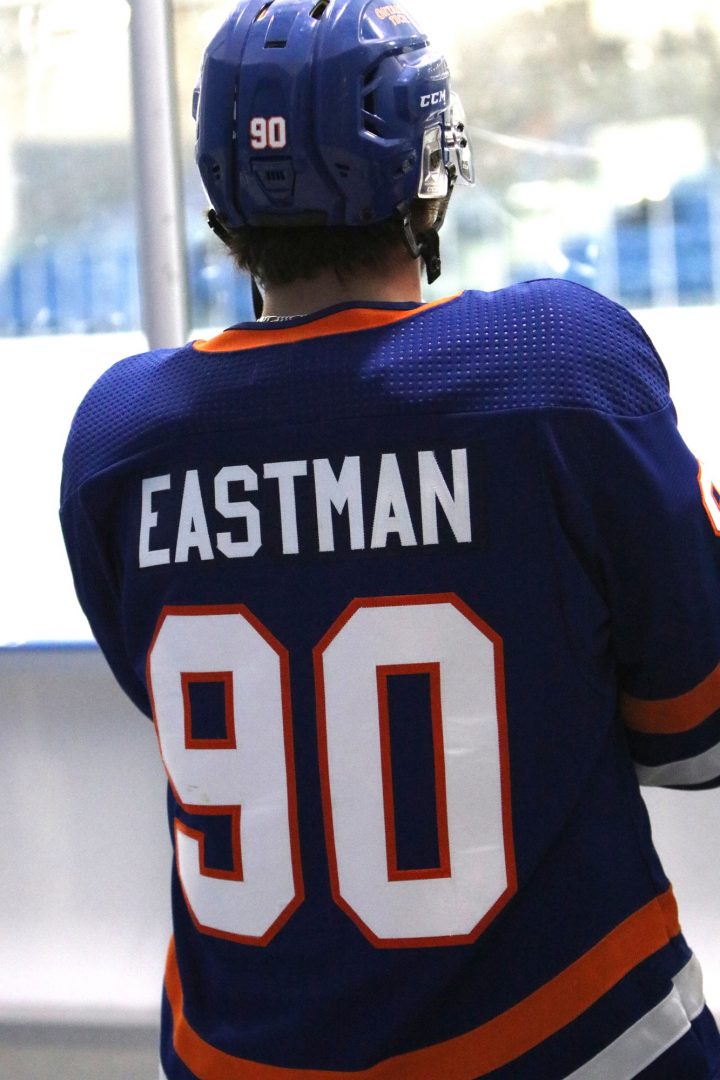 Eastman was born and raised in Lindsay, Ont. until he was 16 years old when he moved to away for junior hockey. His mother was also born in Lindsay, but his father was born in Quebec.
Eastman's two older brothers played hockey who helped build his love of the game.
"I would, you know, go watch their games when I was younger," said Eastman."I started playing organized hockey when I was 11 years old, there was a Saturday morning league. I think it was 11 to 14."
Coaches noticed quickly that Eastman had a special talent, but also that he really loved the game.
"Then I moved up to the Lindsay Minor Muskies for two years," said Eastman. In his second year, he was the captain and the team won the championship in All-Ontarios. "That's when I kinda figured to myself, ok maybe hockey could be a career path for me."
Eastman played two more year of youth in AAA for the Central Ontario Wolves. Eastman had a teammate that he would see again in the future.
Jake Bricknell and Eastman played on the same line, and Bricknell's dad was the coach.
"He's always been a great player, and one of the top guys. He really knows how to handle himself professionally on and off the ice," said Bricknell.
After they were moved up a line a few games in, Eastman got a phone call he was not expecting.
Going into his OHL draft year at 16, Eastman didn't realize the OHL would be an option. "I ended up actually being picked [in the draft] which was a huge turning point for me in my career," he said.
Eastman was selected 110th overall in the 2013 OHL Priority Selection Draft, to the North Bay Battalion.
After he was drafted, because he was only 16, he was sent back to the OJHL to develop his game a bit more. After playing for the Lindsay Junior A Muskies for two more years, and he then went back to the OHL. Eastman didn't see a future in North Bay, so he requested a release to give another team in the CHL the opportunity to sign him.
Eastman ended up getting picked up by the Gatineau Olympiques in the QMJHL. This was special considering he was going to be able to play around the area where his dad grew up.
"It was kinda cool for my family considering he grew in Quebec, and it was kind of a meeting point for his side of the family and my mom's side of the family," said Eastman.
"As a 20-year-old, I was kinda struggling [in Quebec], I wasn't really playing my style of game, gripping my stick a little too hard, getting in my own head," said Eastman. Eastman decided to go back to the OJHL and play for the Aurora Tigers. He wanted to come back and play for a team closer to home.
Eastman had a fantastic year in Aurora, scoring 44 points in 26 games. He also reconnected with an old teammate and friend, Bricknell.
Eastman always knew he would end up back at school.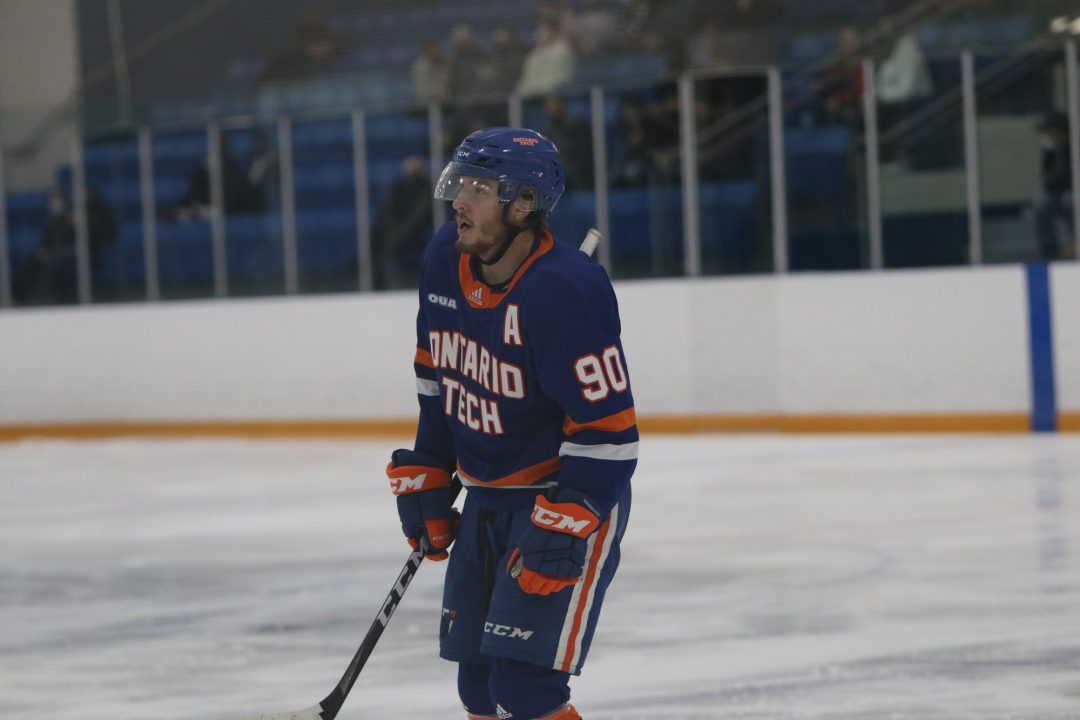 "Curtis Hodgins, the coach here [ONT Ridgebacks] he was one of the first to reach out to me when I came back. He actually started the [recruiting] process really early, and I came on a tour with him and I noticed how friendly and welcoming he was," said Eastman.
This is the third year Hodgins has coached Eastman.
"He's been an outstanding player since day one, he's brought a lot of energy into the team, obviously everyone see's the on-ice product, but he brings a lot off-ice as well, he's been a great Ridgeback," said Hodgins.
Eastman is Assistant Captain this season. "His leadership has evolved over his time and this is the first year we're looking to him, he's a fourth year guy, and he's wearing an A on his shirt," said Hodgins.
Ridgeback captain, Jack Patterson is Eastman's teammate and has been for the passed three years.
"Austin is a good leader on and off the ice and everyone in the room likes and respects him. He leads by example," said Patterson. "He's always been a very skilled player since he came to the program and he's gotten better every year, now with his skill and speed I think he can dominate and control games."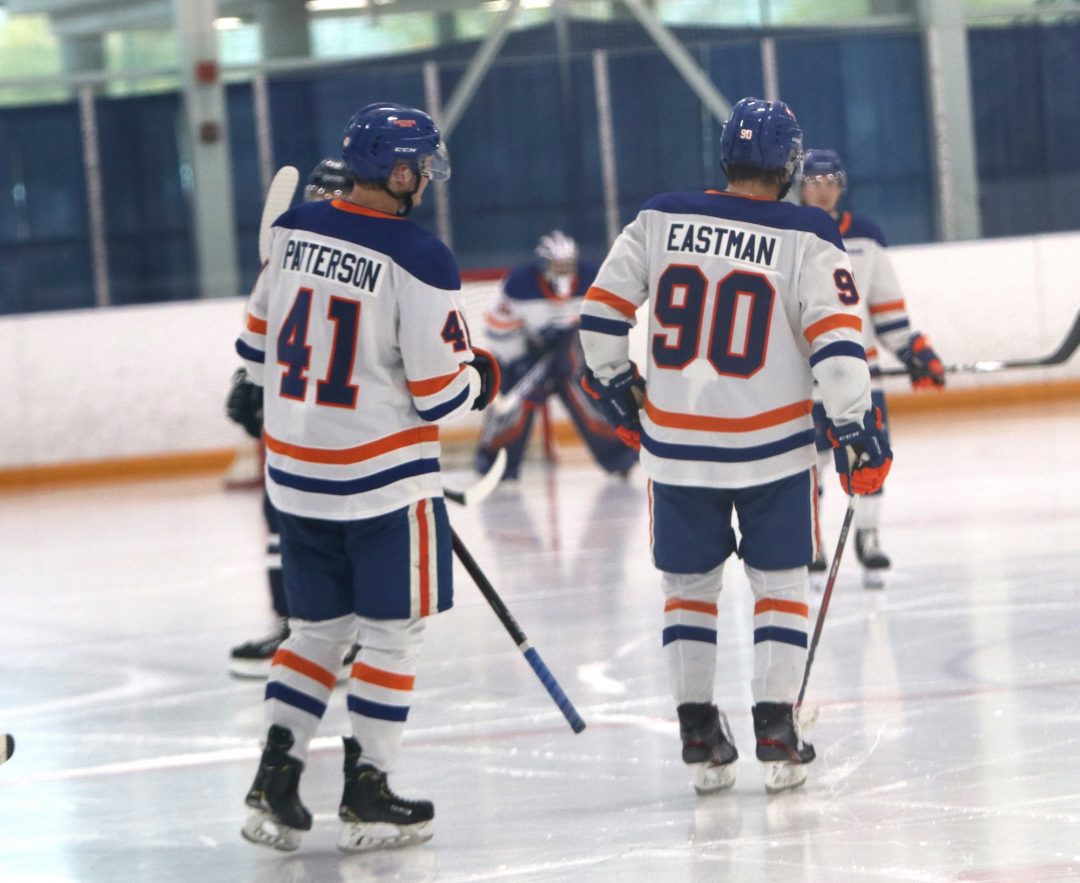 Eastman said that he doesn't want the Ridgebacks to be the end of the road for him in hockey. He said it would be great to reunite with Bricknell once again but this time at the professional level.
"Obviously would be very exciting if that comes about in the future," said Bricknell. "Hopefully we would keep the chemistry that we had and take it into the pro level."