The COVID-19 pandemic has changed the way many of us shop. With malls and outlet stores limiting capacity, or closing completely, the search is on for where to shop.
Just about everything turned virtual in March of 2020, shopping included. According to Statistics Canada, online sales hit a record breaking $3.9 billion in May 2020, with sales surging 99.3 per cent between February and May of last year.
Cheryl Wilson, owner of The Makers Hub in Whitby, said it's important to still support local businesses and artists to help grow the local economy.
"It's the face of your community, the more you support local handmade, the more unique and creative your community is," she said.
Wilson said supporting one local business is actually supporting many local enterprises. She said this creates "a real eco-system" in the economy.
"For example, that handmade artisan who works with wood may be going to the local family-owned lumber store," she said, "who are using that money to put their children into activities and programs. It feeds the money back into the community and makes it self-sustainable."
Wilson operated her own business from home from 2013 to 2017 making customized paper-based products such as banners and cake toppers for events.
She felt uncomfortable with this due to a lack of insurance and security running a business from home and having customers pass through it.
This is how she came up with the concept for The Makers Hub (TMH), with a rental storefront on Hopkins Street as well as online portal.
Her website allows customers to browse through multiple vendors and order the products they love from one spot.
This allows them to pay only one lump sum for postage or stop by the shop to pick it up.
Jasmin Marshall owns She's Sew Chic, an online shop and vendor at TMH. Marshall works full-time as an orthodontic dental hygienist while raising four children.
She picked up sewing as a hobby to help with her mental health but found it was an outlet, and began making things like baby bibs, reusable rice bags, scrunchies and facemasks at the beginning of the pandemic.
Now Marshall runs She's Sew Chic as a side venture.
"During the pandemic customers have been more supportive than ever, which is a testament to our community. I appreciate every feedback, review, social media share and repeat customers," said Marshall.
"It inspires and motivates me. Most importantly, as a mother of four, it shows my children that they can achieve their goals if they work hard and not give up."
While all vendors are based at home or in a personal workspace, these small businesses owners say they benefit from selling in a physical location like TMH as well.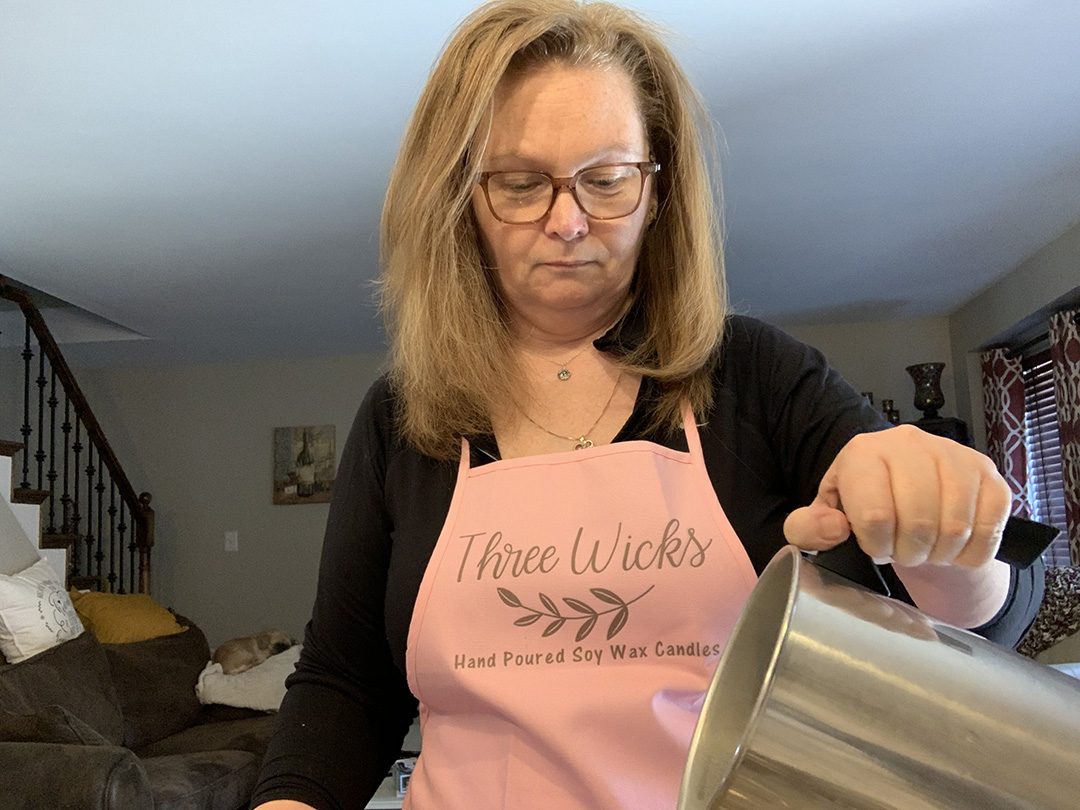 Diane Kennedy of Courtice, owns Three Wicks Candles named in honour of her three daughters.
She works full-time as an application consultant for the IT department at the Lakeridge Health Cancer Centre and operates Three Wicks on the side.
Kennedy said her products benefit greatly from the TMH's physical location, as it allows customers to see, smell and feel her products before purchasing them. However, she also sells online.
"The ability to have products in a store that caters to local makers provides me the ability to be in store without the large overhead cost, keeping my prices lower for the consumer," said Kennedy "Online provides me the ability to sell my products anywhere 24/7. It's the best of both worlds."