It was a typical evening in the heart of Oshawa, and the Tribute Communities Centre was packed with fans eagerly awaiting the arrival of a Canadian rock band, Arkells. As the lights dimmed and the crowd roared, the band took the stage and launched into a high-energy set that had everyone on their feet.
After the concert, the band made their way to The Atria, a restaurant, bar and live music venue located in the heart of downtown Oshawa. When they arrived, they were greeted by a packed house of fans.
Without missing a beat, the band jumped on stage and launched into another set of their signature high-energy rock songs after some drinks at the bar. The crowd went wild, singing along to every word and dancing the night away.
As the night wore on, the drinks kept flowing and the music continued to blast. The band members were having just as much fun as the fans and it was clear that this was a night that nobody would ever forget.
It was just another reminder that when it comes to rock and roll, you never know what kind of magic might happen at The Atria.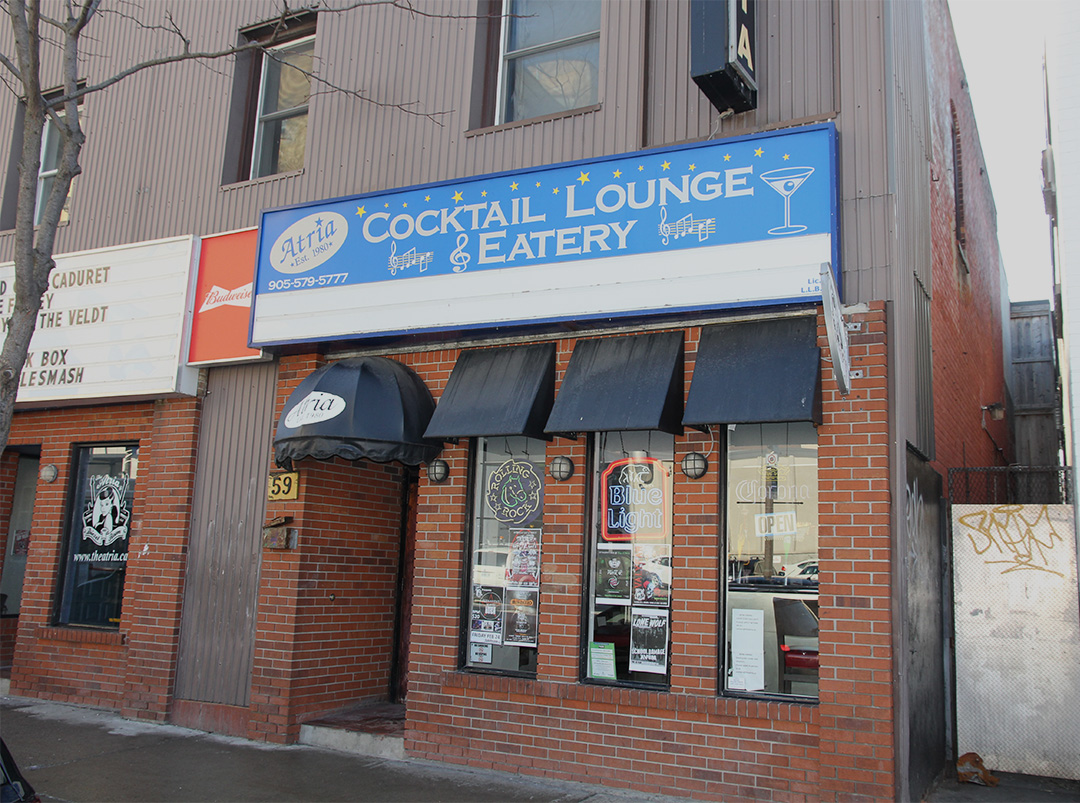 The pandemic was the day the music died.
According to Statistics Canada's 2021 Labour Force Survey employment in the arts, entertainment and recreation sector fell 25 per cent from 2019 to 2020 across Canada.
Yet, The Atria, a hub for underground music in Oshawa, survived.
"It was hard, you know. I thought maybe this might have been something that would've lasted maybe a month or so, but it was a long time," says Dino Lezzi, owner of The Atria.
Tony Sutherland, professor of Music Business Management at Durham College, says permanent live venues such as The Atria are important to the development of music in a community.
"It's a place, a stage literally as well as figuratively, that an artist can actually test material out and see what the potential is and actually be able to map the growth that they have by watching that audience," he says, adding that the cultural effect music has on other forms of art and a community, in general, is something that can't be ignored.
A vibrant local arts scene is important for downtown life but that was put at risk during the pandemic.
Like many places around the world, the pandemic had a significant impact on the music scene in Oshawa. In-person live music events including concerts, festivals, and other performances, have been reduced or cancelled altogether due to public health restrictions and concerns about the spread of the virus.
Many music venues and clubs in Oshawa have had to shut down or operate at reduced capacity, which makes it difficult for musicians to perform and earn a living. The pandemic has also affected music education, with many schools and music programs switched to online learning, which can be a challenge for students and instructors.
However, the pandemic has also led to new opportunities for musicians to connect with fans and other musicians online through live-streaming concerts and virtual collaborations. Many local artists in Oshawa have adapted to the new reality with social media and other online platforms to share their music and connect with fans.
The success of local music starts with underground artists.
Price to Die, a local band from Peterborough and Port Hope, performed at The Atria on Feb. 18. They talked about some of the struggles local artists have to endure because of COVID.
"When we hit COVID and we went into lockdown, people really noticed across the board that not having access to local shows and just seeing the decline in activity that way," says Kieran Krumins, the bassist for Price to Die.
"I think now that things are opening up, I think we're seeing probably a little bit more hesitancy of people coming out, which is fair. It's difficult, but it's also a great opportunity to reopen scenes or maybe even introduce scenes that weren't prior to the pandemic," Krumins adds.
The Atria doors opened in 1980 and the venue has since become the heart of local music in Oshawa. The founder, Art Lezzi, wanted to create a place where both food and entertainment can be enjoyed simultaneously.
Art's son, Dino, is now the owner. He has helped keep the restaurant afloat since he took over in 1996 and says their ability to adapt is part of the reason The Atria has been successful for so long.
"We have adapted over the years," says Lezzi. "When I took over, we built the stage and adjusted it to be a little bit more 'loud,' as I like to say."
Those adjustments allowed The Atria to develop into a hotspot for Oshawa music and nightlife, with popular bands such as the aforementioned Arkells, as well as Three Days Grace, Crown Lands and The Trews.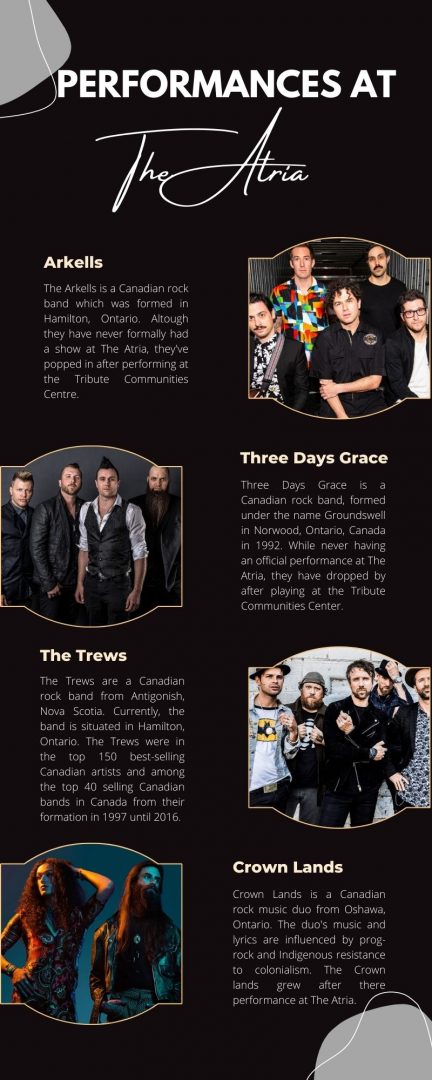 "Anything that you're hearing on the radio, pretty well any Canadian bands have travelled and stopped here at The Atria because we're between Toronto and Kingston or Montreal," says Lezzi, who wants people to know The Atria is a place for everyone and any kind of music.
"It's a place to play. We don't discriminate any type of music we host here. We've had all sorts of genres of music."
Lezzi attributes the longevity of the restaurant and the bar's popularity to the ability to stay open late into the night.
"You know, even if you have two or three customers, stay open. I think that's the key," he says. "If it's a dead night…those two or three people, they come in and they'll remember, 'Oh, The Atria or that restaurant bar was open so let's go back to it.'"
According to Statistics Canada, Arts and Culture in Ontario directly contribute $27.5 billion annually to the provincial economy, representing 3.3 per cent of Ontario's GDP.
The Oshawa Music Awards (OMA) is an annual ceremony held to showcase the musical creativity that comes from Durham.
The OMAs began in 2016 and are organized by the Durham Region Music Society, a non-profit organization dedicated to promoting and supporting the local music scene. The awards are open to any artist or industry professional who live within the Durham Region, which includes Oshawa, Whitby, Ajax, Pickering, and Clarington.
Sutherland is also the director of the OMAs and says the OMAs want to amplify the success and growth of local talent.
"Our objective is to celebrate the development of [local music], it is not to necessarily develop at the beginning. It acknowledges key contributions that aid in the growth of Durham Region music business economy, highlighting and nurturing its progression," he says.
"Imagine going to a movie and there's no music in it. Imagine going to a play and there's no music in it. Imagine going to an art show and there's no background music," says Sutherland. "Imagine going on the bus or somewhere and you don't have the opportunity to put your headphones in your ear and listen to some music."
St. Patrick's Day 2020 was meant to be another busy night at The Atria, but the onset of the pandemic forced them to close. Regular customers and the staff, according to Lezzi, helped pushed them through the hardest times of the pandemic.
"We've had a bunch of loyal customers that came and supported us throughout the whole pandemic," he says. "Staff is also another big factor too. We have a great staff and they have a lot of friends that come in and support the restaurant slash bar… so we were pretty lucky."
In 2017 the Ontario Arts Council (OAC) commissioned Nanos research to explore Ontarians' views on the impact of the arts on quality of life and well-being; 88 per cent of Ontarians agree that participating in arts activities builds a shared sense of community identity and active local arts scene helps make a community a better place to live.
Price to Die also emphasized the importance that local and/or underground artists have to a city.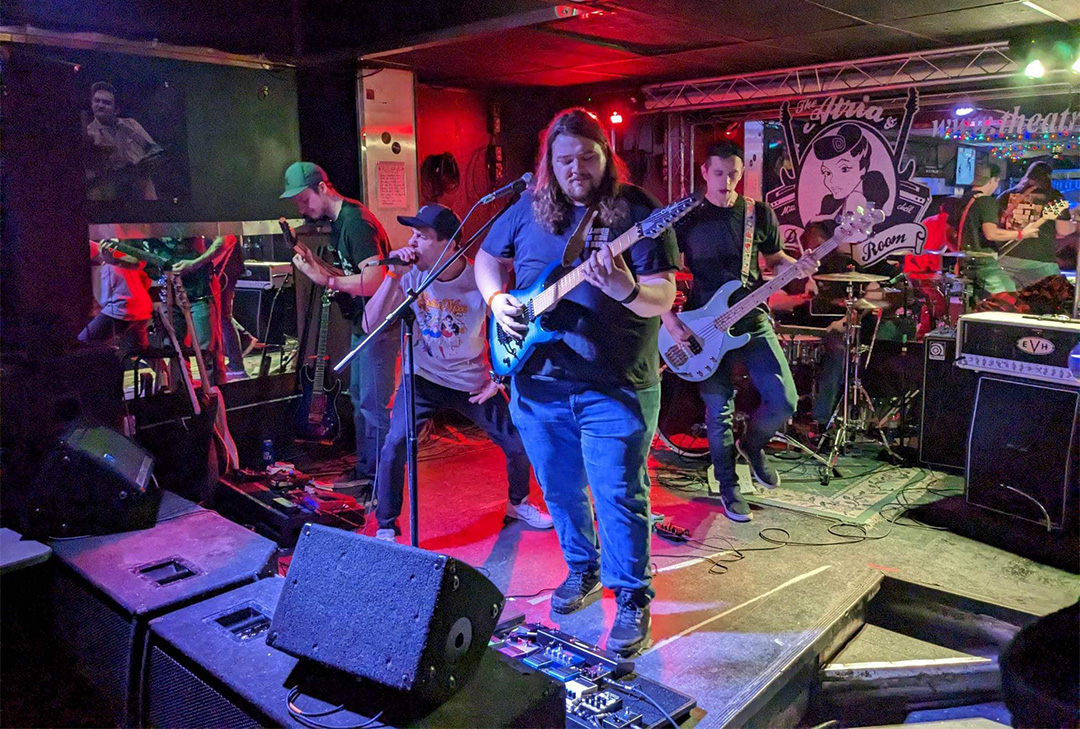 "I think for a lot of people, in a lot of ways it's not important, but it's essential for them," Krumins says. "I think it's safe to say that it's made a huge difference, not only for musicians but also for bars and venues and people that work in this industry."
Sutherland points out that the pandemic helped people realize the value arts have to the health and vibrance of a community.
"Many studies show how much culture is key or significant to building a community," he says. "It has shown as well during COVID when the economy was closed and artists could not perform live, how much that affected the community as well. Not just from a monetary point of view, but also from a psychological and sociological point of view."
The OAC survey mentions 93 percent of Ontarians believe that arts activities help enrich the quality of their lives.
"People want music. People love music. People want to be a part of what's happening around a music scene. Music builds community. Music builds people. Music is money and music builds an economy." – Tony Sutherland
Sutherland says the growth and development of music in Oshawa starts from the success of local venues like The Atria.
"It's important that as a community we maintain those venues that we have, and we maintain the scene that we have so that we can be a part of that cultural milieu that binds us from coast to coast to coast as a nation," he says.
Oshawa is home to several live music venues, including The Music Hall, The Atria and The Dungeon. These venues offer a range of genres, from rock and blues to country and hip hop, attracting both locals and musicians on tour.
In addition, Oshawa hosts several music festivals, such as the Oshawa Music Week and the Tribute Communities Centre Concert Series, which showcases both new and established talent.
The city has a rich history of music education, with several schools and colleges that offer programs in music performance and production. Oshawa's music scene is thriving and offers something for everyone, from live shows to music education opportunities.
Lezzi says he's happy with the state of arts and culture in Oshawa but would still love to see improvement.
"Hopefully it stays like this and gets better and a little bit more vibrant. The more venues downtown Oshawa has brings out more people," he says.