co-written with Felipe Salomao
Going to parks, break dancing and partying were part of Chad Tyson's childhood in Pickering. This is when he started doing graffiti.
"I was always into drawing, so I started doing graffiti because of hip hop. You weren't allowed to do graffiti, it was like looked down upon but amongst our peers, it was cool," he said.
When Tyson went to Durham College for Graphic Design twelve years ago, he expected to be able to work on his graffiti; however, his hope shattered when classes started.
"I sit down on my first day of class and the teacher hands out a letter saying all the things we're not allowed to do in art class and one of them was graffiti," he remembered.
Tyson, now 38, said the mentality was "different time back then, and the society had to change the perspective about graffiti."
After he finished college, Tyson decided to move to downtown Toronto and continue pursuing his dream of becoming a graffiti artist.
However, in 2002, he got arrested at Graffiti Alley in Toronto, which left him with a permanent criminal record.
"I went to (the) Don Jail, which was like a notoriously rough jail, ended up getting arrested again and they put me in West Detention Centre and all this stuff for doing graffiti," he said. "And then, the same alley, just won the Toronto Tourism Board. So, we were just ahead of the time."
In 2018, Graffiti Alley in Toronto was awarded the Tourism Toronto President's Award. On Rush Avenue near Queen Street, Graffiti Alley consists of multiple walls and entire buildings painted with graffiti art. The full corridor is colourful and a draw for tourists, but this didn't help Tyson, who was 17 years old when he was arrested the first time.
Graffiti is now used to draw tourists to downtown areas and to revitalize city centres. In the city of Oshawa's Plan20Thirty, public art was identified as a way of transforming the area into "a lively and modern urban centre where we all thrive."
In 2018, Oshawa approved the Public Art Master Plan, which states "The recommended funding strategy would result in an $82,000 increase to the annual tax levy requirement if approved." Of this amount, $60,000 annually goes into a reserve fund.
"It just brings joy to so many people, and more people visit Oshawa," Tyson said. "The kids do their TikTok videos, and we've had people set up their drum kits and they do a whole drum set and the mural in the background. All these people are artists that are using our art to make their art a little cooler."
The city of Oshawa was one of the first supporters of Signs of Life, founded right at the beginning of the COVID-19 pandemic by Tyson and Rebekah Noseworthy.
Noseworthy works as a new business and operations business developer at PLANit Philo, a real estate service company focused on placemaking, art and exhibition.
"People were afraid. No one knew what was going on, there was a lot of ambiguity in the world. And it was my idea – I had said to Chad: people just need a 'sign of life,'" Noseworthy said. "It signals humanity, a sense of existence. So that is kind of what sparked where the name came from."
The project works with placemaking and murals and has been helping colour walls around the Durham Region. In Oshawa, Signs of Life's murals contribute to the downtown revitalization plan.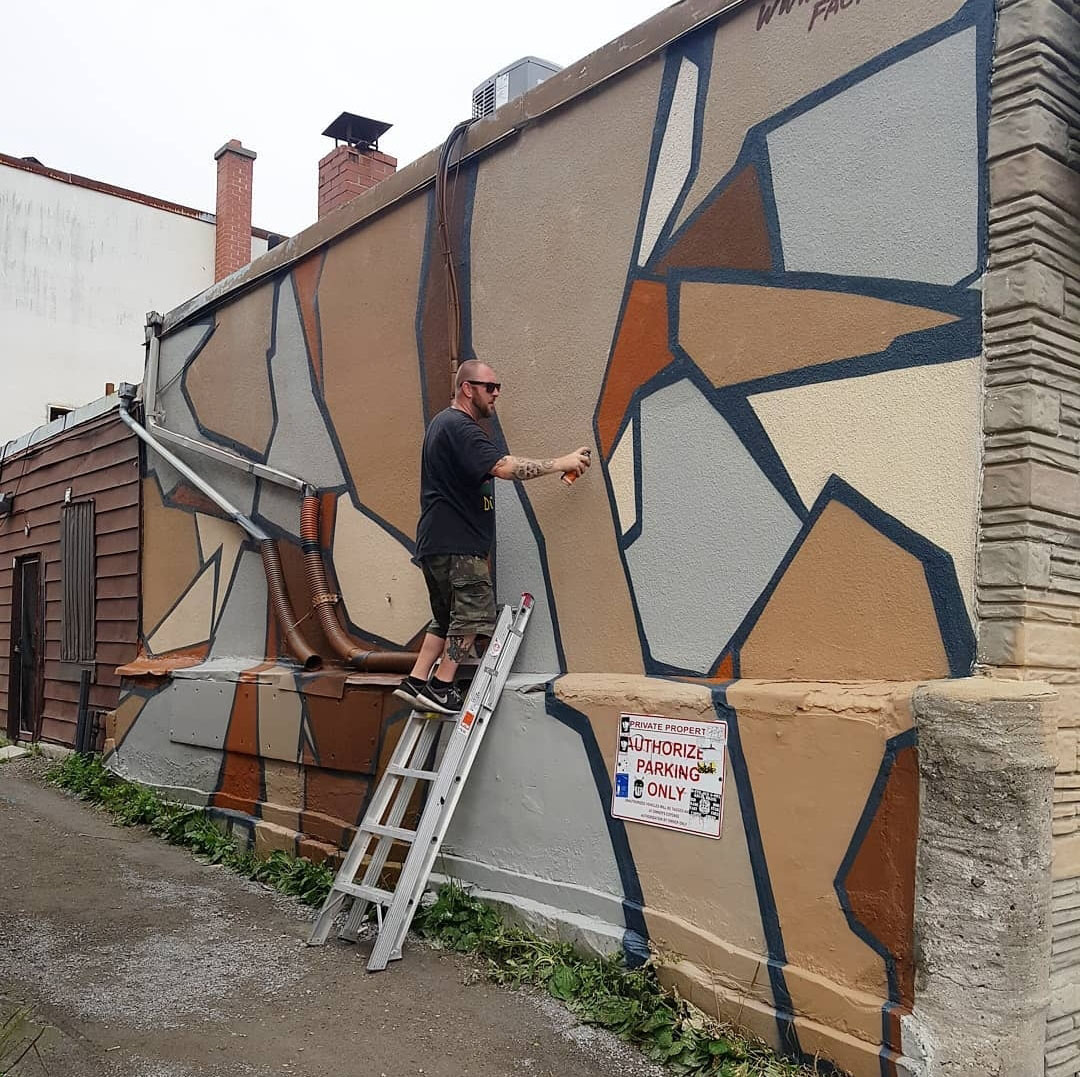 "Every municipality was putting (a) budget towards anything that would improve quality of life. So, whether that was improving parks or dedicating budget to murals," Noseworthy said.
Signs of Life brought Tyson and the Brazilian artist Bruno Smoky together to work on a mural called 'Just Transition Mural,' located at 103 Simcoe St. S, downtown Oshawa.
Sustainability was the inspiration, but Smoky said he also remembered his father, Antonio Revitte, who is one of his biggest supporters when it comes to graffiti.
"The mural is to make us think not only about our future itself but also how we grow in a technological environment and – at the same time – take care of mother nature," Smoky said. "The idea is the big tree represents a car manufacturer producing electric minivans which are more eco-friendly."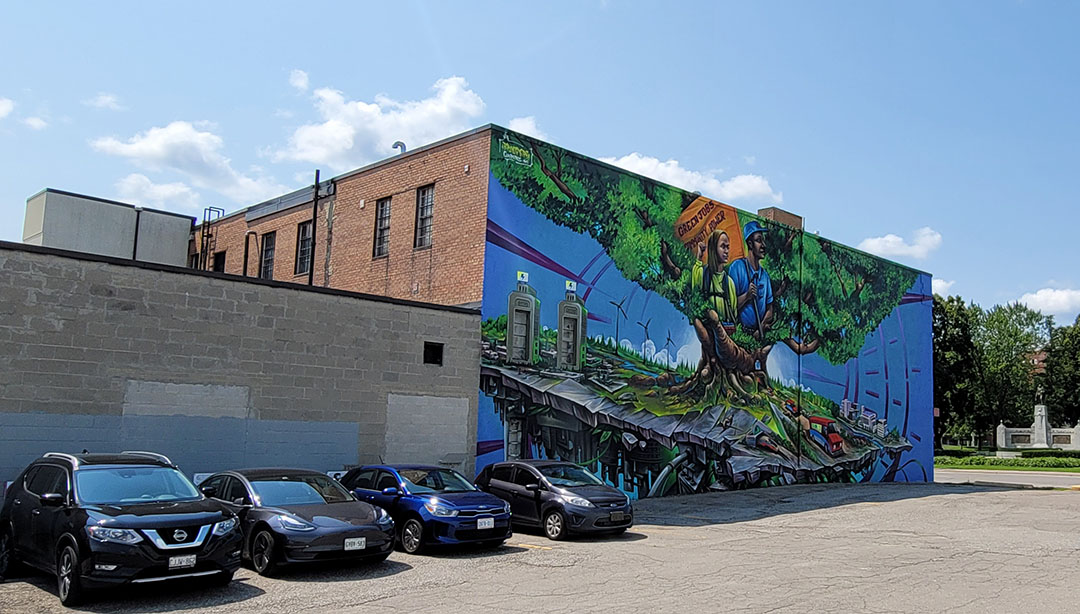 So far, Signs of Life has over 4 murals around the Durham Region, and we hope more can be done to bring positive impacts to the city.
"When you can put (a) sort of budget or dollars towards improving the space that you operate in, whether it's your own businesses, outside walls, or it's just because you care about the community that you're in," Noseworthy said.