The day Fabiana Papaleo handled a piece of fish leather while working at The Bay, she knew that was going to be part of her life and career. The texture, colours and resilience of this material inspired her as a designer and a person.
Papaleo loved being a designer for big companies, which she just recently went back to doing. But she also had other dreams. Being a mom had also been in her plans and, after years of trying, her son Luca was born.
At that time, Papaleo was a fashion trend forecaster which required her to travel and be away from home a lot.
She decided the corporate world's travel requirements weren't for her after becoming a mom.
That was when she created the MIMO Store. MIMO means 'meaningful ideas for meaningful objects.' It is a one-of-a-kind fish skin and leather jewelry line designed and produced in Toronto.
The leather used is made from fish farmed for consumption, but the skin is purchased then used by designers like Papaleo to create eco-friendly products.
While MIMO is eco-friendly, the brand also focuses on social inclusion. It supports the Brazilian "Amor-Peixe" Association, a women-only organization with the goal of empowering women to provide for their families.
As a Canada-based company, Papaleo has also chosen to support local Canadian suppliers for fish leather and other materials.
Papaleo is the one responsible for the design and production of the items.
"I find in nature the inspiration for most of my collections. The creative process is entirely organic. My background as a trend forecaster serves as a baseline for all my creations. After I have decided on the idea or theme for the season, I immerse in an image search and build an inspiration board to wrap my thoughts around the concept. Then, I start drawing, designing, and building the prototypes," she explains.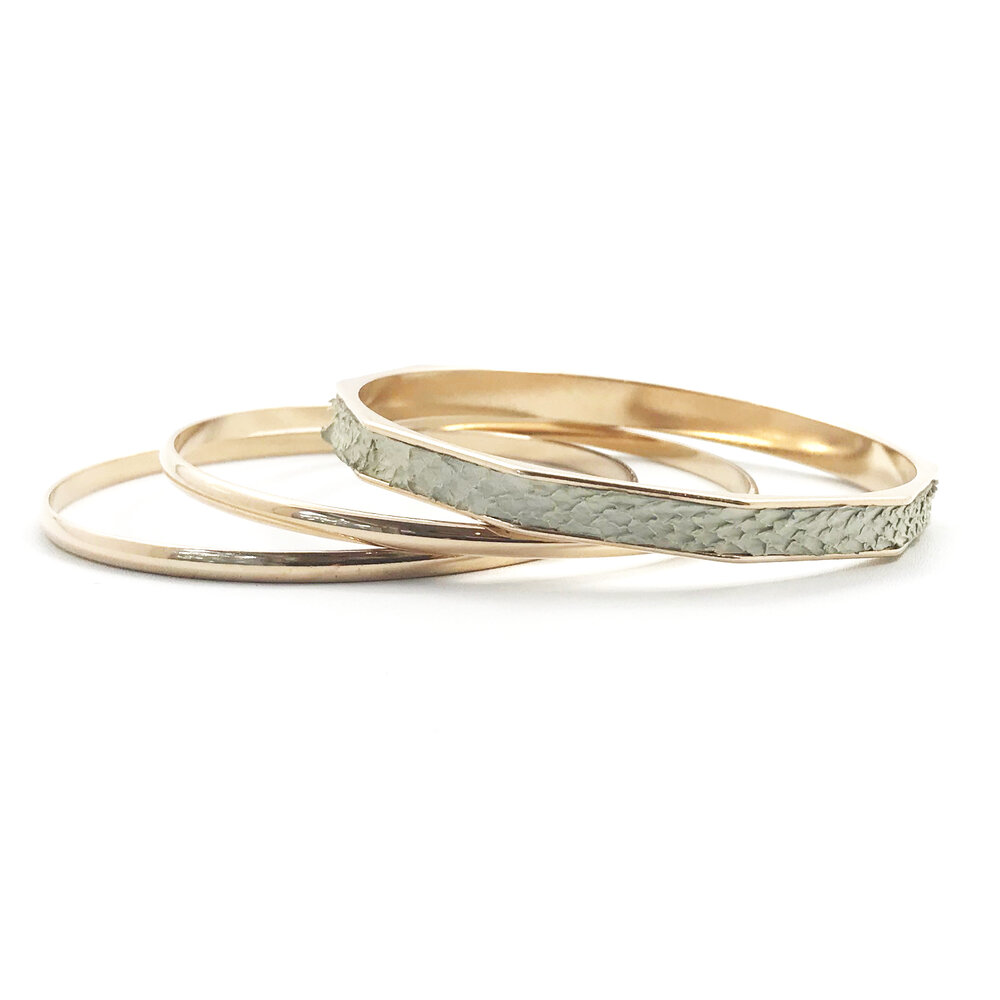 Papaleo is very passionate about women becoming entrepreneurs and gives as much advice as she can.
"If you have a road map, you can always refer back to your overall business objectives and pivot in the right direction when necessary," says Papaleo who goes on to say it is important to be creative and understand that change will be a constant.
She advises not to be afraid of judgement but rather to be patient, persistent and willing to invest a lot of time and energy into the new business.
"The road ahead can be long and bumpy, but also beautiful and fulfilling," she says.
Papaleo has also counted with her niece Camila's help in her brand. Camila has worked in both the backstage and main stage.
"Aunt Fabi has been to many markets and events promoting the brand. She really deserves to have success, the times she spends designing and producing everything… It's amazing how committed she is to everything she does," Camila says.
Papaleo isn't only a mom, brand owner and designer. As the holidays approach, her other function is being extremely required.
She works at Canadian Tire as Christmas Designer. She designs ornaments, decorations, lights, and everything Christmas-related.
This means while people think about presents and Christmas dinner, she runs around like crazy trying to finalize the season.
"Fabiana's ornaments are absolutely gorgeous. We are so lucky to have a supplier for this year's Christmas," jokes Maria Tereza Papaleo, Papaleo's mother-in-law. "She always does an amazing job with handling everything, especially having a seven-year-old son. And of course, MIMO is my favourite jewelry brand, I have my own pieces that I never take off."
As for her next steps, Papaleo hopes to continue expanding MIMO and increasing the number of design jobs she does.
As a person who never gets Christmas out of her mind, the 2022 holidays are already being planned.