As this year's Durham Lords season wraps up, the program will say goodbye to the long-serving head of varsity athletics.
After 36 years, someone new will be in charge when the new season starts this fall.
Ken Babcock, director of Athletics and Recreations, retires this June but his impact will still be found all over campus.
Babcock's story at DC started like many people, with the goal of going to college.
"It just happened someone that was from my hometown originally was the athletic director here at Durham College," he said. That person was Dave Stewart.
Babcock applied and got into DC's Sports Administration program and graduated in 1986. He took DC's first ever Sports Management Post-Grad program the following year.
That course scored Babcock a job in the Athletics Department.
"A job opening came up in the department after I did my co-op here and I was hired," he said. "Starting the facilities and worked my way through and a few years later became the athletic director."
He named Stewart, who gave him the opportunity, among many others like Richard Snowden, a former Lord's softball and curling coach, and Ernie Rainbow who was the assistant athletic director in the 1980s, as his mentors.
"I was really fortunate to have an opportunity to learn from some really great people," he said.
Under Babcock, DC's athletic department flourished.
He oversaw the Lords achieve 42 provincial gold medals, 105 medals in the Ontario Colleges Athletic Association, plus 22 medals and five gold medals in the Canadian Colleges Athletic Association.
Babcock's impact doesn't just stop with the medals. He also founded many of the athletic facilities on campus.
In 2020, he oversaw the completion of a $2.2 million softball field on the Oshawa campus.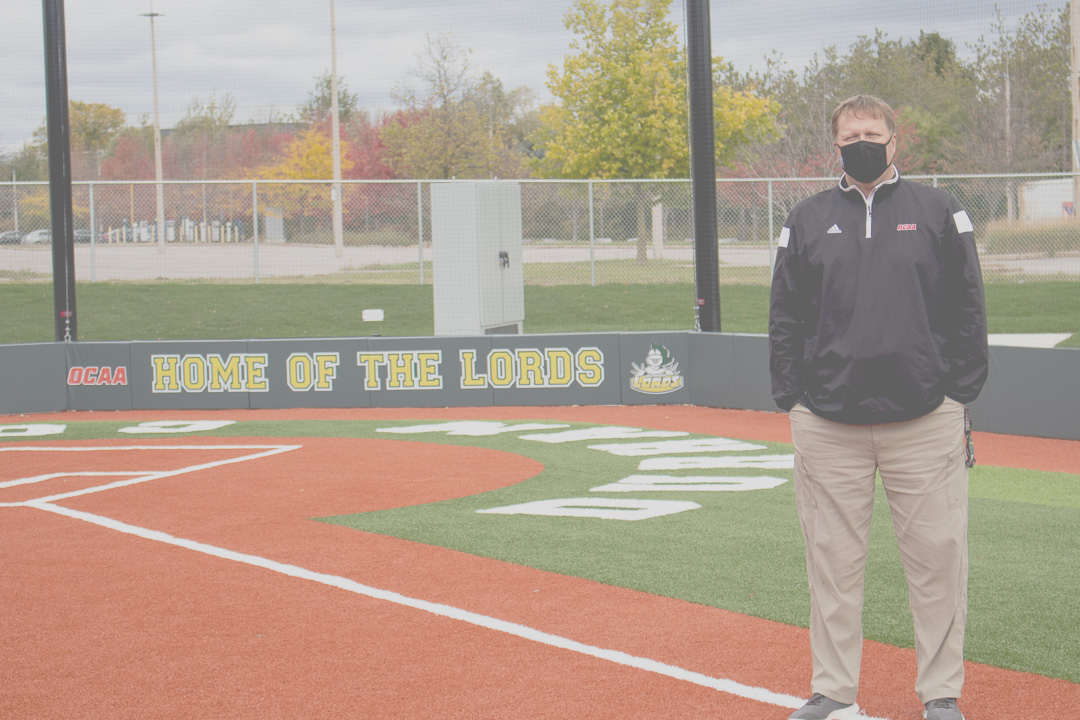 Vaso's Field was built in 2013 and serves as the Durham Lord's soccer and rugby teams' home turf. More recently, in 2019, it was converted from natural grass to a FIFA-approved artificial infield turf.
In 2005, the Campus Ice Centre was built, an on-campus hockey rink that's used for college intramurals, free skates, Ontario Tech's hockey programs and community hockey clubs.
The widely used Campus Wellness and Recreation Centre was added in 2007. It's home to three large gymnasiums and an indoor elevated 200 metre running track.
After the birth of Ontario Tech University in 2003, Babcock was given the task of starting a university athletic program.
"From athletic programs, intramural programs, a school nickname and starting our first ever varsity teams," he said.
For the next decade, Babcock did both roles for the college and university.
"I really cherish those times," he said. "It was a really exciting time to build a university athletic program."
In 2019, Babcock was inducted into the Oshawa Sports Hall of Fame. He was recognized for his contributions to DC and Ontario Tech sports, as well as wider community efforts.
He founded the Canadian Intercollegiate Baseball Association (CIBA) in 1994 and served as the president of the Ontario Colleges Athletic Association (OCAA) from 2001 to 2003.
Babcock also founded the Durham College Sports Hall of Fame in 1997, which can be found on the second floor of the Campus Wellness and Recreation Centre.
His most recent accomplishment was working through COVID-19.
"I think no one was prepared for that, there was no guidebook on that," he said.
Babcock's job was to keep DC's athletic programs afloat. Working through numerous government and Health Canada guidelines to even reopen was "quite the task."
"I really am proud of how we as a department handled all that," he said. "I think we came out the other side really strong because of it."
Babcock has enjoyed watching student athletes come through the program.
"Watching student athletes achieve success is an amazing thing," he said. "We've had wonderful coaches over the years, amazing student athletes."
Men's soccer coach Dave Ashfield said Babcock made his mark on colleagues too.
"I think I'm going to miss his forward thinking," he said. "I'm not to say the next person won't be that way, but right now you'll miss the forward thinking and his passion."
Babcock plans to spend his retirement golfing in Prince Edward Island with his wife.