Canada is often thought of as a safe place, a place of refuge. In fact, many people flee their home country to come to Canada for these very reasons. For Saba Eitizaz, this was the plan.
After being threatened by both the military and militants in Pakistan for her work as a human rights journalist, she came to Canada in the hopes of continuing her work safely but this has not been the case.
Instead, she has faced racialized hate, harassment and graphic threats of rape and even death.
"Canada was a place of refuge, so I really didn't expect this to happen," she said.
Nearly three quarters of female-identifying journalists said they had experienced online violence when surveyed in 2021 by UNESCO for their research paper The Chilling: Global Trends in Online Violence Against Women Journalists.
Twenty-five per cent of respondents said they faced threats of physical violence, including death threats. While 18 per cent said they had received threats of sexual violence. One fifth said they had been attacked or abused offline in connection with online harassment.
Eitizaz, producer and co-host for the Toronto Star's podcast This Matters, faced both online and physical violence before leaving Pakistan.
"I had to go through a systemic online hate campaign, digital surveillance, which eventually translated into real life violence where I was detained several times by intelligence agencies," she said. "I was attacked and shot at and it came to a point where you know I had to seek exile for my safety, to continue to do my reporting."
She arrived here in 2017. Since then she said she has seen Canadian mainstream politicians basically "dog whistle" and make it ok for people to harass journalists.
A week after Maxime Bernier's infamous tweet, where he urged followers to "play dirty" with journalists, Eitizaz said she started receiving emails.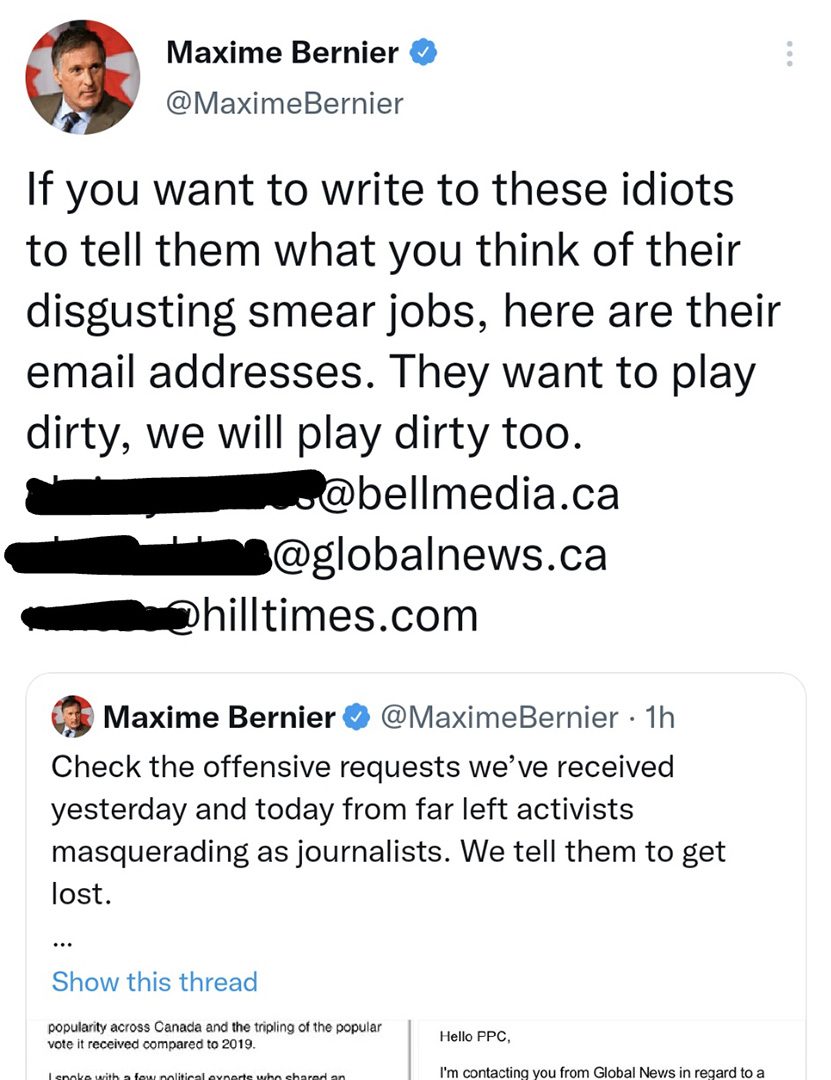 "They are vile. They are not just misogynist, they are also Islamophobic, they are racist. They are some of the most visceral, raw hatred that you can come across verbally that can feel almost physical," she said.
The emails didn't stop there. Eitizaz, and two other Canadian journalists, received similar threats simultaneously.
"It always happened on a Friday is what I remember because it seemed like whoever wanted to target me wanted to make sure that I thought about it really hard over the weekend when I had my time off," said Eitizaz.
She started receiving death threats here in Canada.
"I was told that I would be executed by a shot to the back of my head in a stadium full of civilized Canadian men cheering that on," she said
Eitizaz, along with other Canadian journalists receiving these emails, went to the police but she said that wasn't the experience it should have been either.
"To varying degrees, we were basically just gaslighted," she said.
The experience between the three of them was different depending on the colour of their skin, their accent and where they were from, according to Eitizaz who was dismissed on the phone right away and treated like "just another immigrant."
It took almost a year of abuse, and a letter signed by 48 newsrooms being sent to the Prime Minister, the Safety Minister, various MPs and the RCMP before someone took her first complaint, she said.
Eitizaz said the police process has been very surface level and "tokenistic" asking for impact statements and nothing more.
"I think that's appalling in a country that prides itself on democratic values," she said.
Julie Sobowale, the Western Director for the Canadian Association for Black Journalists (CABJ), said it's the way newsrooms deal with the threats. The lack of zero tolerance for these types of incidents is part of the problem.
She feels that with the rise in harassment and online threats to racialized, female journalists, there needs to be a systemic shift in how journalists are spoken to in our society.
"We have received many phone calls and emails from CABJ members who want to leave the profession because they just don't know how to handle this. They feel alone. They feel isolated in their newsrooms," she said.
Noor Ibrahim, the morning news anchor and co-host for Global News Peterborough, said Global News has decided it's now up to their journalists if they want to be active on social media. She mentioned many within the organization know this is not the solution to the problem.
"The focus should be on a different subject, not the journalists moving off the platform, but perhaps the harassers, repercussions for existing on those platforms," she said.
According to Eitizaz, it's also a structural issue when you have a majority white, male-dominated, executive stakeholder composition.
She said they can't understand what it's like to be a vulnerable, imperilled journalist.
"To know there is no help coming and that you are in danger for your life after you have been running for your life from another country," she said.
Ibrahim, Sobowale and Eitizaz all agree the representation of female and racialized journalists, at all levels, is important in newsrooms so that those in leadership positions understand what is happening.
"They can try to understand the issue but it's really outside the frame of their experience," said Eitizaz.
Newsrooms need to understand what's going on and determine to resolve this problem.
They need to look at it as a collective problem of journalism, of freedom of expression, freedom of press and a danger to democracy, Eitizaz said. They need to understand it's happening right here in Canada, to our journalists.
The line is being crossed between criticism and abuse.
"I think the line is pretty clear when it comes to death threats and graphic rape threats and racism and Islamophobic comments. That's not ok," said Eitizaz.