Jeremie-Sorel Nguewo spirits down the side of the pitch but sees his teammate shoot the ball on target, he then accelerates into the box after the goalkeeper makes the save. He jumps as high as he can to connect with a header and manages to put the ball into the back of the net.
The ball falls onto the mesh and is followed by cheers in the crowd as Nguewo sees his teammates run toward him in excitement. They hug, give high-fives and rub his head in encouragement.
"It was an unbelievable feeling," says Nguewo after he just scored his first goal for the Durham Lords Men's soccer team against the Sault Cougars on Sept. 18 of this year in a 6-0 win.
In the same match, he scored his second goal, spiltting the defence open and dribbling the ball into the box. Sweat dripped down his face, he took a deep breath then the shot on goal, it trickled off the post and into the net.
Nguewo, who was born in Germany, was on top of the world after scoring these two goals. He has since found himself on the bench for the Durham College Lords, contemplating whether he made the right decision to join the Lords not the St. Lawrence Surge.
Nguewo's love for soccer started at four years old when he watched his uncle, Geremi Sorele Njitap, who played at the top level in Europe.
"My grandma wanted me to be named after him," he says. "That's really my inspiration, my uncle, I want to be just like him one day."
Nguewo's father, Alain Christian, has paid for Jeremie's soccer since he was four years old.
"I just want him to be a professional like he wants," he says. "I'm doing everything I can to make that happen for him."
Nguewo, whose parents are from Cameroon, started his journey at the house league level in Toronto in 2010, where he worked his way up the ranks. He managed to reach the Ontario player development league (OPDL) which is one of the province's first standards-based, youth high-performance leagues that combines top-level competition with strict high-performance practice.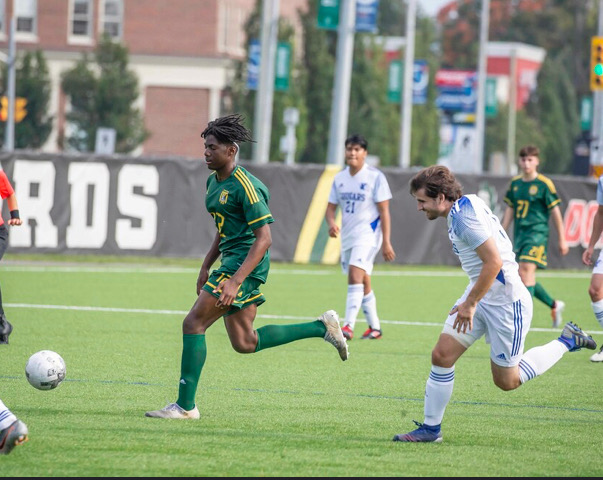 His rise started when he met Garrincha, a coach at the Whitecaps London Soccer club at the OPDL and has his own academy. Nguewo joined Academy Garrincha at age 11 in 2015.
"I was with Garrincha my whole life," says Nguewo. Garrincha praised Nguewo's left foot but remembers the attitude problems he suffered.
"There were moments we had to talk, refocus, he loses his concentration very fast," he says. "It felt like he thought that having a good left foot was enough."
The first obstacle of Nguewo's career was in 2019. He was 15 years old and had fallen behind in school. His father made the decision to remove him from sports for a year to catch up.
"No soccer, nothing," says Nguewo. "I didn't train or touch a ball for a year."
Nguewo's mother, Guilene Fotso, moved from London to Oshawa at the time to pursue a job as a vice-principal. Nguewo says this affected him mentally and physically.
"I have little brothers, so my dad wanted to spend time with him after work instead of driving me almost an hour and a half to practice every day," he says. "I was sad about it but it is what it is."
When Fotso left for her new job, Christian found it difficult to juggle his job and needs of his sons.
"I was alone with all my boys," he says. "Jeremie was playing soccer and his brother was playing basketball so sometimes I had to ask other parents to drop them off."
Between games and practice, on average Alain would drive Jeremie 50 minutes round trip about 4-5 times a week, which is equivalent to around 218 hours of travel time per year from when Jeremie was 11 to 17 years old.
"For me, school and soccer have to go together," he says. "When he was more concentrated on soccer than a school it's a problem, that's why I took him out for a year."
Upon his return to soccer at 16 years old, Nguewo's coach Garrincha who at first wasn't in favour of the decision to leave the team for a year, saw major improvements.
"The year before he left London he started to click," he says. "It was a pity to lose him, I felt sorry he left London because he was really starting to connect all the dots."
Nguewo's attitude change was caused by the pressure from his parents who have invest time and money into his career. Nguewo says he's on a mission to make their investment worth it.
"Soccer is really expensive in Canada, so they always told me we spend the most money on you out of your brothers," he says. "But it motivates me to play hard….I want to make them happy"
When he applied for college scholarships, Nguewo ended up with two concrete offers, the Durham Lords and St. Lawrence Surge.
"But after I thought about it like financially and family wise, I felt the Durham Lords was the best choice."
Now he is not so sure. Nguewo is not content with the number of minutes he's been given this season after being left on the bench for consecutive matches.
"I've always been playing a lot at my previous teams but this is one of the first times where I've barely played before in the league."
Nguewo's current coach, Dave Ashfield, is a huge fan of the player as he sees the longevity of his program, his physicality and his ability on the pitch.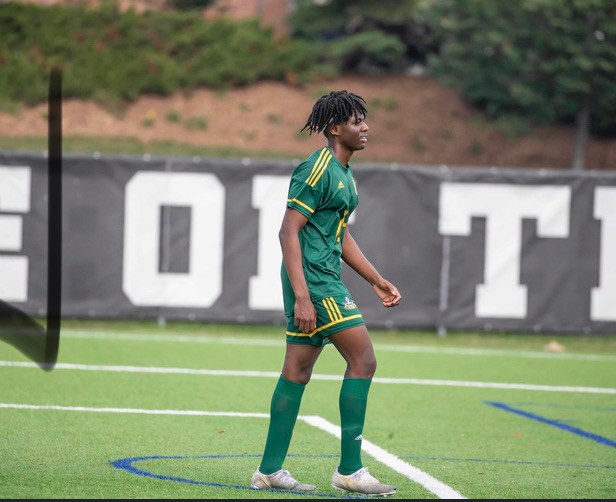 Ashfield noticed Nguewo had a tough introduction to the college game.
"He's very dynamic and he's fluid going forward, it's just the rate of getting back and being in the right position and understanding new positions," he says. "His positional game is what's got him out a couple of times."
Nguewo's substantial problem is his ability to learn, says his coach.
"For Jeremie, the biggest thing is to just be satisfied with learning, getting better and adjusting to the college game."
This is a challenge Nguewo never experienced before. He grew up as the best player on his team.
"I was winning man of the match in every game and was always playing."
Nguewo understands this is part of the experience and says he has the ambition to overcome it.
"I'm going to put the extra work in on the pitch and in the gym," says Nguewo. "I know I'm good enough."
Nguewo set his goals for this offseason, such as training and practice, to return to the Durham Lords pre-season training in immaculate conduction. He wants to leave his mark on the team.