The First Peoples Indigenous Centre offers support for emotional, spiritual and mental health for students on campus through a variety of Indigenous resources.
FPIC is located in the heart of the Centre for Collaborative Education on the Oshawa campus.
There's a colourful carpet in the centre of the room with a black, yellow, red and white medicine wheel above.
It's a place for students to feel comfortable, according to Indigenous success coach Jocelyne Pelletier.
"The centre is a space to be their home away from home," she says. "We call it the nest away from home. That's why we are called the Suswaaning Endaajig, meaning nest away from home."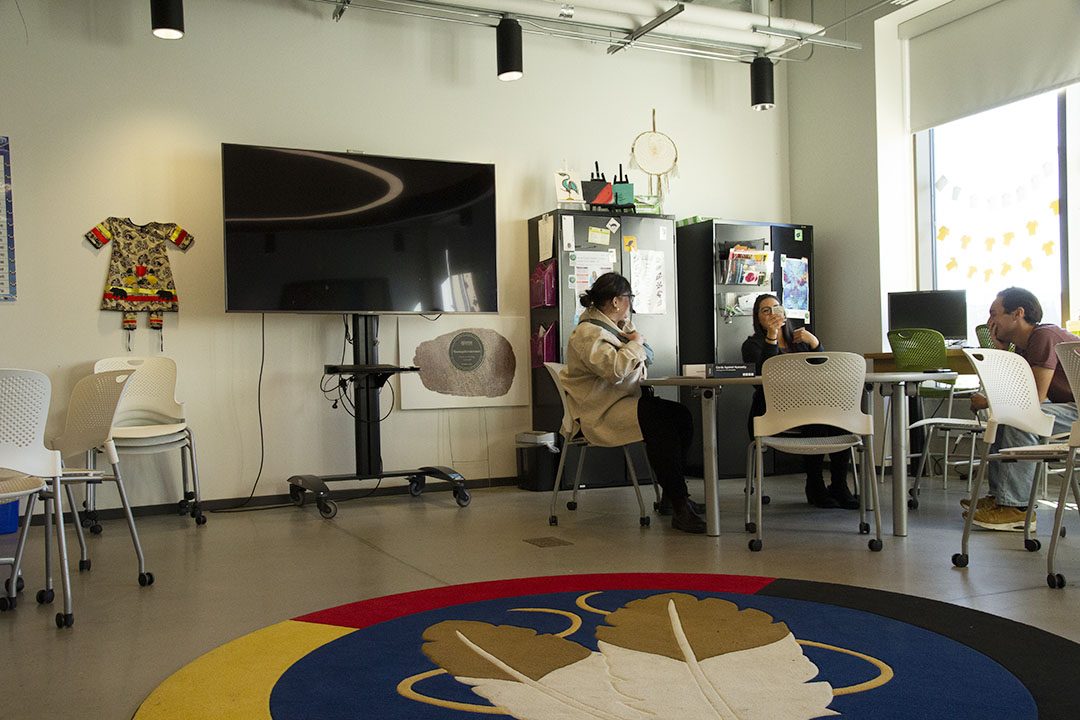 The FPIC organizes events, such as land acknowledgement workshops, to encourage students to visit and learn about its importance.
Pelletier says there is also other help available.
"I am here for one-on-one appointments that support the Indigenous students seeking advice on applying for bursaries," she says. "Maybe they are looking for support that I would not need to refer them to the campus health and wellness centre."
On Sept. 30, the National Day for Truth and Reconciliation, Durham College, introduced the commitment to transform CFCE's outdoor space into an Indigenous learning ground, known as the Naanaagide'endawomin Courtyard.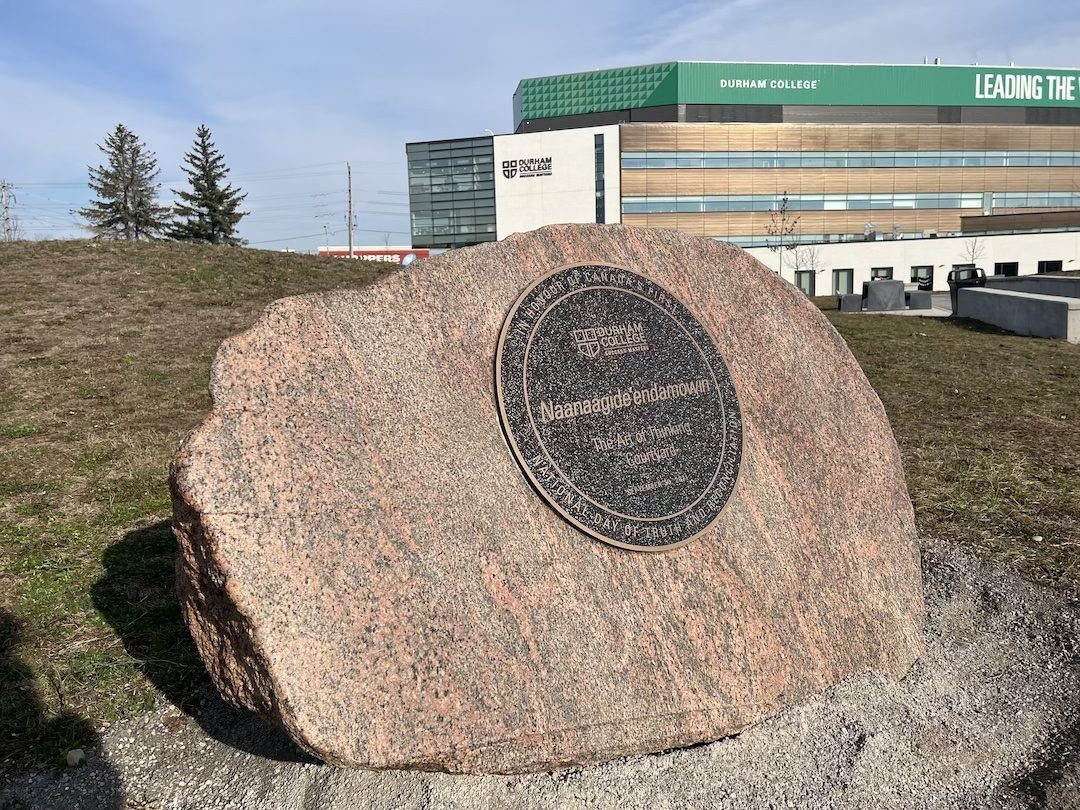 FPIC set up six QR codes in different locations on the courtyard to encourage students to pause and reflect.
The codes will redirect them to information about Indigenous history, land acknowledgements, sacred medicines, 13 Moons (the Anishinaabe calendar moon cycle), the Weeping Willow Tree (a reflection space) and upcoming events at FPIC.
The five-year goal for the centre is to make new resources available to all students and faculty members, to increase their knowledge of Indigenous history and culture.
Music Business Management student, Jupiter Morgan, visits the centre to connect with success coordinators Pelletier and Amanda Banning, and uses it as a workspace.
Morgan comes from a "Americanized background," where says he didn't have much exposure to his Métis history and culture. He was born and raised in Scarborough and attended Catholic schools.
Morgan says he had no real education or teaching about his Indigenous background.
He says Banning and Pelletier have taught him about First Nations people in Canada and have helped him learn more about the history and culture.
"I feel they've been teaching me quite a bit of the different First Nations and the cultures that come with them including spiritual advancement which follows with smudging," he says.
He encourages other Indigenous and non-Indigenous students to stop by the centre to increase their knowledge, and become an advocate for Indigenous issues.
Students are welcome to visit the centre during drop-ins on Wednesdays to learn about different aspects of Indigenous history and culture.