Imagine you have so much to say, but cannot say anything.
As a man with quadriplegic, non-verbal cerebral palsy, Marshall Hohmann says he felt he had something to say from a young age. Now, with the help of an Augmentative Communication Device, he can say anything he wants.
"As soon as Marshall was given his voice output unit, he has had tons to say about everything. His biggest concern were those around him with 'special' abilities, with no voice or a way to communicate," says Paula Hohmann, Marshall's mother.
Non-verbal cerebral palsy is caused by severe dysarthria, which is described as difficulty controlling the muscles used to speak. Many people who are non-verbal also struggle with chewing, swallowing and breathing.
About 25 per cent of people with cerebral palsy are non-verbal, according to a 2016 study that looked at features of language impairment in a sample of children aged 5 to 6 years with cerebral palsy (CP). Hohmann is non-verbal, but his mom says he has never let that hold him back.
Marshall Hohmann is a motivational speaker, despite the fact he can't talk.
He can be booked on his website Marshalltalks.com, which aside from direct bookings, also includes the history of his journey and blogs he has written, as well as information about accessibility, awareness and inclusivity.
"If you can't climb the mountain, go around it. We all have a place in this world, and that is his motto in life," she says.
Hohmann has been an ability awareness presenter since high school, according to Marshall's mother. Now at 30 years-old, this is still something he is passionate about.
"In high school tech class, he learned to do PowerPoints and edit materials, anything to do with computers," she says. "The rest just followed suit."
He started his ability awareness presenter journey talking to parents and caregivers, she says, then moved onto giving talks at school, to students and teachers and parent groups.
Hohmann spent 10 years as the ability awareness presenter for Grandview Children Centre, where he presented to a wide range of community groups across Durham Region and the GTA. His goal remains to help others understand that every individual deserves an equal opportunity to succeed.
Hohmann has spoken at the Canada Revenue Agency twice and at Queens Park.
"I enjoy when my job takes me into different classrooms of schools," Hohmann says. "I especially like speaking to the third-year engineering students at Ontario Tech or to the augmentative and alternative communications class at Durham College."
And he isn't ready to stop there. He has big goals for the future.
"I would really like to be a detective one day," Hohmann says. "Because I don't speak and am in a chair, I notice things that lots of people miss in their environments, and hear things most people don't hear because no one listens anymore."
People listening is only part of the battle.
Hohmann says it's almost a daily event that people talk down to him like he is a child or even talk about him as though he is not there. He also doesn't like when people speak to his worker when he is able to answer the questions himself, something Shawn Buteau, one of his workers, tries to prevent.
"I just make sure that when we meet new people, I make them understand that developmentally Marshall is his age – 30. I explain that he is physically disabled, and they shouldn't talk to him like he is five," says Buteau.
Even though he is there to help Hohmann, their relationship is much more.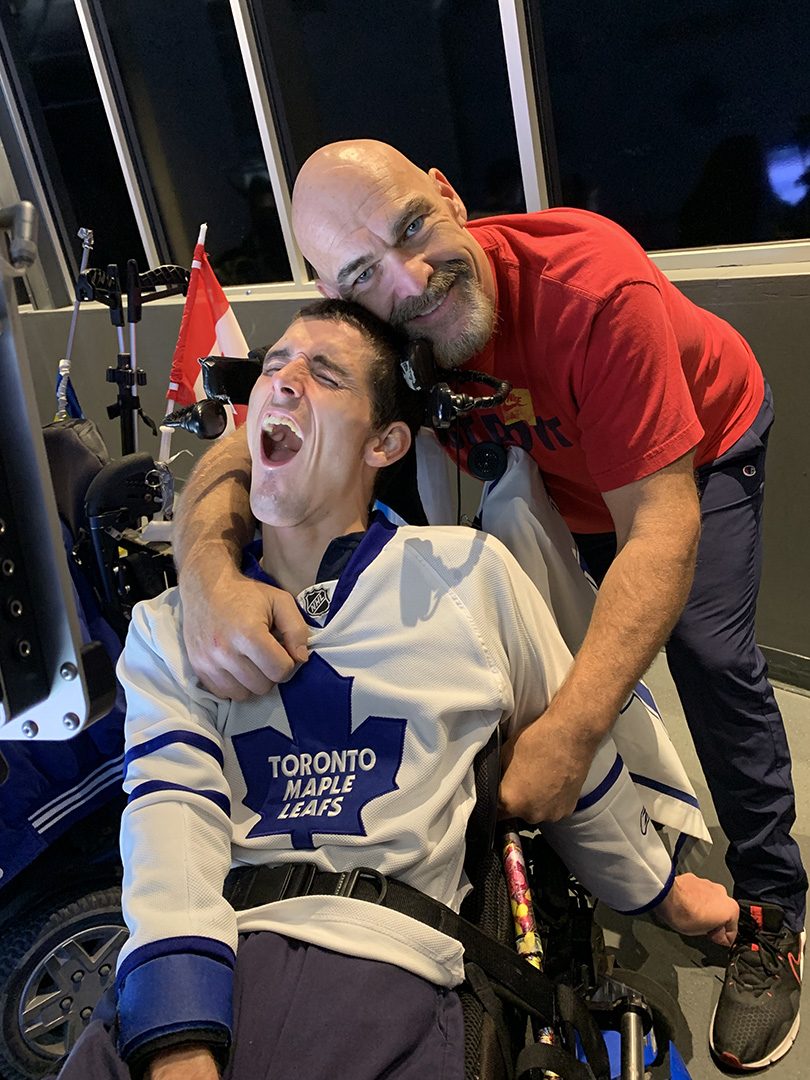 "The highlight of my day is truly when I walk in the door and the smile Marshall gets on his face," Buteau says. "He is first and foremost my friend. I try to make our time together as enjoyable for him as possible."
Hohmann plans to continue to educate people and says health professionals, teachers and parents need to embrace a positive "think outside the box" outlook, not one of sympathy or judgement.
"Speak to us like a human being, with feelings and intelligence, because if our roles were reversed, you would not like me speaking to you that way."
He wants to be able to have decent conversations with people and be invited to parties, dinners and movies without having to pay someone to go with him, he says. He wants to be a part of society and not be herded into programs because he is differently-abled.
"Please don't see the disability first," Hohmann says.