Pita-Garth (PG) Case took time out of his Saturday afternoon to talk to residents of Whitby's East ward. After hours of canvassing, being shunned at people's doorsteps, and in one case being flat out ignored, Case was not deterred.
Case ran for Whitby town councillor in the 2022 municipal elections. He wanted to engage the community, instructing confused citizens on how to vote, even offering to drive a busy elderly woman to the polling station. He wanted to guarantee every person he met with felt respected and heard.
"If I'm going to do something, I'm gonna do it for the right reasons," he says. "There are individuals out there that have a lot to say, but they don't either have the opportunity, the time to say it, or they're … overlooked."
Born in Jamaica in 1984, PG Case and his family came to Canada in 1992. He says he appreciates the experience of multiculturalism in Ontario, as opposed to the much more homogenous Jamaican culture which "infuses your culture and identity."
Case notices a divide between cultures in Durham which he aims to solve with his community service work and DurhamOne.
Case founded the organization DurhamOne to amplify unheard voices in Durham, and to "bridge the gap" in the community.
DurhamOne's motto: "One Community, One Vibe, One Durham" is derived from the Jamaican motto "Out of many, one people." This motto encapsulates the goals Case has for bringing the community together.
"To actually speak freely about issues that affect all of us and not just thinking that if there's one issue that affects one community, and it looks different to another community, it's not an issue."
To engage people with community, Case wants DurhamOne to hold forums during election periods. This would help people understand the importance of being an active member of your community and educating them on how the municipal system works.
"If you look at 2018, we had 26 per cent of the voters turn out. In 2022 we only had 23 percent eligible voters turn out," he says. "That to me shows that there is disengagement. That to me shows that there is lack of trust, understanding of the process and what this means when you don't show up and vote."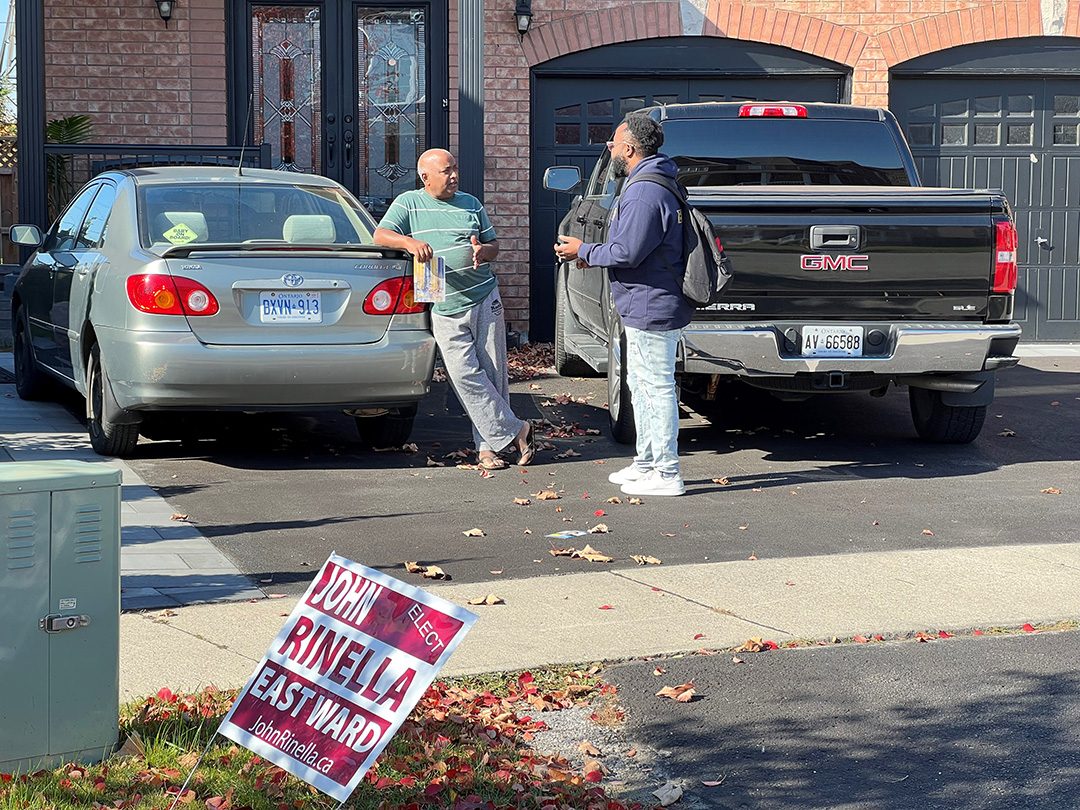 He also wants these forums to hold politicians accountable.
Gail Wilson-Beier, a board member for DurhamOne, says from the moment she met Case she noticed he was attentive.
"He is a rare commodity in his genuine approach," she says. "I cannot understate his level of compassion. I cannot understate his intelligence, and his value in that he truly believes in a grassroots approach."
Case discovered his passion for community service in 2013 when he was the vice president of the Black history celebration at Trent University Durham.
"I was just like 'yeah, this is what I want to do' because when that event was done, I actually felt depressed because I'm like what else do I do now?"
A pivotal moment in Case's community service journey happened when a youth pastor approached him in Church and offered to teach him about leadership. The pastor told him a leader is "someone who knows how to be led and also knows how to serve people."
Since then, Case has become a leader within Durham as the executive director of DurhamOne.
Dane Record, vice president of DurhamOne, says Case's leadership is complementary to his work, and he will have conversations with many people before arriving at a statement or solution.
"I actually lead by his example," he says. "I am, just by nature, very much just action-oriented, a firefighter if you will, whereas PG is much more a pragmatist."
Case says he's "conscious of his space as a Black man" and recalls multiple situations where he noticed disdain or discomfort while at someone's door and had to adapt to that space and "speak proper" to ensure they felt safe.
"It was a reminder that I can't always go into other spaces and feel accepted like some of my other counterparts," he says.
However, Case doesn't let his experiences with racism dishearten him. He says he wants to grow his name in the community so he can continue to fight for their voice. He encourages more people to give up their time for community service and wants it to be known that everyone can make an impact.
"A pebble still makes a ripple in the ocean," he says. "If a lot of us small people come together, and start to drop in that ocean, we make bigger ripples until we make a wave."