Tammy Francis, a first-year student in the Conflict Resolution and Mediation program, has been turned down for a parking pass – four times.
She wonders why since she looks around and sees empty spaces and half-full lots.
"Two of those times I was standing at parking applying for lots that it said on the (sign) were available, and I still got turned down," she says.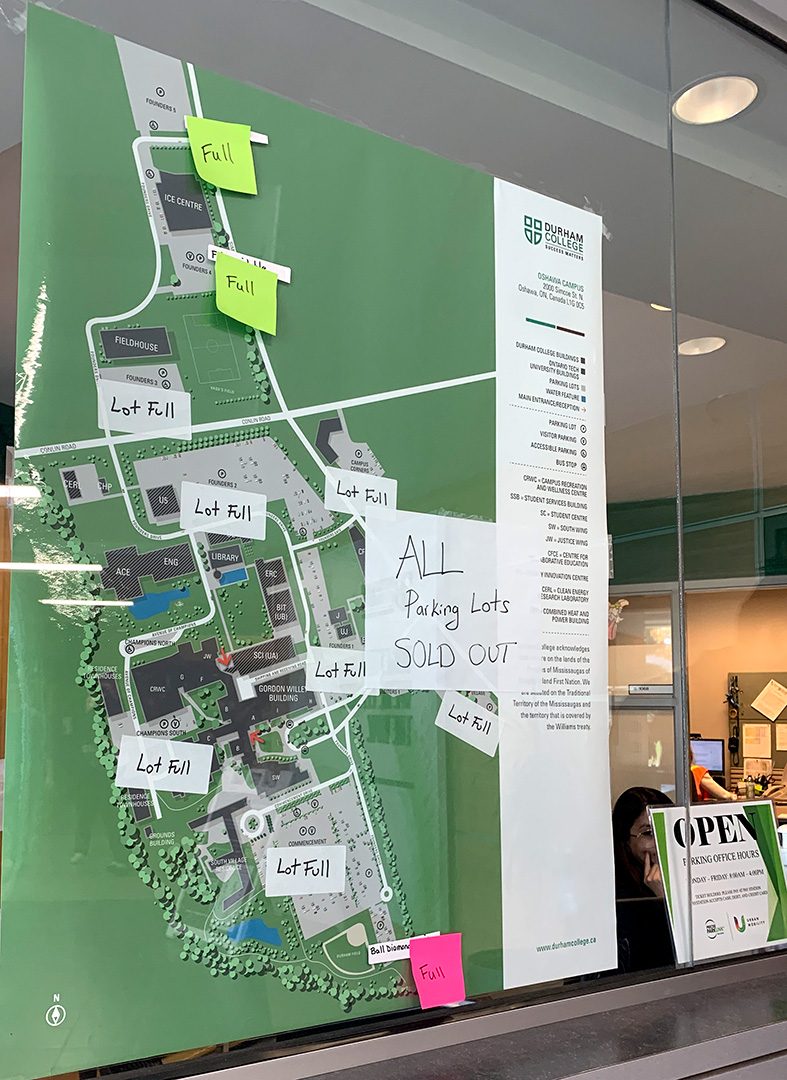 Francis now pays $18 a day to park in the same lot she was denied a parking pass for, a pass that would have cost $320 for the semester. She is not the only one.
Lauren Kemp started at Durham College in January. She says she paid for a parking pass for the fall semester but when she went to use it, it wasn't working.
"I go to the parking office at Durham College, Oshawa campus, and they say there is nothing they can do to help me and that the parking lots were already full," Kemp said in a message to the Chronicle.
She says she was charged for the parking pass, then it was cancelled and refunded without notifying her.
According to Francis, she has been sometimes been charged extra at the gate, on top of the $18 she already paid.
Recently, she paid at the kiosk, then got a phone call on the way to her car. By the time she went to leave she was charged another five dollars at the gate, after already paying the daily maximum, she says.
Tom Lynch, director of campus safety for both Durham College and Ontario Tech, says at any given time there are more than 24,000 people on the Oshawa and Whitby campuses, with only 4,000 parking stalls.
He says the expectation there will be parking for everyone is unreasonable.
"Parking has never been guaranteed for people. We can't. We can't physically guarantee parking when you look at those numbers," he says.
According to Lynch, PreciseLink has already over-sold parking passes for the semester. They have sold 5,500 passes for the 4,000 spots available, but he says they also need to keep single-day spots available.
"There is a responsibility for us to have a single daily rate available for that person that comes to campus once a week and doesn't want to buy a parking pass," Lynch says.
The solution for Whitby Campus was to pay for a hundred parking spots at the nearby Landmark Cinema, and shuttle students to the school. There is no cost to students for this, according to Lynch.
Francis was told she should carpool or take the bus, neither of which is an option for her.
"I drive everywhere," she says. "I drive an hour and a half to get to school to start with. I'm not going to drive an hour and a half to get to Oshawa, park somewhere that I am probably going to get a ticket at, to take a bus in a city I don't know at all."
Lynch says the college is looking for a solution for students at the Oshawa campus, similar to what's happening at Whitby.