They say everything old is new again – and that applies to local shopping malls and COVID-19 restrictions.
Under provincial guidelines, retail shopping protocols changed Jan. 31, reverting to a previous set of rules. Currently, Pickering Town Centre has all entrances open, no more screening before entering done by security at the entrances, reduced hours, and the ongoing mandatory face coverings.
Each store in the mall is still running at 50 per cent capacity to ensure customer and staff safety. Emily Glaeser, manager of Zumiez, has made new rules that changed the "chill dynamic" of the store known for selling clothes, shoes and skateboarding equipment.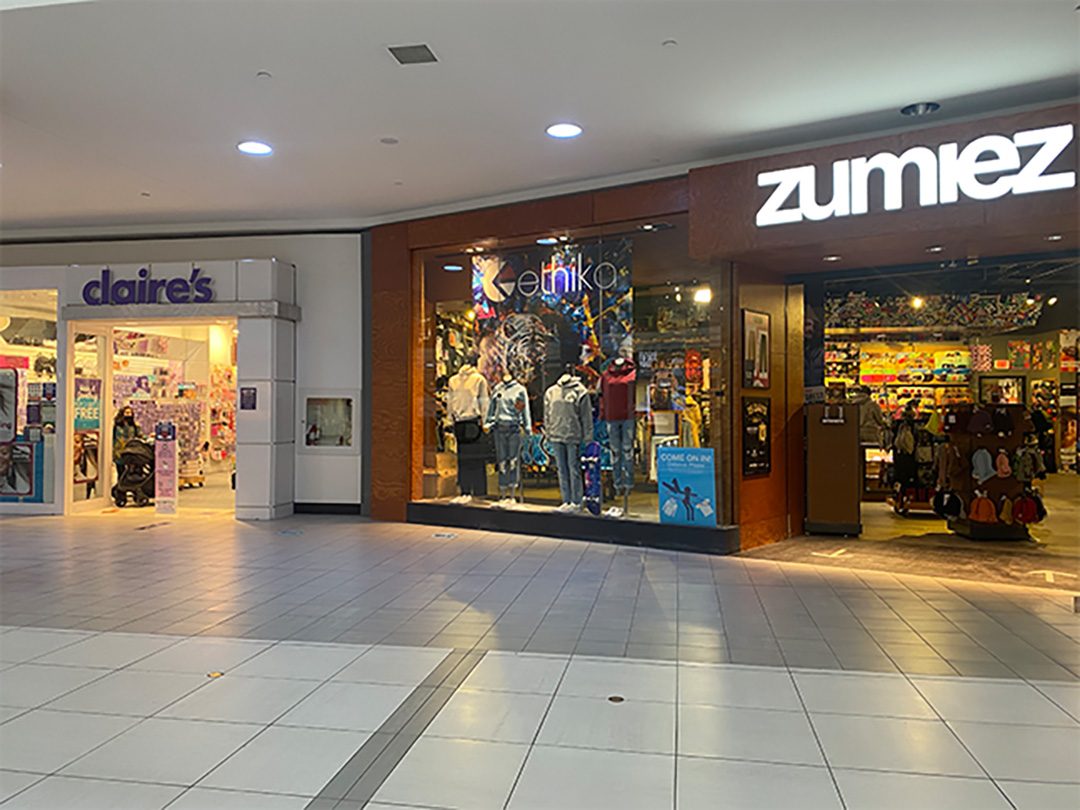 "The protocols for my store are, 50 per cent capacity, so we're running at 17 customers allowed in the store that allows every customer to be six feet apart," she said. "As well as sanitizing all machines after use and wearing our masks at all times."
Sanitizer is also offered to customers at the door to be applied when entering and leaving the store. Zumiez also has a staff member at the door to count the number of customers entering the store to keep the 17-customer limit, according to Glaeser.
"Staff safety is something we take very seriously here," she said.
Online orders have picked up since COVID-19 which made foot traffic in the store less busy, according to Glaeser.
"I can't have a fun free-for-all in the store, people can't be blasting music because now we have to be a little bit more cautious with lower music so we can hear people with their masks on," said Glaeser.
Danielle "Dee" Gauthier has been the store manager at Claire's for 15 years. Her store's procedures are similar to Zumiez but some things are more extreme because Claire's offers piercings.
"We have a COVID procedure binder which has all our up-to-date information we keep it all in one place, we need this for when the ministry of health comes," she said.
Claire's also has a 50 per cent capacity, more cleaning and a sign-in log to know who worked each day and to confirm they had no symptoms. Delivery vendors who come in each day also sign this log, according to Gauthier.
Sanitizing following a piercing has been doubled from one spray down with cleaner to two which leaves at least 10 minutes between customers. Face shields are worn by the piercer, masks are required if a child is over the age of two, and only one person nearby when piercing is happening, according to Gauthier.
Gauthier said proof of a medical by-pass can allow customers to come into the mall without a mask, but stores can still choose to require masks.
"Security is not allowed to force people to wear masks but we can in our store," she said. "We can refuse service to people who come in without a mask, and I do."
According to Durham Regional Police, mall complaints related to COVID-19 restrictions being broken, are dealt with by municipal by-law officers.
While Gauthier rolls with the pandemic protocols put in place by the province, she admits to some frustration over the frequently changing rules.
"We're left out of a lot of it until the decision is made," said Gauthier.