Oshawa's Tribute Communities Centre (TCC) is back in business after shutting down entertainment and sporting events in the recent lockdown. Despite re-opening some concerts are still postponed to later dates and a few were even cancelled.
For example, The Arkells were scheduled to play this Saturday but due to COVID-19 crowd restrictions the show has been rescheduled to April 16.
According to Vince Vella, TCC general manager, all the "starting and stopping" due to restrictions and lockdowns is "problematic" and has made business "tough".
In 2020, Vella had 89 events budgeted and only had 28 take place.
"It impacted us by basically taking away 75 per cent of the content we had for that year," he said.
The entertainment industry faces uncertainty when it comes to the pandemic, according to Vella. The TCC moved a Miranda Lambert concert meant to happen in 2020 three times before eventually cancelling and hoping to reschedule at a later time where there is more certainty.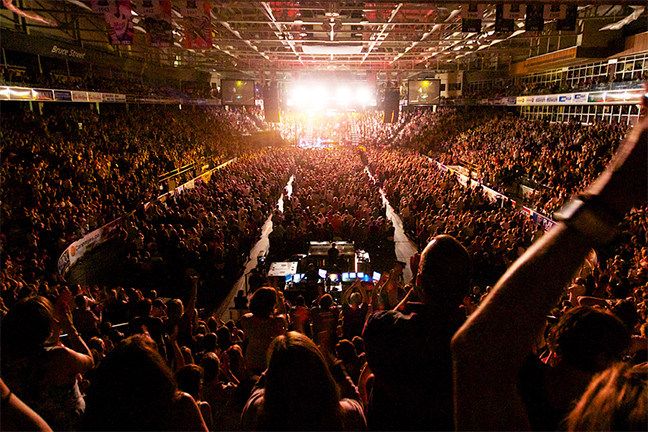 Many shows including the Arkells, Dierks Bentley and Jeff Dunham have postponed or shifted to later dates following the most recent lockdown, according to Vella.
The rescheduling of concerts has not only been challenging for Vella but has also caused frustration for fans.
Whitby resident Tim Hogan is a fan of the Arkells who hoped to see them on Saturday but will now have to wait until April.
Hogan was planning on buying a corporate suite through TCC for 20 friends to all enjoy the concert. The suite is purchased off someone who rents it out when they are not using it. The change of the concert date does make this plan more "difficult," he said.
"It does create a bit of a problem like I said it would be different if it was just two tickets because then I could decide between my wife and I, one, 'are you comfortable going?'. It's a lot easier for two people to decide," Hogan said.
The lockdown also created problems for shows that had been booked but not yet announced to the public.
"We also had a country show that we hadn't announced yet that was ready to go on sale," Vella said. "But then they felt that timing isn't right so they're looking at dates now in November-December."
From a financial perspective the loss of live music has been "devastating" to the TCC. As an entertainment venue the TCC also relies on people coming in and buying food and beverages when they see a show. Cancelling so many shows makes it difficult to generate revenue, according to Vella.
"I think (the) sports and entertainment industry if not the hardest, is one of the hardest hit," he said. "Only because our industry relies on mass gatherings and that kind of has been the focus to stay away from in the pandemic."
In addition to the Arkells, the only non-hockey events so far booked at the TCC are basketball legends Harlem Globetrotters on March 10, Irish dance group Celtic Illusion on April 19 and comedian Jeff Dunham for Nov. 16.
Vella expects to add more shows shortly, adding fans can expect to see "a lot" of content coming through.
"Artists are all dying to get back out there and reconnect with their fans," said Vella.