(Editor's note: The author of this article also served as an organizer and host of the event.)
Journalism students at Durham College (DC) have been reminded by a panel of experts about the importance of covering all angles in communities and diversifying sources for stories.
Black and disabled journalists joined together for the Voices in Journalism panel at DC Nov. 2.
The Q&A panel was held over Zoom and in the Global Classroom. The panel had two parts spread out over two hours.
The first panel was 'Voices in the Disabled Community' which included guests Joeita Gupta, a blind journalist at the CBC working as a producer and radio host of The Pulse on AMI Audio; Kevin McShan, a freelance journalist and public speaker with cerebral palsy; and Aly Beach, who identifies as hard of hearing and is a DC journalism alumnus from 2018.
The second panel was 'Voices in the Black Community' whose guests were Brian Daly, a journalism professor at the University of King's College and board director on the Canadian Association of Black Journalists; Ashley Marshall, a full-time professor at DC and freelance journalist; and Jason Miller, a Toronto Star crime reporter and DC journalism alumnus.
They shared their experiences with journalism students and hoped to inspire better storytelling for the future.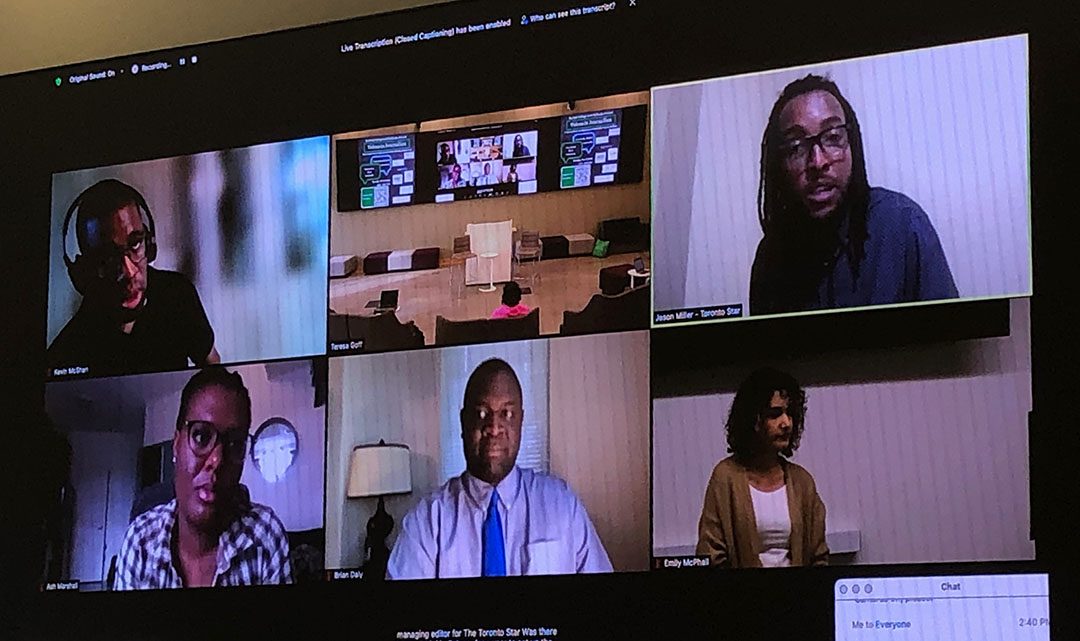 Marshall spoke about her experience this past February, after being interviewed by a Toronto TV reporter about a controversial Black History Month scavenger hunt held by the Municipality of Durham Region.
When interviewed, Marshall said the journalist assumed she was "angry" over the incident and asked leading questions that fed into a negative stereotype and storyline of the Black community.
"This reporter wasn't emotionally intelligent enough to ask me 'how do you actually feel?' and then listen," Marshall said.
She explained to students how emotional intelligence is a large part of being a journalist.
"You need to really listen and learn how to interpret the information without 'whitening' it, or making it able-bodied or filtering it through that," Marshall said. "Ask people questions to get the story, rather than framing it or shaping it into something that's sellable.
"It's great to study how to be a journalist, but you also have to take it upon yourself to understand emotions. You can get a better story by asking more ethical questions."
Gupta said journalists need to expand their range of sources to be more inclusive in their coverage.
"We need to ask ourselves, is there a disability angle to this? And then find people to talk to about that angle," Gupta said.
"If I'm an able-bodied person, I may not be thinking intuitively about disability, or if I'm a heterosexual person, I may not be thinking about the LGBTQ community. And so we really need to interrogate where we're situated and ask, 'what is it that I'm not thinking about?'"
Both panels spoke of one overarching theme: no one person can speak for an entire community.
"No one's singular individual experience, although very important, stands in for an entire community," Gupta said. "So just being aware of that, and as journalists asking ourselves critical questions. Who are we talking to? And by extension, who are we not talking to?"
The discussion ended with all the panellists encouraging students to cover stories out of their comfort zone and outside of their communities.
"It all comes back to wanting to have an open, honest and objective conversation with a variety of different people," McShan said.