Julie MacIsaac, director of the Innovation and Transformation department for the City of Oshawa, is proud of her team for adapting to the COVID-19 changes of the last year-and-a-half.
"We didn't need to think about how we did the work, but the work kind of changed," said MacIsaac.
The shift to online was smooth and Zoom meetings worked well because the department is project-focused. They were not concerned their work would not get done, but the pandemic meant they had to adapt to the needs of the community, MacIsaac said.
The team MacIsaac oversees is different than other departments at the City because it doesn't focus on delivering services. Municipal law enforcement and garbage removal were "front line things" that the City needed to find a way to keep providing despite the pandemic.
However, MacIsaac said the case for her team was different because the last two years have seen "a lot of awakening around social issues."
These social issues mean there is a real need for local work to be done around equity, diversity and inclusion in Oshawa. MacIsaac is involved in coordinating those efforts.
The innovation and transformation team was in the beginning stages of putting together a community equity, diversity and inclusion committee when the pandemic hit.
The committee has never met in person. Interviews to select members and the resulting meetings have all been done virtually.
The goal of this committee is to "advise staff on implementing the diversity and inclusion plan," said MacIsaac, "we bring different ideas forward to them and they give us advice."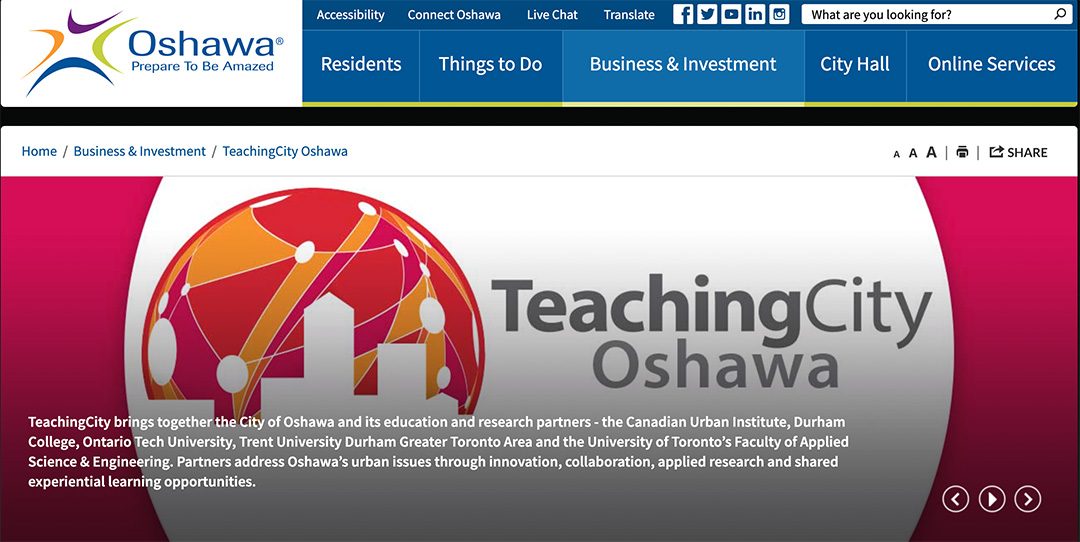 MacIsaac's role has many moving parts.
Another project MacIsaac and her team are responsible for, TeachingCity, is a partnership between the City of Oshawa and post-secondary schools in the area, including Durham College and Ontario Tech University.
"We give students the opportunity to learn more about the City," MacIsaac said, "about local government and that sort of thing."
One of the most exciting parts of her job is getting to collaborate with students and researchers on different projects, she said.
TeachingCity works to provide students with experiential learning opportunities that connect to a variety of different programs.
This partnership includes work with Durham College's School of Media, Art and Design. One of the projects include students reporting on stories happening with local government and another involves creating QR codes along Oshawa's Waterfront to help visitors explore the area.
Although MacIsaac has a home office she has been working out of for the better part of the pandemic, she has started working from City Hall a few days a week. She said one of the benefits of working in a project-based department is that the switch to the virtual workspace has been easier because her team is used to change.
At its core, MacIsaac said, her job is about change and coming up with strategies to do things differently. TeachingCity is an example of the way Oshawa does that in a collaborative way.
"I really enjoy my role and what I do, it's really different," said MacIsaac.