The month the world shutdown, a pandemic looming, exams on the approach, few had time to think about union elections.
Yet Jenna Peace, then a PR & Strategic Foundations student, decided it was her time.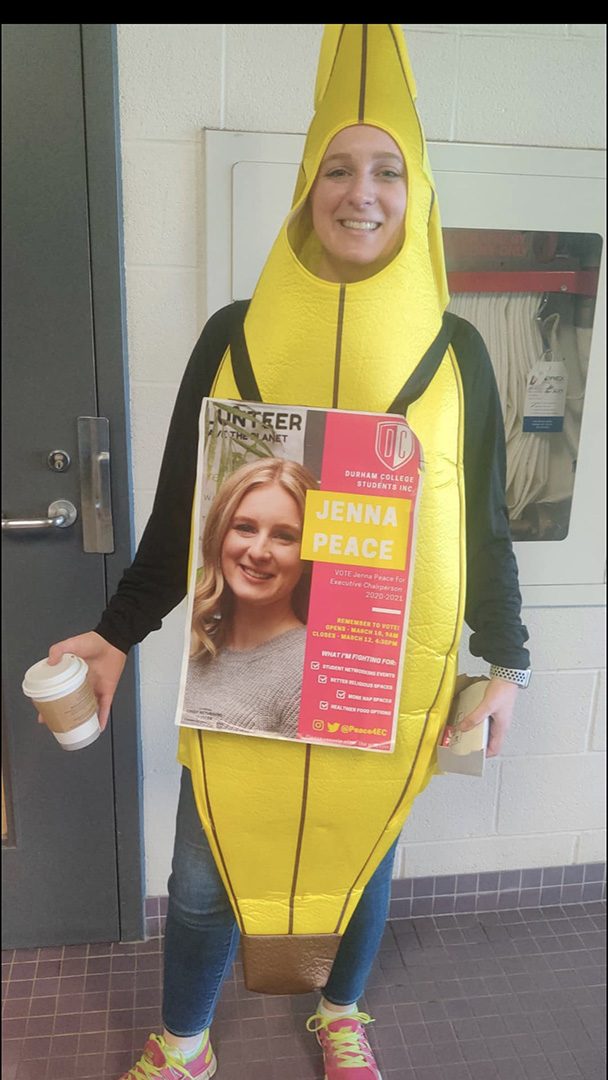 Peace, 25, campaigned to be elected as the head of the Durham College Student Association (DCSA) by dressing up as a big yellow fruit to draw attention to healthier foods on campus.
Little did she know she would lead the DCSA through some of the most difficult times in the college's history.
But how did this Montreal born life-long learner arrive at Durham College, and where will she go?
According to one of Peace's instructors, Matisse Hamel-Nelis, "The sky's the limit."
"She (Peace) challenged me in the best way possible," Hamel-Nelis said. "She always put 110 per cent into everything."
According to Hamel-Nelis, program coordinator of the three-year PR and Strategic Communications program, Jenna Peace was always one to stand up in class and speak out on behalf of others.
Peace said she cannot stand seeing others experience injustice, and will speak out in their defense, even if it gets her into trouble.
"One time in high-school…one of my classmates had ADHD…one day he hadn't taken his medication…he was just being silly for one second and the teacher snapped," Jenna reminisced. "I remember losing my mind…I literally stood up and went 'you can't talk to him like that.'"
As someone with ADHD herself, Peace thought it was unjust for another student to be singled out.
As to where all this passion comes from, not even Peace knows. In her words, she is "always on."
According to Peace, coming to Ontario was a winding journey. She'd managed events at LaSalle College in Montreal, worked for corporations like the NHL, and eventually found work at Oshawa's Party City, but this didn't provide enough challenge.
Then one of Peace's friends died in 2019.
"This was the first person I had lost," Peace said. "I ended up re-evaluating my life and what I wanted to do. It really forced me to take a pause and I ended up applying to Durham College."
Peace said she didn't expect to become the student chairperson for DCSA back then, but she finds being the voice of students rewarding.
Peace has enjoyed working as part of a team since she was young, she said, and she has always been interested in leadership. She was drawn to the DCSA position by the idea that she could improve the student experience.
When the pandemic struck, Peace said she saw it as a point of pride to lead the DCSA through the turmoil. She attended meetings as the voice for students to advocate for solutions to their problems.
According to Hamel-Nelis, Peace is a "go-getter." Having Peace in her class made Hamel-Nelis consider how she could create the most inclusive classes possible.
"Seeing her fight for other students, and other programs around around this campus, made me rethink what am I doing and how I could do it better for my students," Hamel-Nelis said. "She really inspired me to take a look inward."
In her future, Peace said she wants to one day be a mother, but is teaching herself to make her life decisions with more than that one thing in mind.
Peace knew she had come to love leadership. She decided that where ever she lives in the future, she would sit on at least one board as a hobby.
Career-wise, Peace said, she's getting help from Durham College's career development, but the future is uncertain. Whatever opportunity arises, even if it's not what she prepared for, Peace says she'll take it if it feels right.
"I've been looking to getting into the film industry and storytelling," Peace said. She believes there is a lot of power behind storytelling.
"I love hearing stories, I love consuming stories," Peace explained. She spends much of her free time reading. "It's so cool to see one thing from someone's brain come to life."
One piece of advice Peace lives by is to learn about the people around her, especially now.
"We suffered not just as a nation but the whole world," she said, "we all need to start being friendlier to each other…we all need to get out of our comfort zones just a bit so that we can feel all together again…we can spread a little more love in this world."