Some people refer to the library as the heart of every school, so when COVID-19 hit and learning went digital, staff at Durham College (DC) and Ontario Tech University (OTU) suited up for a transplant.
"We were really well-positioned to pivot to online service delivery," said Emily Tufts, who has been associate university librarian for scholarly resources at the DC/OTU library since 2018.
On top of already offering an online book, article, video and journal database, the library website offers a virtual chat service called AskOn. This online chat help service connects students directly to librarians ready to help, a service that has doubled in virtual traffic in the last year, according to Tufts.
Some new services have been introduced to further assist students virtually, including a digitalization-on-demand service.
"If you find a book or print journal on the shelves or on the catalogue, you can request digitalization and our staff will digitize that and send that to you," said Tufts.
The library also launched a home delivery service, offering country-wide, free delivery of physical materials for students to use and send back. This service can be accessed through the library website.
Although the Oshawa campus library has re-opened, DC's Whitby campus library remains closed, making it more difficult for students studying trades to access materials.
"The trades, which are located at the Whitby campus, rely heavily on standards and codes, like the electrical code and the building code," said Tufts, "so we were able to start licensing those for online access."
The library also added online video collections including safety care training for trades like welding and shop, as well as online videos to support the teaching of science and clinical skill concepts.
The Oshawa campus library has welcomed students back with restricted access, said Tufts. To enter the building students must be fully-vaccinated and complete online screening. Once inside they're advised to follow social distancing guidelines and keep masks on at all times.
During a normal school year the library would have an average of 400,000 visitors. This past year that number has been reduced to 10,000, according to Tufts, as the campus remains under COVID-19 restrictions.
Hand sanitizing stations, COVID-19 safety posters and two-way walking stickers are posted around the library. Bottles of sanitizer and paper towels are also spread around tables for students to clean workspaces.
Michael Wilson, a first year game development and interactive media student at OTU, uses the library almost every day to study and watch online lectures.
"People are actually respecting the rules, thank goodness for that," said Wilson, "I find it really convenient."
Group study rooms are no longer available in the library due to safety concerns around multiple students gathering in small spaces, said Tufts. The computer lab is also closed for the time being as physical distancing plans have not been laid out in the area yet.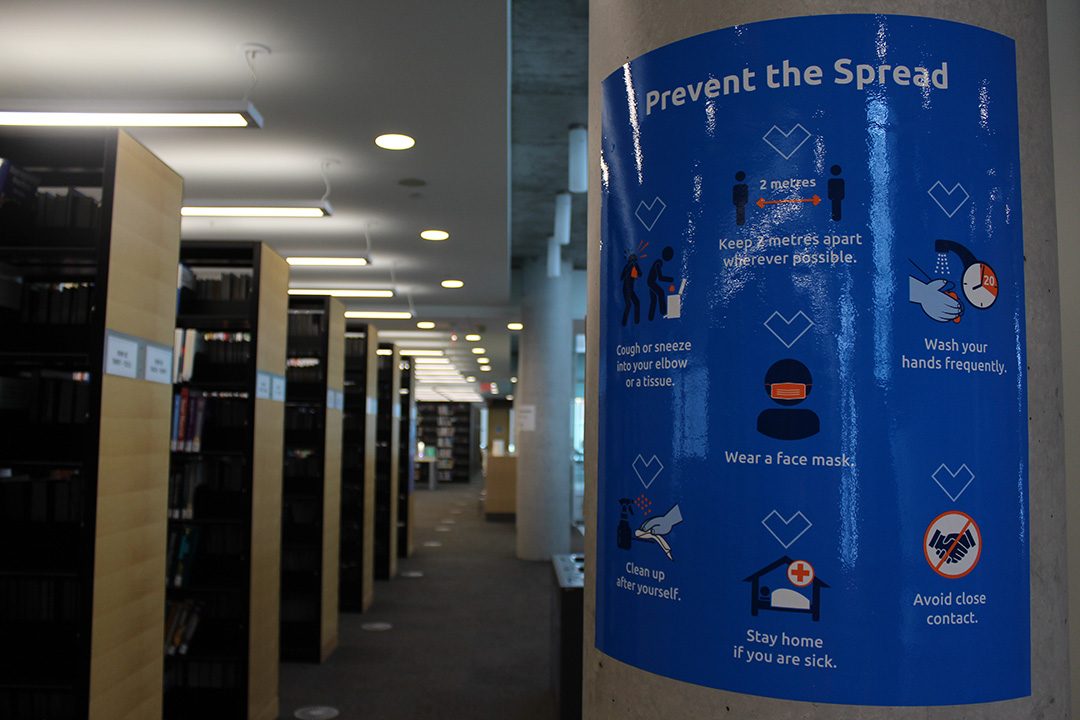 Library staff are continuing to work with senior administration and health and safety officials to continue the re-opening process and provide DC and OTU students with the materials and services they need in a safe way.
"We really miss students," said Tufts. "The library is one of the busiest places on campus and we're really looking forward to a time when the doors can be open, and everyone can be back to hanging out and doing their work together in the library."