Many seniors are new to Zoom but not all are new to social isolation. The challenges older adults have faced around loneliness was an issue even before the pandemic. But since COVID-19, isolated seniors have become exasperated as isolation measures have also been put in place.
But there is help for seniors in Oshawa.
Oshawa Senior Community Centres (OSCC55+) have been providing their recreational and educational Adult Day Program (ADP) on Zoom since March 2020.
"On the settings, I'll say 'turn on your video' to remind them because their video is not on and they do it and they see us and their eyes light up they're just so excited," says Misty Mazza, supervisor of the ADP at the Northview Branch, one of four OSCC55+ branches in Oshawa.
Meanwhile, OSCC55+ re-opened its physical doors for ADPs in mid-February, five days a week, at a reduced capacity. But there have been changes.
Mazza says before entering all clients must be wearing a mask, screened for COVID-19 the day prior and the day of, have their temperature taken and hands-sanitized. Their games and activities have been adapted, too.
Everyone gets their own dice and cards, they sit socially-distanced and disinfecting is mandatory.
"But we have been able to adapt," says Mazza, "the staff are so creative we have been able to adapt almost every activity we did before."
For older adults including those who are less mobile, have memory loss or other challenges, ADP provides social, educational and recreational activities.
The Northview Branch ADP currently welcomes 6-7 clients depending on space. "We play Xbox bowling, there's no device they have to hold, they just have to stand on the X and they can play… so it's a great game, too."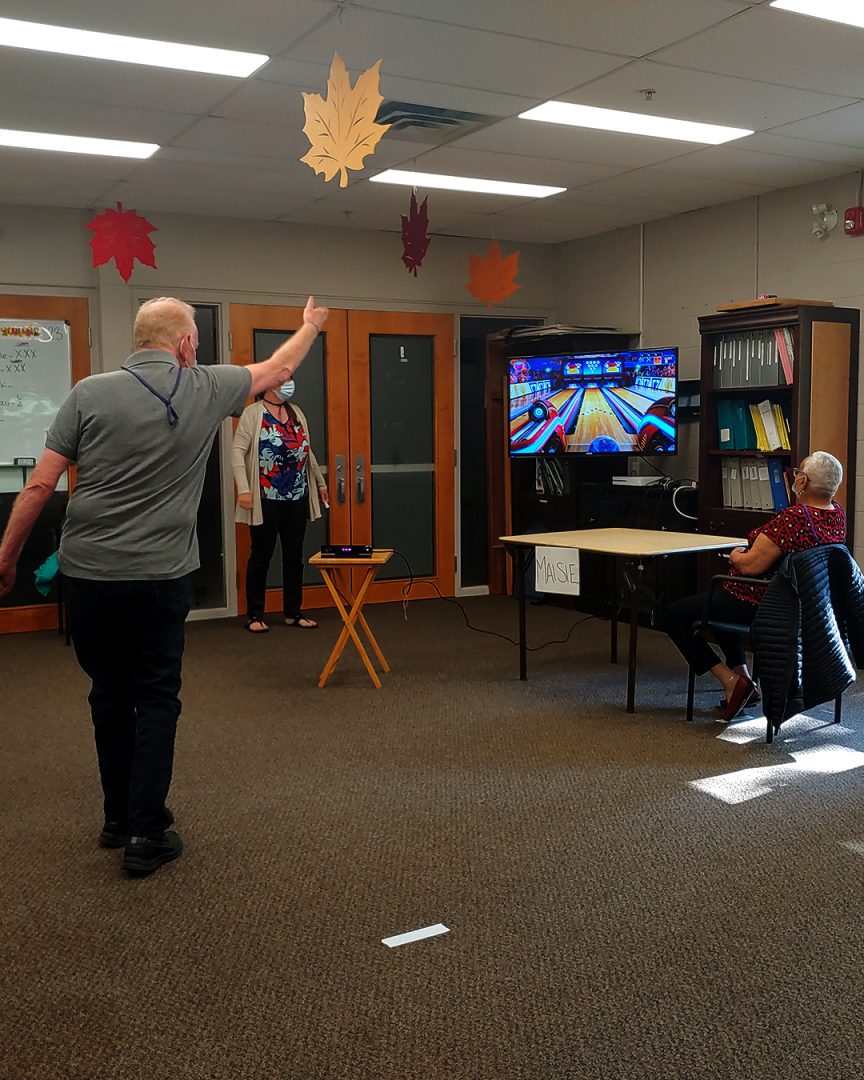 Carolyn Cuthbert, Northview ADP member, remembers a time she bowled on the Xbox, "Oh yeah! I got two strikes and a spare. Yeah, that was fun – I look forward to it very much." She is pleased with the ADP and activities. "I love all the people there. They're all beautiful, nice people and I try to encourage the ones that don't wanna; I say 'get up, come on, do it, you can do it!'"
More than a year ago when the pandemic started, the OSCC 55+ started providing its members with extra supports through phone calls, grocery deliveries, care packages and helping their members become more tech-savvy.
"It was amazing," says Mazza. "The Oshawa Senior Community Centres – March last year – every staff person was making care and concern calls all day long to our 7,000 members."
The Northview Branch has been doing grocery and frozen food deliveries as of last April and ADP services on Zoom since March, 2020.
"Everything was pretty much free," says Mazza.
But there are tons of barriers, including older adults still isolating.
"So again, we have to keep all these things in mind how we reach these seniors," says Kimberlee Neault, a professor in Durham College's Personal Support Worker (PSW) program.
It is reported in Ontario, at least 145,000 people live within government-licensed nursing homes, privately-operated retirement homes and independent or assisted-living apartments. It is estimated in 2018 the population of those 55 and older in Oshawa was more than 52,000.

Neault adds, "digital technology is great if someone knows how to use it or has access to it but if not then they're relying on the Oshawa Senior Community Centres to bring an activity to them and these ideas to them."
Community centre closures, capacity reductions and other barriers during the pandemic have resulted in many obstacles for older adults such as not having access to meal programs and recreational activities to stay mobile resulting in some of them becoming unmotivated and depressed.
In March, 2020, Mazza says Northview Branch OSCC55+ outreach staff started delivering activity packages weekly to clients who wanted them. The packages include items such as trivia, word searches, adult colouring pages, craft kits and flyers for meal delivery programs.
Nothing can replace social connection but a virtual ADP program may help those who are isolated. However, some older adults might not have the technology or know-how to use it. Therefore, it was important for OSCC 55+ to provide ways for seniors to get connected.
For interested ADP members, Mazza says tablets are loaned out with instructions and staff have also gone to front porches in full PPE, or called to help their clients use technology and get on Zoom.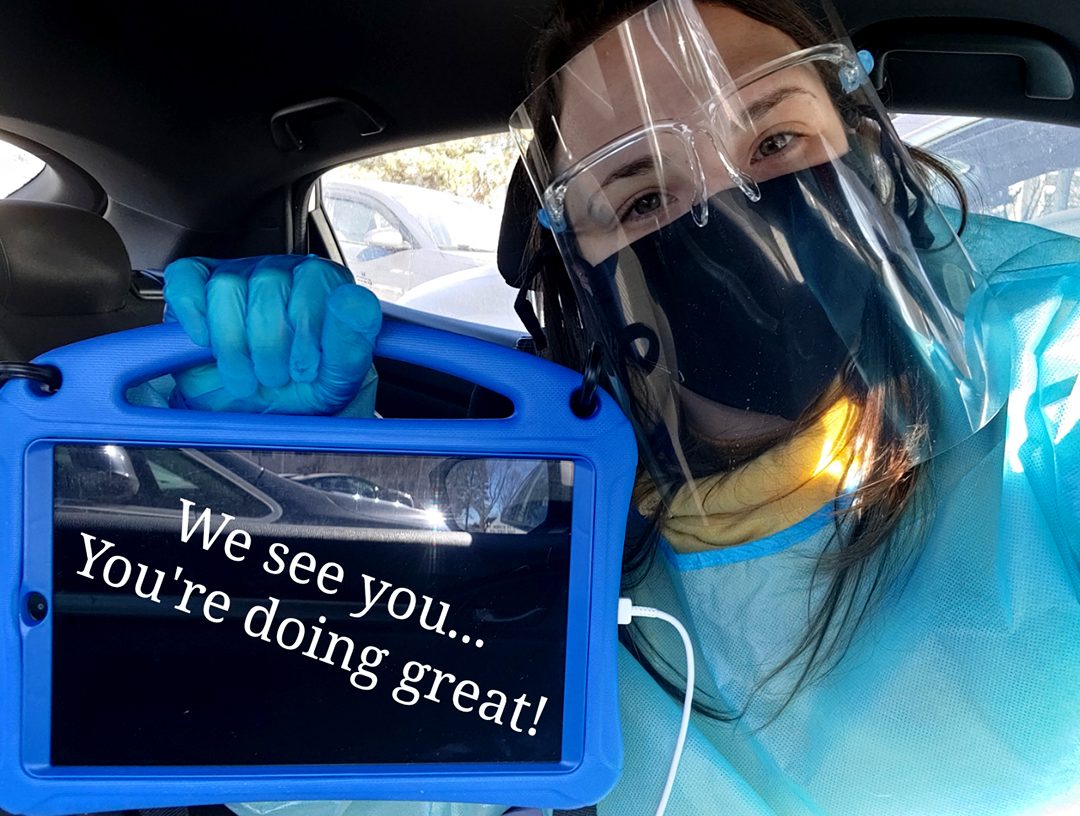 Mazza adds virtual ADP activities had increased attendance, and adds, "their faces light up when their cameras turn on and they can see each other.
"They're so proud of themselves," when they figure out how to use their cameras and be on Zoom to engage with ADP activities virtually.
"These are clients who live on their own," Mazza says, "Adult Day Programs are for all adults 55 and over – but some of these clients that are able to connect with their technology is amazing."
This has proven to be beneficial because even "for members who do not have Wi-Fi, the tablets still have games…great apps for seniors, so they still have something to do," she says.
Northview Branch ADP client Chris and caregiver Angie say in a testimonial, "so happy to be able to chat with friends via Zoom on the tablet. Thank you for loaning mom a tablet. We connected through Zoom for the first time and mom had many happy tears afterward."
Mazza says the virtual ADP has been a success and attendance continues to climb, adding the OSCC55+ plans to keep it as a permanent fixture post-pandemic.
ADP Coordinator Juley Gaspar says, "people have reached out to share how excited they are to join and learn new things and we can see each week the results with how many new clients are joining in phone programs and Zoom."