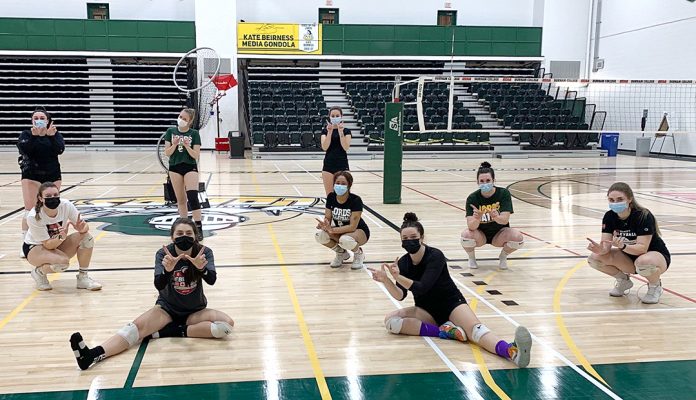 The sounds of sports are filling the halls the athletic facilities on campus again.

After a second provincewide lockdown that spanned more than 60 days, student-athletes for both the Durham Lords and Ontario Tech Ridgebacks are returning to campus to train.
Athletes made their way back to campus in the first week of March.
"It feels good…it feels everything is starting to get back to normal a little bit," said Ridgebacks basketball standout, AJ Cummings.
As expected, the players have to meet safety protocols to practise.
When athletes arrive at the Campus Recreation and Wellness Centre, Campus Ice Centre and Campus Fieldhouse they have their temperature taken and are asked a series of questions about potential COVID-19 exposure before they're allowed to enter the building. They're then greeted by their athletic training staff and repeat the process again before they can begin to practise.
They're also expected to wear a mask and maintain a safe distance when possible.
The Ontario Tech men's basketball team has also implemented a bubble after head coach Greg Francis urged them to keep their social circles tight.
"The bubble has put a little bit of trust in our team since no one has really had a scare," said Ridgebacks' newcomer Anthony Pate.
Cummings adds the team has been good about avoiding situations that could jeopardize their return to campus.
During the first lockdown, teams used Zoom to keep tabs on their players throughout the summer. During the most recent lockdown, almost every team activity made its way to the online platform. This includes weight training sessions, weekly team check-ins, team meetings, trivia nights and more, according to Cassidy Nicholson-Clarke, fourth-year Durham Lords' volleyball player.
With all the sports seasons being cancelled, practices are still a source of joy for the athletes, and hold a special place for athletes who may not be returning next year.
"This is something I really wanted to do," said Nicholson-Clarke. "Just to be able to go back and play volleyball, even it's for half-an-hour, an hour-and-a-half, it's just really good to be back in the gym."
With no exhibition games on the horizon for either school, athletes may have to wait until fall semester to have live action again, but the student-athletes are finding the positives in the cancelled season.
"It's making easier to part ways to ways with it, since it's not a true season, it's just a stepping stone," says Nicholson-Clarke.