Memorial parks are designed to honour and commemorate those who lost their lives in military combat, and veterans who survived major conflicts and wars, but they have the potential to serve other needs within a community.
The Oshawa Memorial Park has fulfilled these obligations.
The Cenotaph that stands in the middle of Oshawa Memorial Park was created on Nov. 11, 1924, thanks to the efforts of Dr. T.E. Kaiser, a former mayor and member of the Town Planning Commission.
The most intriguing aspect of the park may be one that is not visible to the public.
Below the Cenotaph lies a time capsule that was buried in the park in 1924. It must remain underground until 2424.
"2424? That's crazy," says Dan Carter, current Mayor of Oshawa.
Whoever digs up this bronze box in 403 years will find many artifacts including newspapers, pictures and sunflower seeds. The most important item within the time capsule might be a cheque, worth an unknown amount and written by W.J. Trick, mayor of Oshawa at that time. The money is to replace the current memorial.
"Isn't it amazing that when they open it up, there may be a cheque for $500," says Mayor Carter, "that might be what they thought the cost would be, but it's probably hundreds of thousands of dollars to get it replaced now."
Before the First World War, humans had never experienced death on that scale in such a short time period. After nearly 40 million casualties were suffered from 1914-1919, the world realized a simple cemetery wasn't enough to remember the events of the war.
"Large-scale national memorials, such as the Peace Tower at Parliament Hill, along with smaller memorials were erected in communities across the country," says Jennifer Weymark who works at the Oshawa Museum as the archivist. "In Oshawa, after the war, preparations began to create their own memorial to honour those who served and had given their lives."
Memorial parks presented an opportunity to commemorate human loss on the level the First World War required, and they're still effective today.
Currently, humans are experiencing extreme suffering and death, due to COVID-19, and must honour everyone affected by the pandemic, a similar problem that overcame society more than a century ago during the war.
Oshawa's military history isn't just showcased by the Cenotaph located in the downtown area, it's currently living through local politicians like mayor Carter, and he has nothing but positive things to say about Oshawa Memorial Park.
"Both my parents served in the Second World War, so I understand the commitment to being a part of that period, and I've never forgotten about the stories they've told me and how it impacted them," says Carter. "I think our Cenotaph is the best in Durham Region. I think it places significance on those who've served on behalf of our country. It's really a testament that on November 11, we have anywhere from 5,000 to 8,000 people that join us for our Remembrance Day ceremony."
Another member of Oshawa City Council with a military background is deputy mayor Bob Chapman. Chapman served in the Canadian military for over 37 years and he also has high praise for the park and what it means to veterans.
"Memorials and memorial parks are important to remind us of the sacrifices that many made in order for us to enjoy life and the freedoms we have today," says Chapman. "I think our Memorial Park is one of the best in Durham Region and don't see any changes needed."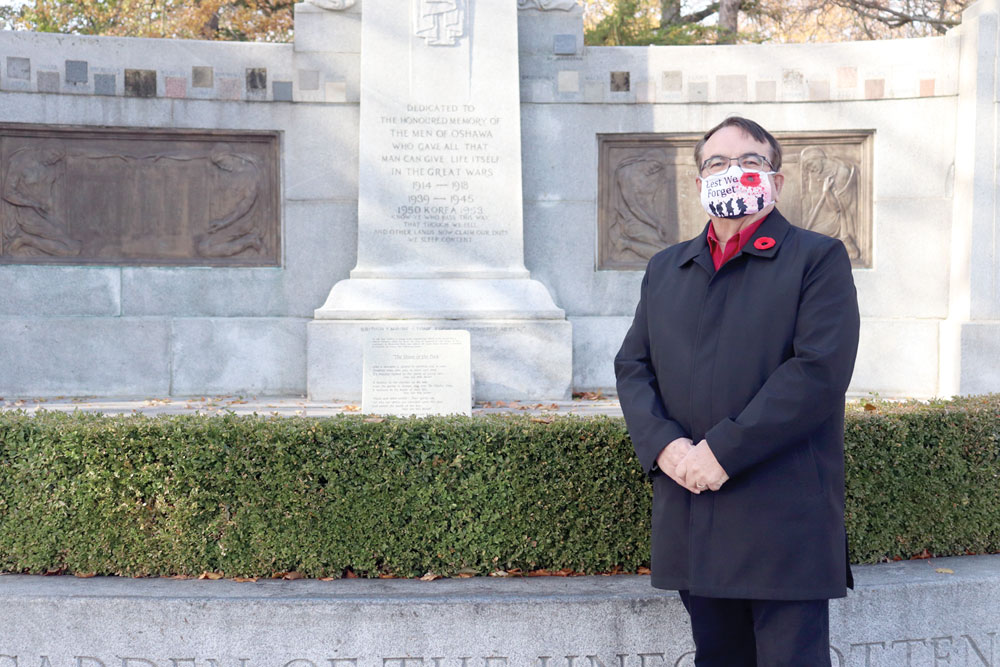 At the top of the monument stands a bronze sculpture of an infantryman, created by Alfred Howell, a sculptor from England who created other war memorials in Canada. The memorial is modelled after one located in Evesham, England and contains elements of other war memorials from around the world.
The infantryman stands on a pedestal while holding stones from allied countries in the First World War and stones from battlefields where Canadian troops lost their lives.
Along the sides of the Cenotaph, there are bronze plaques that include the names of 138 Oshawa citizens who were killed in battle and lights on either side of the monument that burn at all times. While features are crucial to honouring these veterans, Oshawa Memorial Park has multiple purposes.
Its main function is to honour veterans, but in 2000 it was upgraded and now features multiple pathways, a flower garden and a live music venue where people can bring their family and friends to enjoy live entertainment.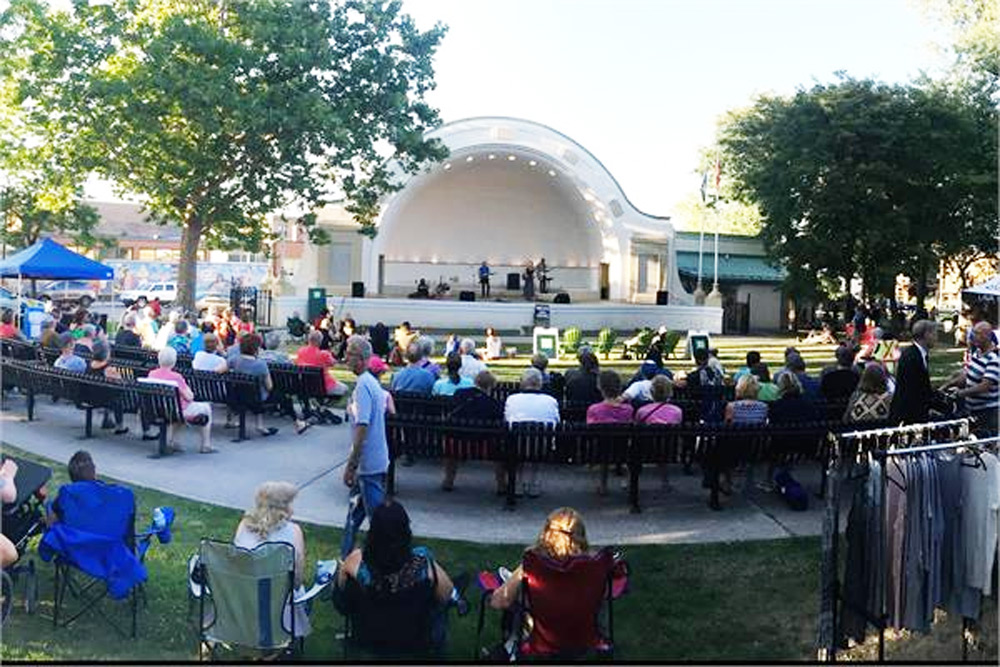 Carter wants people to enjoy this space but also reflect on what the park is honouring.
"We try to remind people that it is a beautiful green space. We want people to enjoy it and celebrate what the actual park represents, which is why people fought for our freedom and rights," he says.
While memorial parks have been built to honour veterans, the sculptures and plaques sitting in parks can't solve the issues these men and women have faced when they've returned home, like veteran homelessness. Parks like the Oshawa Memorial Park sometimes serve as ground zero for homeless veterans and other citizens who're desperate for shelter and companionship.
Homeless veterans have been a major issue in Canada for some time and while it hasn't gone away, plans are in place to keep them off the streets.
According to Veteran Affairs Canada (VAC), the "Everyone Counts" report from 2018 showed that 4.4 per cent of homeless people across Canada identify as a veteran. After sacrificing so much and fighting for their country, these men and women face another battle when they return home, which is finding a place they can call home.
In a 2019 CTV interview Diane Claveau, who served her country for eight years, talked about what it feels like to sleep in her van while living in Ottawa.
"To me, living is getting up in the morning and going to work, have friends, have a life, a place to stay. Now, I'm not living," Claveau told CTV. "It's the opposite. Sometimes, I feel I'm dying."
While there are no concrete statistics approximately 3,000-5,000 homeless veterans across Canada.
Chapman says Canada has to do better.
"I think more needs to be done by the federal and provincial governments to address homelessness – period. When it comes to not only veterans but those who are suffering and unsheltered, we've got to continue to make sure these people get the support they need," says Chapman.
The federal government is planning to end veteran homelessness by 2025.
As for homeless people in Oshawa, Carter says the city has provided many programs and resources to help people find shelter. Oshawa Memorial Park used to be a place where homeless people could go to receive help and receive benefits from outreach programs but those resources have since moved to Oshawa's Midtown Mall.
According to Carter, since Sept. 2020, Oshawa has placed over 110 homeless individuals into housing and has contributed around $1 million to support those struggling with addiction and mental health issues. Carter is happy with the city's effort but he understands the fight to end homelessness in Oshawa is a long way from finished.
"Until each and every person that needs support has support and a safe place to live, our job is not done and that's my commitment to those that are unsheltered in our community," says Carter.
Oshawa Memorial Park not only pays homage to those from the city who died in battle but it has also provided an outdoor space for the community.
With social gatherings and interaction being put on hold for the last year, Carter thinks being outdoors and breathing in fresh air is very important for people's mental health during the COVID-19 pandemic. He thinks spaces like Oshawa Memorial Park are vital to the community.
"As the mayor of this great city, I'm committed to adding more green space, more trails and bike lanes. I think an active, vibrant community is a happy community on all levels," says Carter.
Memorial parks have served their purpose around the world. They've allowed people to reflect and learn more about those who sacrificed everything and fought for their respective countries.
Creating and maintaining these parks won't solve issues like veteran homelessness, but can create conversations that will lead to veterans never having to live on the streets again.
While there hasn't been a world war in over 80 years, cities have shifted memorial parks into community spaces people can enjoy.
"I look forward to post-pandemic when the park can once again host music and cultural events that bring the community together," says Weymark.
Oshawa Memorial Park has turned into a space veteran imagined while they were at war.
What better way to honour them than by using these parks as a staple in the community and a place to experience freedom: the very thing they died trying to protect.