There's been no sports this year, but coaches at Durham College are still putting their teams together, hoping play will resume next season.
Unlike other years, the coaches can't go scout potential recruits in person and speak to them about playing varsity sports at Durham.
Instead, they've been forced to virtually recruit student-athletes by using things like homemade highlight videos and Zoom meetings.
Ken Babcock, Durham College's athletic director, says the Ontario Colleges Athletic Association (OCAA) is planning for sports to return this fall. He says he'd be ready to return to campus tomorrow.
"I would love for things to start back tomorrow. Our student-athletes are so in need of getting back and doing what they've done since they were seven years old," says Babcock.
He says coaches have been recruiting more than ever this year and the transition has gone better than expected.
"So far so good. We predicted there'd be a lot of challenges, but coaches are adapting to virtual recruiting. I'm very pleased and I think we have amazing coaches that're doing everything they can for our teams," says Babcock.
He says the videos submitted to coaches are unique, but they serve their purpose when it comes to evaluating a recruit.
"We're getting all kinds of different video, and the student-athletes have been very creative in doing it. So, the coaches are relying very heavily on the videos, so the better the video, the better the evaluations can happen," says Babcock.
"They'll have a brother, or a sister record them taking swings for baseball or for basketball have someone film them doing drills and shooting. They're trying to showcase their skills the best way they can."
According to Babcock, the Lords have hosted two virtual recruiting events on Zoom. These events give coaches a chance to meet with potential recruits and explain what they're looking for in a student-athlete.
The recruiting events have been successful, and according to Babcock, most Durham coaches have completed their recruiting lists for the 2021-2022 season.
"Coaches are finding it very positive so far. Their responses have all been very positive about the recruiting numbers we're seeing for 2021," he says.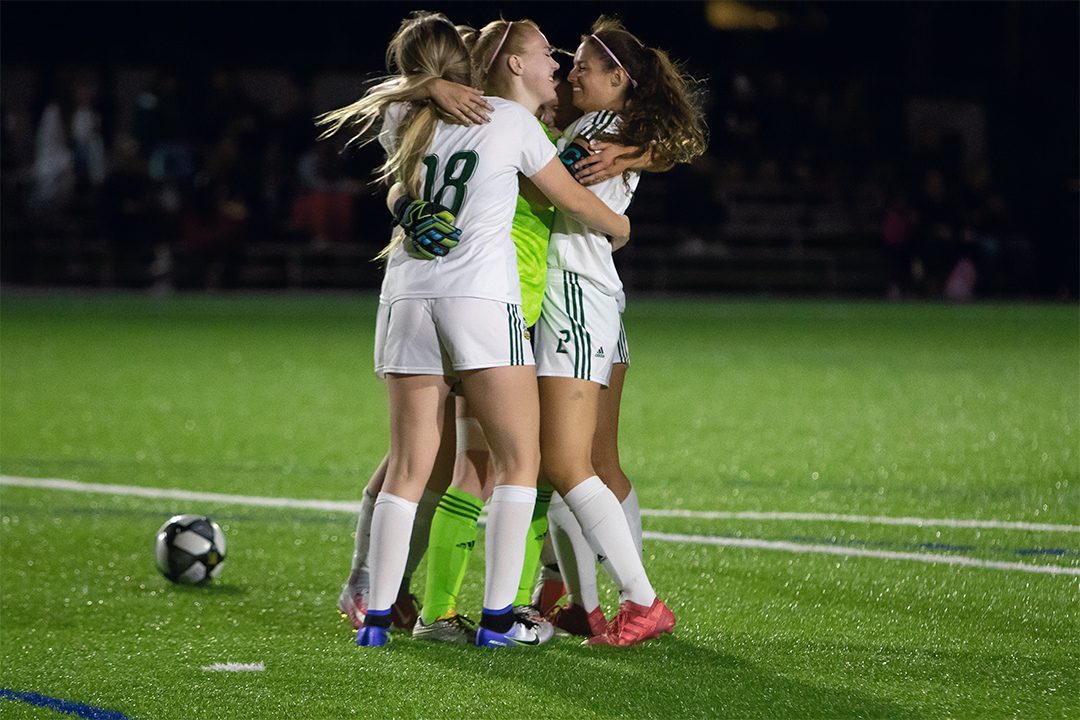 One coach who's had to adjust to virtual recruiting is Alex Bianchi, head coach for the women's soccer team. While this isn't the environment he's used to, Bianchi says he's managed to sign five recruits this year and is confident in his team moving forward.
"I probably have worked harder this year than I ever have, just because it's a unique year, but I think we'll be in really good shape, I really do," he says.
Bianchi says he misses travelling to watch recruits play and knows evaluating a player only through a highlight tape has its drawbacks.
"Here's the problem with film – you can make anything look pretty on a film, and all they do is send the highlights and all the great things they've done. I really like to watch a player and see what they do on the mistakes," he says. "What is the DNA of that player? What do they do when they make a mistake or how do they react? That's probably the biggest thing I miss, not seeing that part, and there's no way around it until I can see them play."
One aspect of virtual recruiting that Bianchi has enjoyed is meeting with players on Zoom. He says he'll continue to do this in the future.
"Moving forward, say everything clears up with COVID, I see myself doing a lot of these discussions moving forward. Yes, I'll go watch the player in action, then have a nice chat afterwards with a player and a parent in a Zoom call and talk about all sorts of things," says Bianchi.
"I find they open up much more in the Zoom conference than they do at the field. In a Zoom conference they're in their home, they feel comfortable, they have their parents beside them, it's all good."