Editor's note: Chronicle reporters are examining how select programs and departments at Durham College and Ontario Tech University have responded during COVID-19. Most programs have moved online, but some classes are being conducted on campus.
COVID-19 has forced the shutdown of university athletics provincewide, and for the Ontario Tech Ridgebacks, it's been all about trying to find ways to stay active and prepare for next year with athletic budgets being slashed.
"I think that we are positioned in a better spot than some schools out there, just by the way that our programs are set up from a financial standpoint," said Ontario Tech athletic director, Scott Barker.
A lot of the expenses the Ridgebacks would have been paying ­– like travel – went away when Ontario University Athletics (OUA) cancelled winter semester athletics on Oct. 15.
The athletic department gets revenue by collecting fees from students. However, with fewer students going to school this year, those revenues are down. The money that is coming from the fees is still going towards paying staff and all scholarships are still being honoured by the school, according to Barker.
"It really was a matter of trying to keep the year as normal as possible to student-athletes, moreso from a mental health and physical well-being standpoint," said Barker. "Once everyone realized there wasn't going to be any competitions…our focus immediately pivoted to 'we still need to provide an experience, we still need to support the student-athletes'."
The OUA allowed winter sports to host exhibition games when it cancelled the season, and the Ridgebacks looked to take advantage of that, according to Barker. They were in discussions to play the Durham Lords in basketball and looked into the option of road games, but avoiding COVID-19 hotspots like Toronto and Ottawa, but with Durham Region becoming a hotspot as well in late December, the games never came to be.
"We were having conversations with Durham about what that might look like," said Barker. "Our training protocols are the same, our athletic therapy processes are the same…so it was a possibility for sure in the second semester, I hope that it still might be, but obviously in the situation we're in now it's not something we're able to entertain."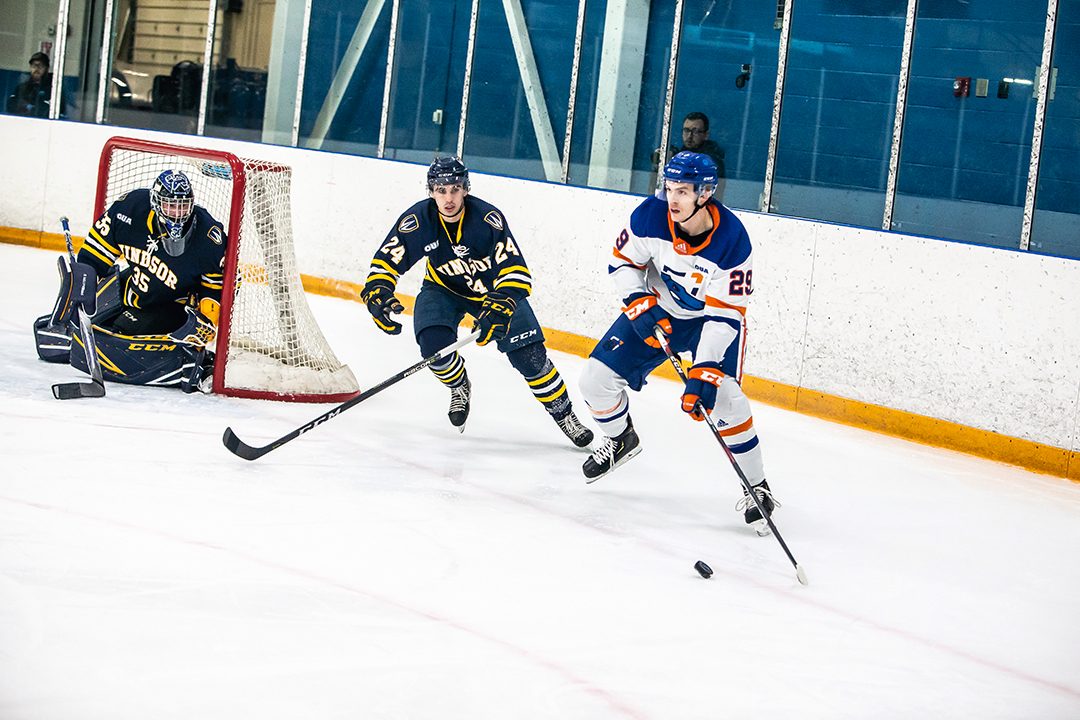 Matthieu Gomercic, a third-year hockey player for the Ridgebacks, stayed at home in Winnipeg during the fall semester because COVID-19 wasn't hitting Manitoba as hard at the time and allowed for gyms and rinks to be open.
He had planned to come back to Oshawa in October, but when the OUA cancelled winter sports, Gomercic decided to continue to study remotely.
"It was disheartening hearing the whole season was going to be cancelled," said Gomercic. "It's the first time that a lot of varsity athletes went a whole year without playing their sport."
Losing the entire year of athletics to COVID-19 has meant that some student-athletes, like fourth-year Ridgebacks women's soccer midfielder Alyssa Nikkel, may have played their final game at Ontario Tech.
Barker hopes for games being played on campus next school year, and what that will look like will be influenced by the OUA's Recovery Plan which is attempting to make a 2021-22 season a reality.
Some of the proposed changes that could happen on a sport-by-sport basis, according to the OUA, are game caps on exhibition play, semester start dates, a reduction in scheduled league play and an emphasis on regional competition.
But for student-athletes like Gomercic, they just can't wait to be able to play in front of their home crowd again.
"Our fans are great, the atmosphere (at the Campus Ice Centre) is pretty cool…playing games in front of our fans again will be amazing. Being able to see the support, and the school's support behind us will mean a lot," said Gomercic.