Editor's note: Chronicle reporters are examining how select programs at Durham College and Ontario Tech University have responded to the teaching and learning process during COVID-19. Most programs have moved online, but some classes are being conducted on campus.
Durham College's (DC) Dental Hygiene program is slowing down its curriculum during the pandemic.
But that's a good thing.
It is necessary so students can catch up on their outstanding clinical hours while ensuring all public health protocols are being followed, said Jennifer Kellett, DC Dental Hygiene Program Coordinator.
The program moved to online learning in March, 2020 when COVID-19 broke out, but returned to campus for labs and pre-clinic activities in July.
Students were able to return to client care in August but at a reduced capacity of people, following new and additional screenings and precautions.
"We needed to overhaul our processes and change the way that we were doing things," she said. The program needed to add additional screening processes for students and clients and had to stop doing any aerosol-generating procedures, such as polishing and ultrasonic use.
There are two faculty in the clinic overseeing the students and clients. The new and additional COVID-19 screenings, sanitizing, and wearing constant PPE are now consistent and familiar parts of the day, Kellett said.
Pre-COVID-19, the clinic was open five days a week with 24 dental chairs. Clients were greeted by a receptionist, took a seat in the waiting area, and then had dental checkups, with instructors overseeing student treatment.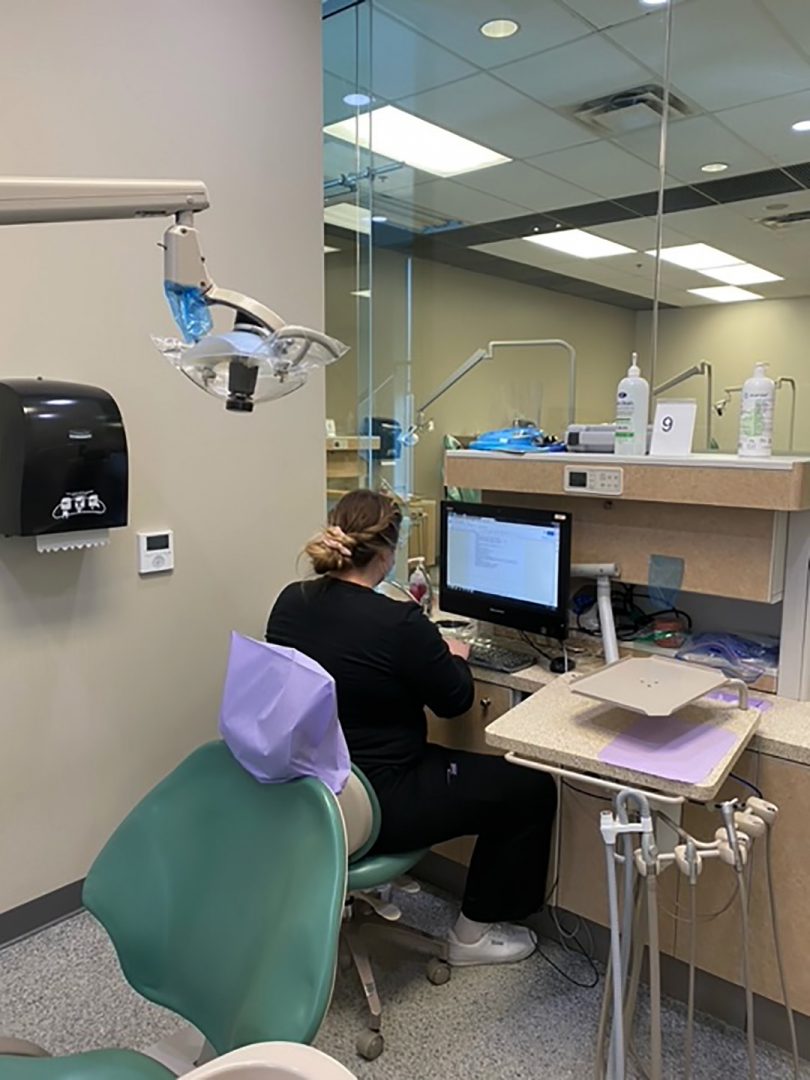 Now, to help students make up for the lost time, the clinic is open seven days a week from 8 a.m. to 8 p.m., but with a further reduction for the in-clinic capacity due to the recent lockdown restrictions, Kellett said.
The layout has been expanded to a designated, roped off classroom made noticeable with COVID-19 signs.
With COVID-19 capacity restrictions, some students may be getting half of the in-clinic experience they would have pre-COVID. However, all the clinical hours are being recovered which is why graduation dates are being delayed, Kellett said.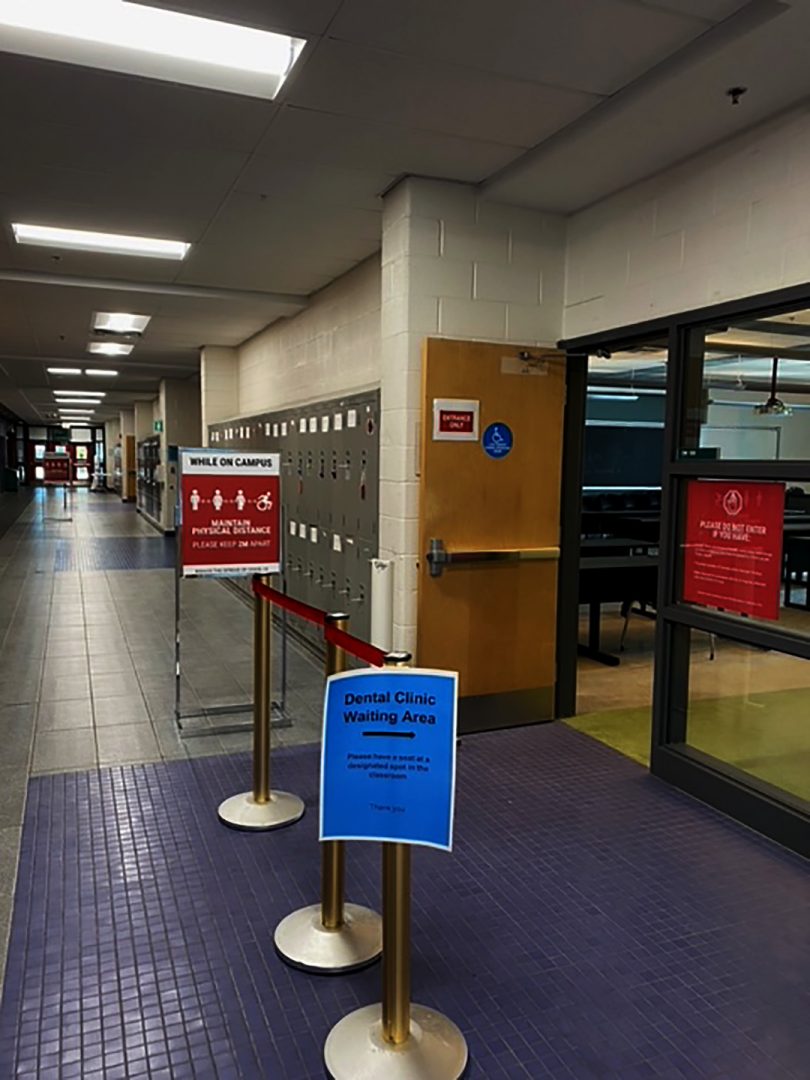 Some students expected to graduate in December, 2020, but it was necessary to extend their studies to meet all the clinical requirements.
Naomi Nash is one of those senior students who did not get to finish all the necessary clinics to graduate in December.
One of the challenges for the students is they rely on the general public to come to the clinic to receive various treatments, Nash said.
"Two of my friends had texted me that their clients just didn't show up today, which emphasizes my point on how difficult it has been trying to get people to come in during this pandemic."
She added: "I have been so fortunate with the individuals who have come in for me and who continue to come in."
Nash said it has been frustrating because she and other students are relying on clients to come in, more than once, so they can get enough experience in-clinic, to graduate.
"I just take it one clinic at a time and try to keep my chair filled," she said.
Recently the program started doing aerosol work at a limited capacity. Four enclosed rooms were constructed to provide aerosol-generating procedures safely.
"So, we're able to start using those, which we're very excited about," Kellett said. "We may be a little while before we're at full capacity, that's why we're doing what we can to operate seven days a week to get the students the clinical hours they require."