More than 30 people gathered on Friday for the Pass the Torch Remembrance Trail Walk at Camp Samac.
The walk on Nov. 10 along a 1.5 kilometre trail was intended to have people reflect on "brave Canadian citizens" who fought in the First and Second World Wars, as well as the Korean war.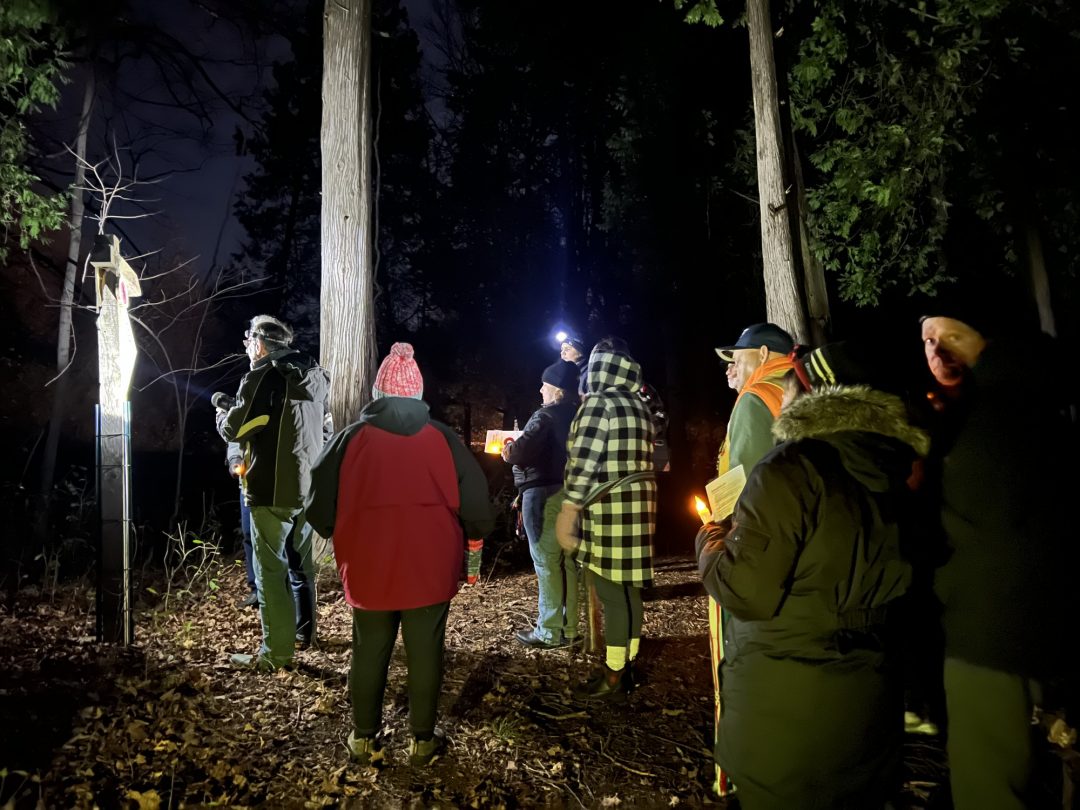 The trail started at Harry Riggs Chapel with a moment of silence. Guests were also asked to read poems and readings about Remembrance Day.
Will Corneal of Camp Samac asked people to reflect on what they heard.
"Aren't we thankful that we can sit on a Friday evening in this environment and not hear any tanks and guns, any military activity?" he said. "We don't have to worry about where we're going to sleep tonight, what we're eating tomorrow or what the days after will bring.
"And that's a tribute to those that have gone to battle to give us the lifestyle that we are allowed to live."
Many of those who went to war were Métis, Inuit or First Nations. It's unknown exactly how many Indigenous soldiers joined the war effort but the federal government puts the number at more than 3,000.
Not all veterans were allowed to self-identify as being of First Nations descent, so the number is believed to be much higher, according to Brian Prairie, 70, president of the Métis Nations of Ontario Veterans' Council.
"Métis people had been lied to, cheated on and basically abused for many years, so they had no desire to serve a colonial war," he said.
Because of this tension, Canada made a promise to anyone who signed up for the war effort to be awarded 65 hectares (160 acres) of land.
"Thousands of solders signed up because it really meant something to them," he added. "When they came back, they not only didn't get any land, they didn't get any veteran benefits or anything like that. It was just more of the same."
Over the past few years, Prairie said Métis veterans have worked hard to gain recognition for their service.
Through the Métis Veterans Legacy Program surviving Second World War veterans or their spouses received a $20,000 cheque from the federal government and an apology from the prime minister. Prairie said that provided "a little bit of peace."
Prairie joined the military 52 years ago, and he's been to many Remembrance Day services.
"I've stood at Remembrance Day ceremonies in blizzards, in the pouring rain, belting stuff, and pleasant weather and they all have different things to offer," he said.
Prairie performed a reading of "Poppies for Remembrance" following an explanation of the significance of the poppy.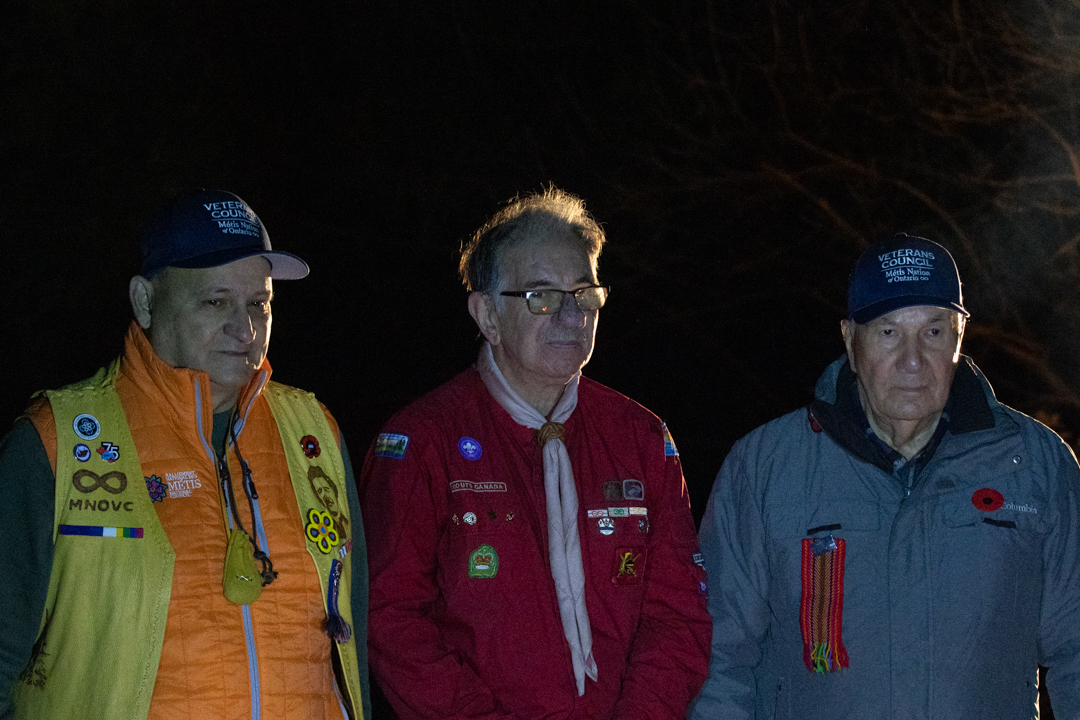 Throughout the walk that followed, Corneal mentioned how nice it was to see youth at the event.
"I think it's great for the youth. I think it's one thing to learn it in school but it's another thing to come out and walk the trail like we did tonight," he said. "Or get it from someone like Brian Prairie who has been there, done that, and experienced."
The trail walk ended with the group making poppies out of a wooden skewer, green tape, and a traditional poppy.
Everyone then planted them in front of the flagpole. Corneal said there would be more than 300 poppies planted by the Nov. 13, which marks the end of the Pass the Torch Remembrance Trail Walk.