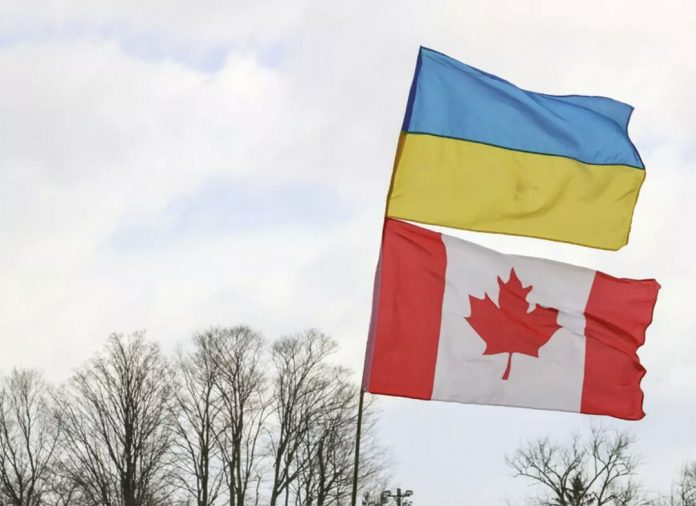 Editor's Note: This story is part of a series called the Land Where We Stand (LWWS). Uncovering the hidden stories about the land our community is built on is what the Chronicle's feature series, the #landwherewestand, is about.

Canada's population increased in 2022 by more than one million for the first time in history. That means the country's population increased by 1.05 per cent to 39.57 per cent in a span of 12 months.
Immigrants and temporary residents played a key role in this growth spurt as 96 per cent of the rise was due to international migration, according to Statistics Canada.
Ukrainian immigrants make up a significant number of this international migration, as a result of Canada's special initiatives to take in people impacted by the Russian/Ukrainian war.
This isn't the first time Ukrainians have come to Canada.
"Ukrainians have been traveling to Canada for work and for making money for many, many years and generations," said Resettlement and Integration Worker for Community Development Council Durham (CDCD), Mariia Pitolai.
Canada saw the first Ukrainian immigrants arrive to the country between 1891 and 1914.
Most chose to settle in places where they can afford farmland, such as Alberta, Saskatchewan and Manitoba. Others settled in bigger towns in bigger provinces, such as Ontario where they could in industrial occupations.
The real rise in Ukrainian population in the country came between the two world wars with Canada welcoming 30,000 Ukrainian immigrants by 1952, after Ukraine became part of the Soviet Union.
Between 1991 and 2016, after the Soviet Union's dissolution, another 112,000 Ukrainians arrived.
That brings us to today. Russia has fully invaded Ukraine, escalating their war that has been in effect, arguably, since 2014 when Russia annexed the Crimean Peninsula.
Since 2014, almost 150,000 Ukrainians have come to Canada.
Kateryna Rohovska, head of the Ukrainian Canadian Congress (UCC) Durham Region branch, considers these immigrations the "five waves" of Ukrainians coming to Canada.
She believes that after the first four waves, Canada has been more prepared this time around.
"Now, we see those supports of Ukrainians because Canada saw what happened in the past and was prepared to help more," she said. "Ukrainians here are mostly blessed because they have more support."
Pitolai believes Ukrainians had no choice but to come to Canada, given the danger they faced in the Russian invasion.
"They did not have the time to research, they just jumped on a plane, and it was all a matter of trying to find safety," she said.
Pitolai, a Ukrainian immigrant herself, came to Canada in 2013. She planned to only stay a short while, but now has a family and has earned Canadian citizenship earlier this year.
"My contract was only for two years, and I never really planned on staying, but getting to know the system, the different way of living and the stabilities this country is providing to newcomers was definitely beneficial," she said.
Pitolai knows she isn't the only one who has gone through the challenges of adapting to living away from home.
"Many other Ukrainians and other immigrants also face hardships coming from another country, but it definitely takes time to adapt to this country overall," she said.
When the war first started over a year ago, Pitolai and the rest or CDCD weren't sure how Canada's immigration system would admit Ukrainians into the country.
That's why they launched the Durham Ukrainian Humanitarian Response Project to assist Ukrainians in coming to Canada and to help them activate social insurance, Visa cards, payment and part-time jobs.
"I was able to assist Ukrainians who wanted to come to Canada and for those who wanted to bring their family relatives to understand the process and to make a step-by-step tutorial of how to apply, how to submit and what to expect," she said.
Unfortunately, not all Ukrainians were able to access these needs of information with this particular project, which is why Pitolai is fortunate that this isn't the only Ukrainian immigration program in Canada
In March 2022, the UCC and the Canadian federal government launched the Canada-Ukraine Authorization for Emergency Travel, which allows Ukrainians and their family members to settle in Canada for up to three years.
"When the war started, we were reached by the government and they asked us 'what can we do?' and 'how can we help Ukrainian refugees get together with their families?'," Rohovska said.
The program has brought more than 133,000 people to Canada and was recently extended by the federal government so Ukrainians will have until July 15, 2023, as opposed to March 31, to apply to enter the country, apply for work and study permits with no charge.
Rohovska said the one issue she still has with the program is that the government provides support for housing for only two weeks.
"We wish the government can prolong that term for beyond two weeks," she said.
So why Canada?
Pitolai says the difference between living here as opposed to other countries is that Canada provides more opportunities for longer-term work.
"We (Ukrainians) feel like everybody else," she said. "It doesn't matter when we come to Canada, it could be our first year, our tenth year, (we) still have the same rights and possibilities to work."
Narrowing down to Oshawa, Ukrainians have been coming to this city because of working possibilities since World War II ended in 1945.
Many Ukrainians aspired to work at General Motors, but opportunities at other production factories such as Houdaille Industries Inc., TG Gale Lumber Co. and Malleable Iron Works, were also accessible.
However, Pitolai says there's another reason Ukrainians choose Oshawa: it's the right size.
"Ukrainians in different cultural communities try and stay together, at least for the first few years of support, so therefore, some of them will choose smaller spaces like Oshawa as opposed to bigger cities like Toronto," she said.
As an example, Stefan Malish, who settled into Canada from Ukraine in 1948, chose Oshawa solely based off the factories and job opportunities close by.
He spoke about his decision to choose Oshawa as a place to live in the Oshawa Museum's Displaced Persons research project.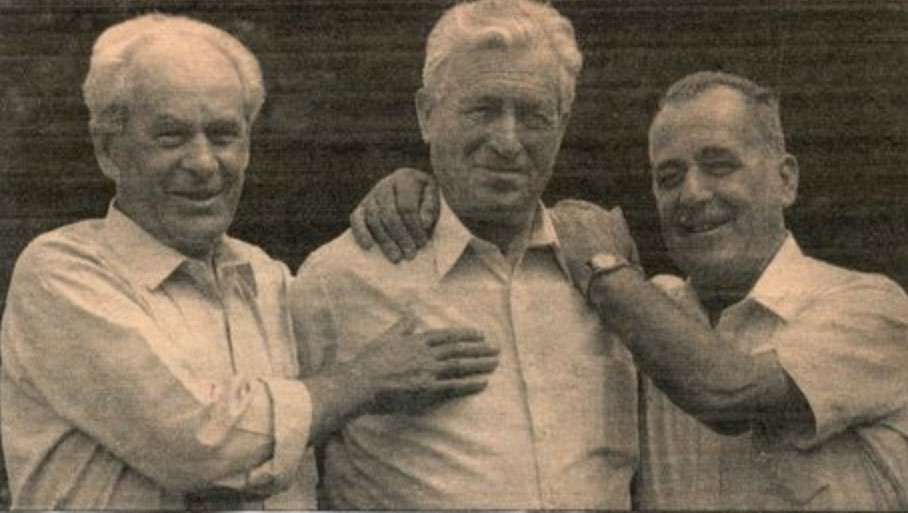 "While working for Brompton Pulp and Paper many of us heard that there was a large Ukrainian Community in Oshawa. A group of friends and I decided to come and see if we could find work and a place to live," he said.
Pitolai says the opportunities of work to Ukrainians are more open than ever before with the new programs that have been launched over the last year.
"This is definitely something extra special for Ukrainians, it's much appreciated by the Ukrainian community," she said.
Not a lot of Ukrainians are educated on Canada's culture and can't speak English. Rohovska says Oshawa is one of the best places in Canada that can help them.
"When you have a smaller community, you may know more of them (Ukrainians), maybe each of them," she said. "So, we can help more of them so they are not on their own."
Oshawa has a variety of community resources that deliver social activities and information sessions for Ukrainians in the community, which Pitolai also acknowledged.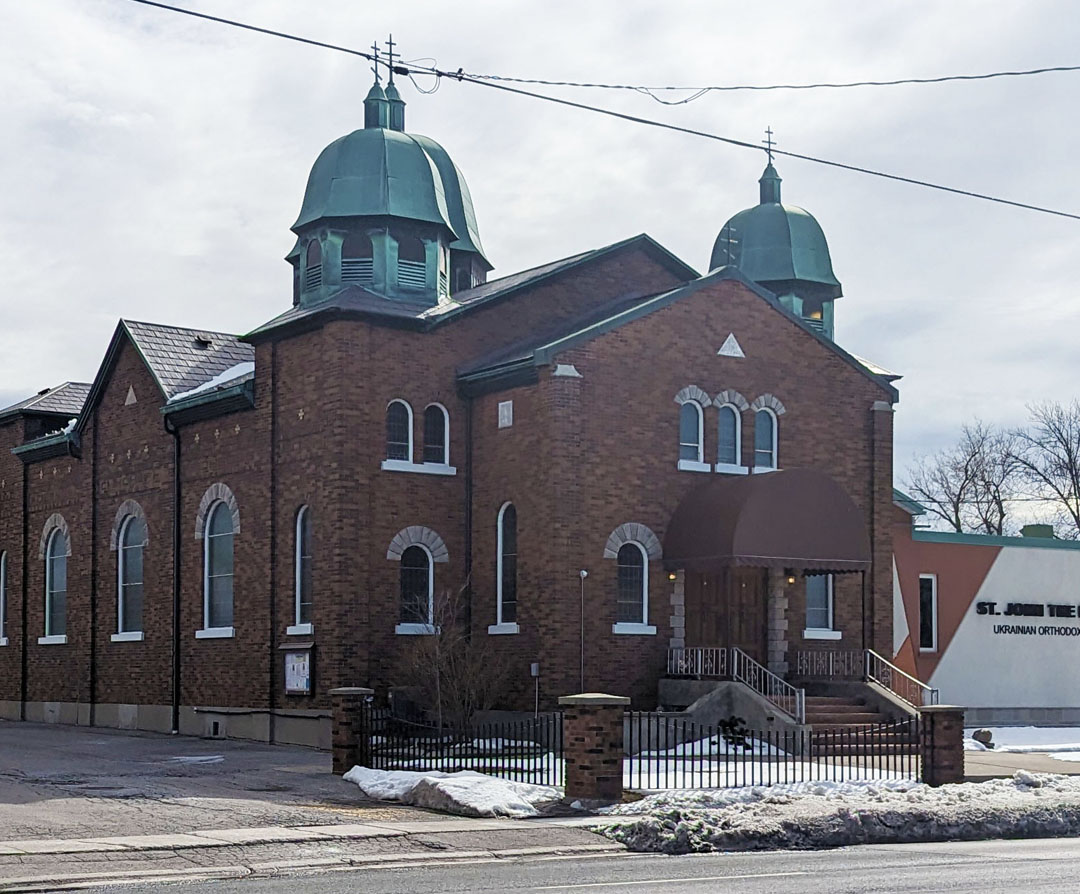 "We have three Ukrainian churches, schools for Ukrainian children, we have food banks that provide Ukrainians with shop-as-you-go foods and products, and we have a huge community of Ukrainians," she said.
This was also the case after World War II, when Ukrainians needed a new home, but weren't sure what the future held.
However, on March 15, 1948, St. John's Ukrainian Greek Orthodox Church helped five young women of Ukrainian background feel welcome with a church service where refreshments were served, and people sang Ukrainian folk songs.
The women had just immigrated to Canada to work at the Ontario Hospital in Whitby.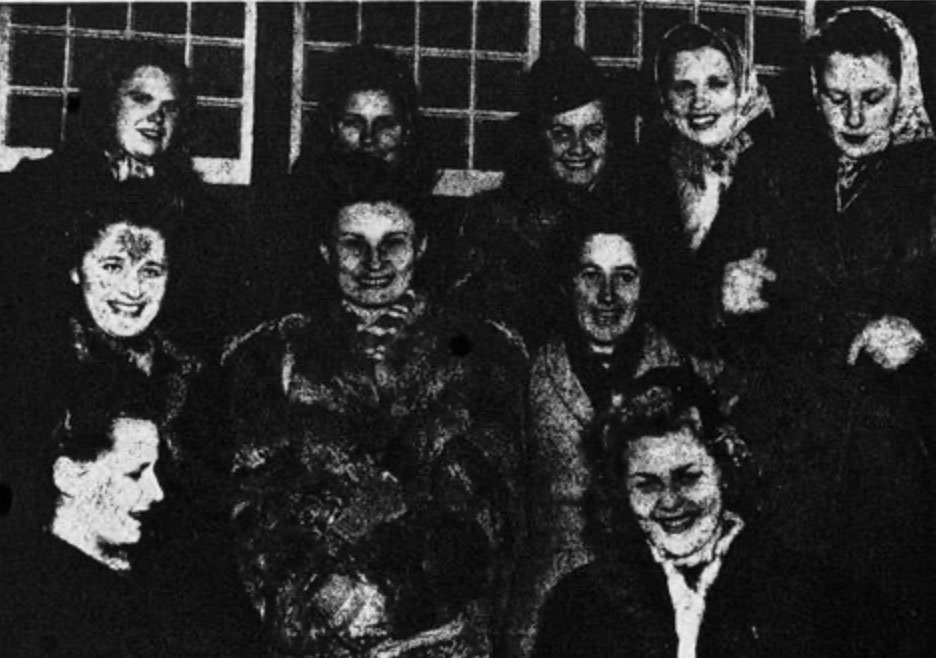 This was the first event Oshawa held to welcome Ukrainian refugees, and according to The Times-Gazette, the women gained a strong grasp of Canadian hospitality, which led to them feeling confident in their future in their new home.
Pitolai hopes these sources can bring more Ukrainians together in Oshawa and make them feel confident in their futures as well.
"We do hope that many more of them (Ukrainians) will come and we can build a bigger and better community and a better feeling of belonging in Oshawa and Durham Region overall," she said.
Now that Pitolai and Rohovska have established themselves in Canada, they are very involved in the Ukrainian community in Durham Region.
"I'm glad I now have the ability to give back to my community and to newcomers and immigrants as myself," Pitolai said.
Pitolai's advice for Ukrainian immigrants and newcomers is simple: "Be brave, be patient, and you will succeed."
"It is a hard time for everyone, not just for Ukrainians, but for every immigrant who comes to Canada, but we are here. There is support," she said.
Rohovska advises newcomers to make connections with Ukrainian communities, churches and other sources in Oshawa and Durham Region.
"We will help you settle here more quickly, help you find new friends, and you will be in the community," she said.
To connect with Ukrainian communities and to learn more about Ukrainian events, you can follow the Ukrainian Canadian Congress on Facebook.