Tre Sanderson was a part of many "firsts."
He was included in the first graduating class of the Culinary Management program at Durham College and years later, became the first Black chef to win Top Chef Canada.
Months after that historic win, Durham College invited Sanderson back to Bistro '67 to speak and work with culinary students before a dinner titled "An Evening with Tre Sanderson – Top Chef Canada Winner."
Sanderson spoke about his experience in the college's culinary program and why it was the right fit for him.
"A lot of people go to schools in the city [Toronto]," said Sanderson. "But this was a facility that I saw had so much potential. It has so much potential and it continues to grow every time I come back."
The appeal for Sanderson came from the new program and Bistro '67's slogan, "from field to fork."
"It allows you to respect the ingredients because these ingredients took months and seasons to grow," he said. "When you have them in your hands you approach it better."
Associate dean of the Faculty of Hospitality and Horticultural Science, Kelly O'Brien says the program gives students a platform to learn and grow.
"Because of our smaller classrooms and labs, we allow students to be a part of new opportunities, whether it's an innovation of something we're growing outside or research projects with the ingredients," O'Brien said.
While the program provides experiential learning opportunities, students must also put in effort to reach the top, according to Sanderson's former instructor.
Robert Chin, a culinary instructor at Durham College's Centre for Food, said the three requirements for a student's success are determination, drive and passion.
He saw all three in Sanderson from the beginning.
"When I had him in first semester, I could critique a dish that he made and you would see the wheels in his brain going and saying 'OK chef, I got it,' Chin said. "And he would actually improve every week."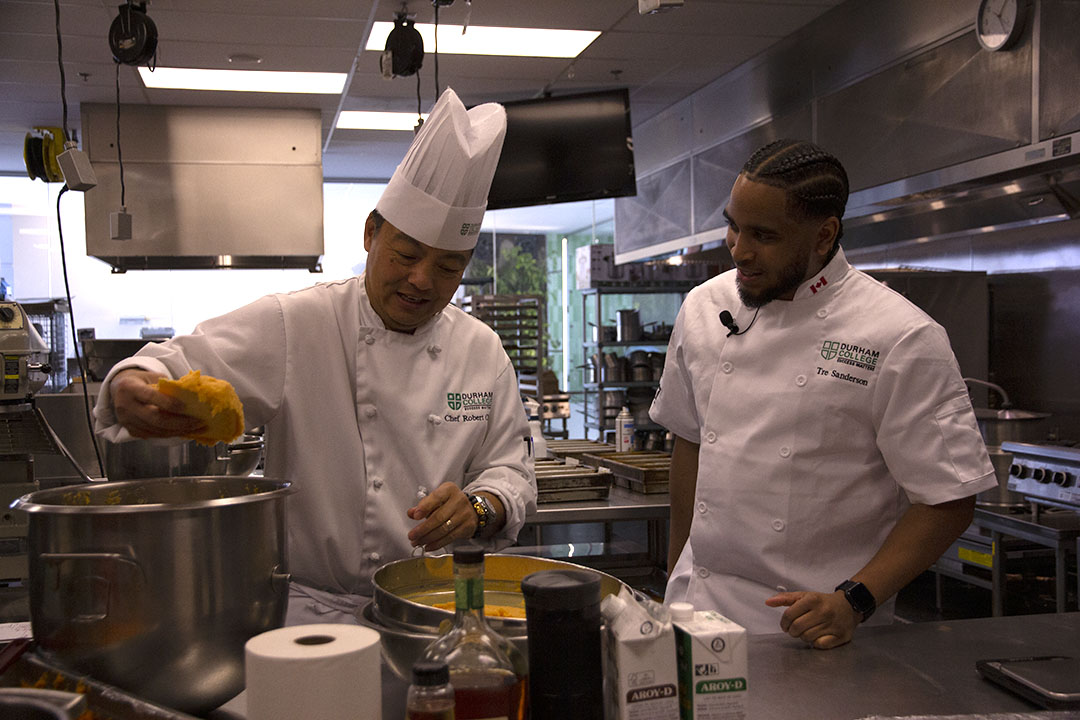 Now, he is proud to say a top chef in Canada has graduated from Durham College.
"People aways think 'Oh, it's just out in Whitby, who wants to go there?' But the fact that you could produce a winner of Top Chef Canada says volumes about the program we're doing," said Chin.
For the recent dinner, Sanderson worked with current culinary students to prepare dinners and motivated them along the way.
Gobby Tong, a second year Culinary Management student, was inspired.
"When I spoke to him and worked with him, I found I learn a lot from him because he has a lot of energy and creativity," said Tong.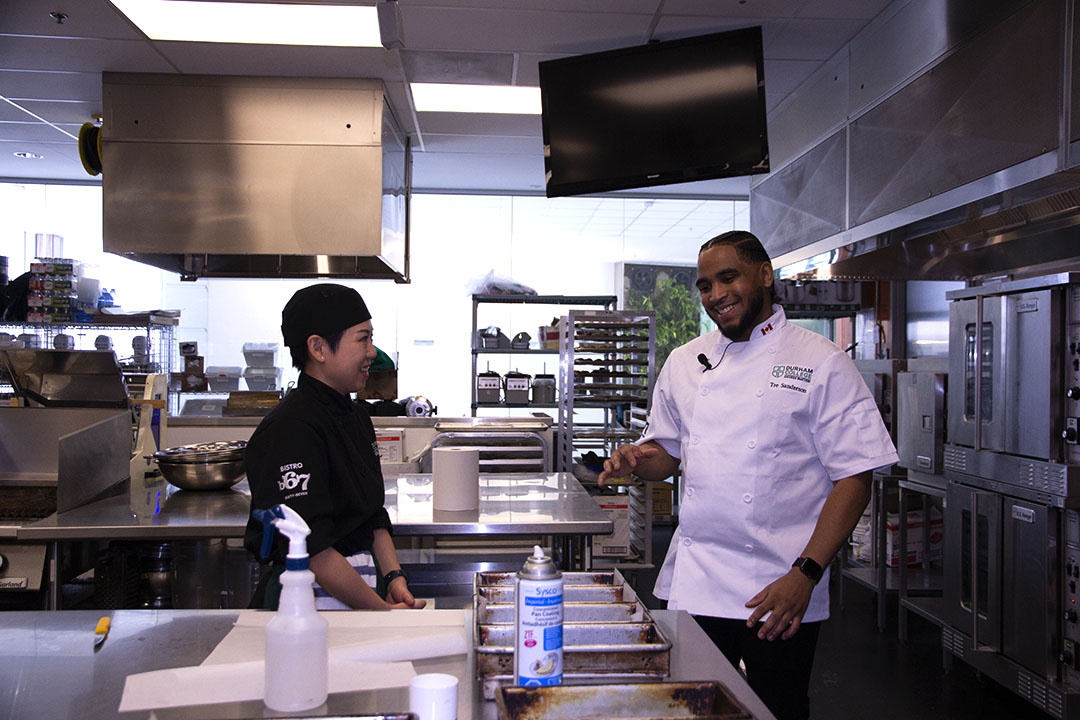 As Sanderson worked alongside the students, he was reminded of his own experience as a student of Durham College.
The Top Chef Canada winner believes students cannot be challenged in their comfort zones. He encouraged them to push themselves to learn and grow in this program.
"You can come get your diploma but it's when you're here that counts," he said. "As students it should be your drive and willingness to learn from the chefs and teachers that have a ton of experience."
Sanderson hosted two dinners at Bistro '67 on Feb. 23 and 24. He served dishes that were celebrated on Top Chef Canada, as well as some of his Caribbean favourites.
The menu, which he referred to as "his dream," included a scallops and caviar dish with his signature jerk caramel and scotch bonnet honey-glazed duck breast.
"I'm excited for the diners to experience something different, something unique, and something that comes from my roots," said Sanderson.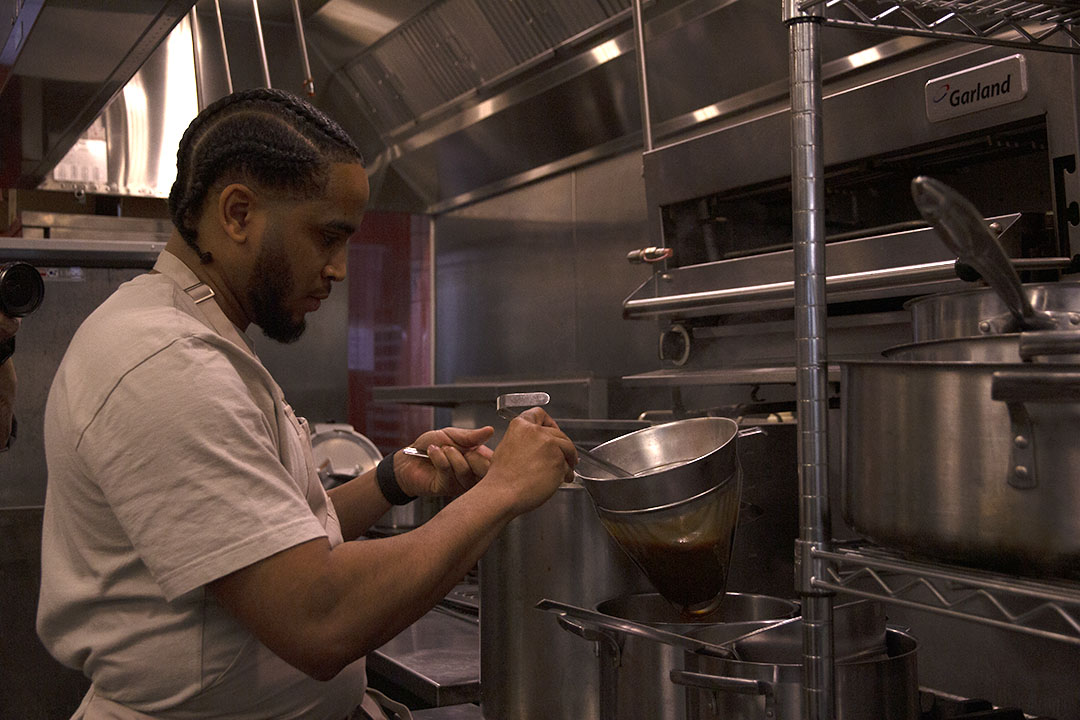 Among the many first experiences, Sanderson will also have a bursary under his name.
With the support of RBC, Durham College will launch the first ever Tre Sanderson Culinary Management bursary to help support future culinary students.