The months of November and December carry a festive air due to the holiday season. Families gather and begin preparations for the celebrations, lights go up on houses, and markets and parades set up.
With the dinners and parties also come the drinks.
During this time of year, drinking and driving is at an all-time high.
According to the 2020 – 2021 Mothers Against Drunk Driving (MADD) Canada Annual Report, there was a total of 86,964 federal drinking and driving charges, averaging to approximately 238 daily charges.
The impaired driving rate also increased by 7.1 per cent in 2021 after two years of decline.
This epidemic of impaired driving, however, is not new.
Trisha Dosaj Makarov, president of MADD Durham Region, lost her pregnant sister and her unborn child in an impaired driving accident. In 2013, Dosaj Makarov was in a car with her eight-month-old daughter and sister when a drunk driver T-boned their car. As a result of the crash, Dosaj Makarov, and her daughter were injured. Her sister and her unborn child were also killed.
"Every day I live knowing that I survived but that my sister was killed. Because somebody made the selfish choice to drive while impaired," Dosaj Makarov said.
This incident led Dosaj Makarov to volunteer with MADD and eventually she became president of the organization.
The organization seeks to provide support for victims of crashes caused by impaired drivers.
"MADD Durham Region is really about education awareness and knowing that these incidents are still happening, we provide support for victims and survivors of crashes as well."
The Durham Regional Police (DRPS) have placed efforts to combat this issue, one of them being the Festive R.I.D.E (Reduce Impaired Driving Everywhere) Program.
The 2022 campaign was launched on November 18, with DRPS officers out every night stopping cars on roadways for six weeks. The program ran from late November to New Year's Day.
Bob Baumgartner, lead officer of the R.I.D.E program, observed an increase in charges.
A total of 6,766 vehicles were stopped in the 2021 campaign, with 65 drivers charged with drinking and driving offences. Officers saw an increase in the number of impaired drivers from 2020, when 8,464 vehicles were stopped, and 51 were charged.
"The statistics have been consistent throughout the year," Baumgartner said. "Drinking and driving is something that happens every day. It's a conscious decision, and it doesn't know any barriers in terms of people's socio-economic backgrounds."
Representatives of MADD Durham are present with officers on the roads to raise awareness of impaired driving and its consequences.
"We've already been out in the RIDE lines with the police, DRPS as well as OPP because we want people to understand that there are faces that go behind this particular organization," Dosaj Makarov said. "Our hope being that when we are making people aware then they are making those personal connections."
Baumgartner believes that MADD Durham's contribution is beneficial for drivers as well as DRPS officers.
"MADD representatives are able to share their stories with the officers and that motivates the officers even more so," he said. "They are also able to thank the drivers for driving sober."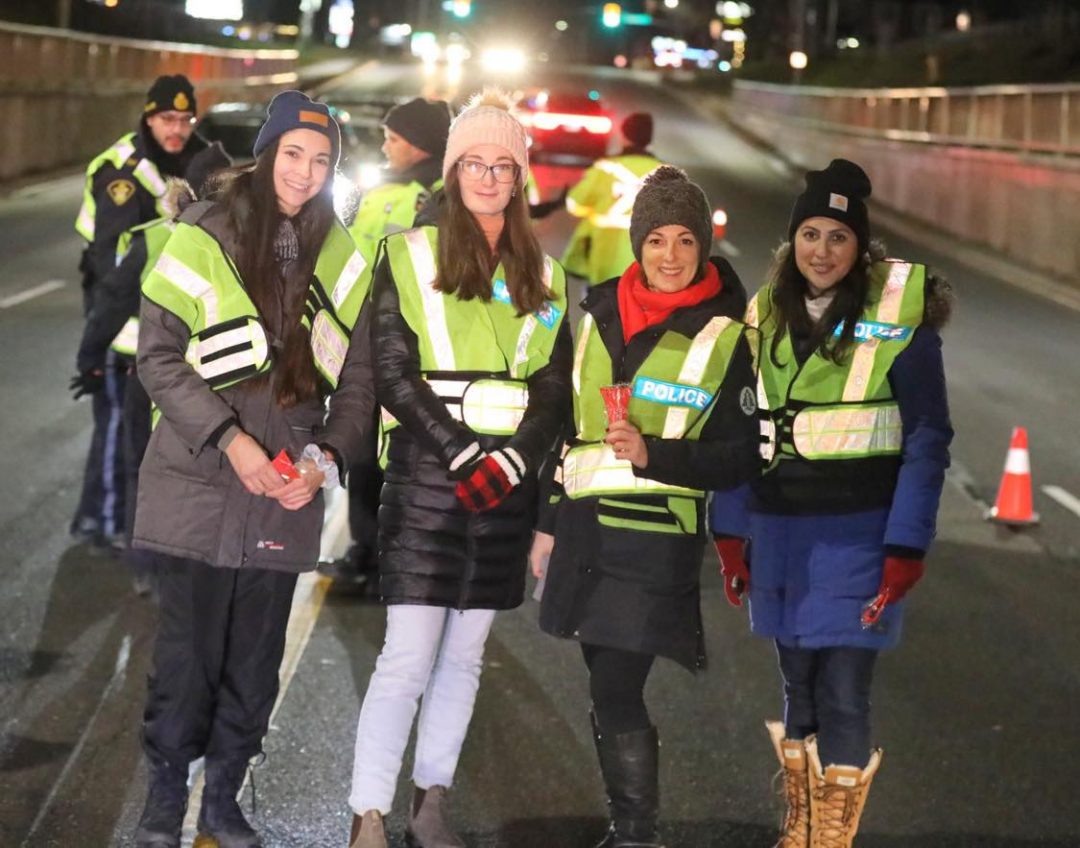 Dosaj Makarov and MADD Durham representatives handed out ice scrapers to drivers and thanked the drivers for driving sober on behalf of MADD Durham Region.
Drivers may not understand the consequences of impaired driving, so members of MADD Durham Region share their stories with drivers as well.
"When the drivers see someone from MADD, which is such a well-known organization, they tend to allow that thought to resonate with them a bit better," Baumgartner said.
In the first two weeks of R.I.D.E 26 individuals were charged with driving under the influence of alcohol.
There were 42 major collisions in Durham at the start of R.I.D.E in late November, according to Baumgartner. To be classified as a major collision, a significant injury that alters the life of the involved individuals must have occurred. Out of those 42 collisions, 18 people died. Among those 42 collisions, seven involved alcohol, and two involved drugs.
The cure to this epidemic is following the law, but some people are not willing to keep others safe.
"Drinking and driving is not an accident," Baumgartner said. "You don't accidentally take a sip of alcohol or smoke a joint. These people made that decision then went on to our roadways and killed somebody."
Dosaj Makarov says to drive, people must follow the laws.
"It's unfortunate… that there are still selfish people in the community and in the world. There are still people who choose not to follow the law," Dosaj Makarov said. "Driving is not a privilege it's a right, and in order to have that right, you must follow the law."
Dosaj Makarov and Baumgartner urge the public to call 9-1-1 if they suspect an impaired driver is on the road.
"If you see someone driving impaired, call it in and let our officers go and conduct the investigation and hopefully get that person off the roadway if they are impaired," Baumgartner said.