Friday was a night of celebration at Durham College for the Mixed Reality Capture (MRC) Studio. The Pit was turned into a gamer's paradise with five gaming stations, complete with a spread of snacks.
"It's a nice, fun, chill event for everyone to gather, celebrate the work that we've done with our industry partners, celebrate the work of our students and play some games that are made here in Ontario," said Ryan Miller, the MRC studio manager.
The point of the event was to raise awareness about the MRC Studio, which features a motion capture stage with virtual reality tracking equipment and a green screen (compositing) space.
"A lot of people have come up to me tonight and said 'what is all this?'" Miller said. "We work on games here at Durham College…and no one really knows about them yet."
The MRC Studio is a place for students to gain practical experience working with virtual reality, augmented reality, motion capture and other game development technology.
The studio often partners with Ontario game developers on projects that also involve students. Interactive Ontario is is an avid supporter of the MRC Studio program.
"I'm here to support Durham College and the MRC Studio because I thoroughly believe in what they're doing," said Lucie LaLumiere, president and CEO of Interactive Ontario. "They're making a difference for our industry."
She appreciates the way the MRC collaborates with industry and integrates students into real-life projects.
The MRC Studio provides an authentic experience for those students, according to John Goodwin, program coordinator for the Game Art program and lead researcher for the MRC Studio.
"Our students aren't running around getting coffee… they're rolling up their sleeves and they are neck deep in the work," Goodwin said. "From play testing to level design to concept design, they're doing all of it."
This was the first in-person MRC Arcade event in two years. The studio was built in 2019 and opened in 2020.
"We're hoping to make this an annual event where we will showcase work each year," Goodwin said.
This year, Fossil Hunters, The Big Con, Little Learning Machines, Fire Tonight and an unnamed asteroid game were available to play. The MRC Studio had a hand in developing each of them.
Little Learning Machines and the asteroid game are both unreleased, but the others can be found on Steam and other gaming platforms.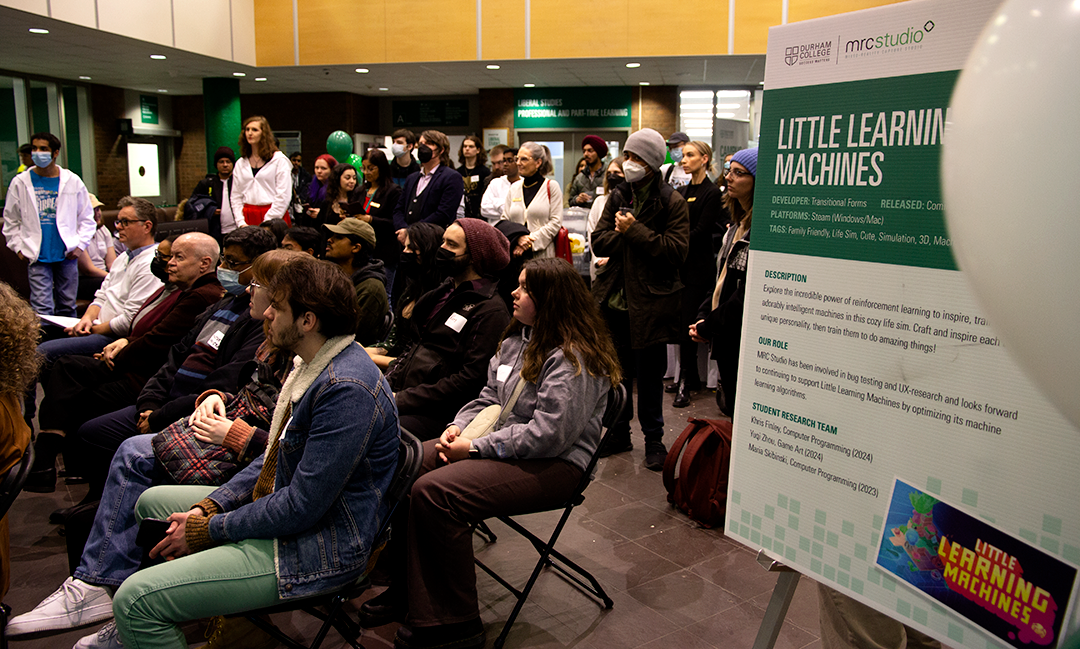 Zoey Straw, a third-year student in the Computer Programming and Analysis program and a research assistant with the MRC Studio, was one of many student helpers in charge of the gaming stations.
"I've just been having a lot of fun hanging out with people and showing them these games," she said.
Brandon Purdy, a Business Finance student was one of the many attendees who joined the event.
"Just to see more events like this is really exciting," he said.
Deanna Trainer is a first-year student in the Game Art program, and like many of her peers, she heard about the event through Discord, a communication app the program uses.
"I just hope it, like, maybe sparks an interest in what it is we all do here." she said. "When I tell them I'm in Game Art I have to really over-explain what I'm doing and I think events like this really help people grasp what it is I'm doing and the rest of the people in my program are doing."
Meanwhile, Miller hinted there is more to come from the MRC Studio.
"We have a lot of really cool games that I can't talk about tonight and I can't wait to show off." he said.