The Durham College men's and women's rugby teams are taking some well-earned time off following flawless seasons.
The women's team won all twenty games, while the men's team finished with a perfect 6-0 record.
This season was this first time the men's team has ever gone undefeated, and the second time they have faced the Georgian Grizzlies for a gold medal.
In 2019, the Lords played the Grizzlies in the final in Barrie. That was the second gold medal for men's rugby in program history. This year, they made it three.
"Honestly, usually the dressing room is, like, really loud and, like, blasting music but for this game it was silent," said Tyler Janes.
"Like, the boys just put their head down, just took a minute to really think about every single second coming up to that point, that we worked hard for that gold. We were super zoned in."
The Lords and Grizzlies are longtime rivals. Georgian defeated Durham by two points in the semi-final game last year. This year, Durham beat them on home field in their one regular season match.
Janes was proud to beat the Grizzlies on their field after people doubted the Lords could beat them.
"I think that was just the best for me because the build up to that game everyone was saying Georgian is a team to beat but turned out it was us," he said.
In this year's gold medal match, Durham took the lead early in the game and maintained it to the final whistle. Passion and support radiated from the packed sidelines as the Lords and Grizzlies battled it out on the field.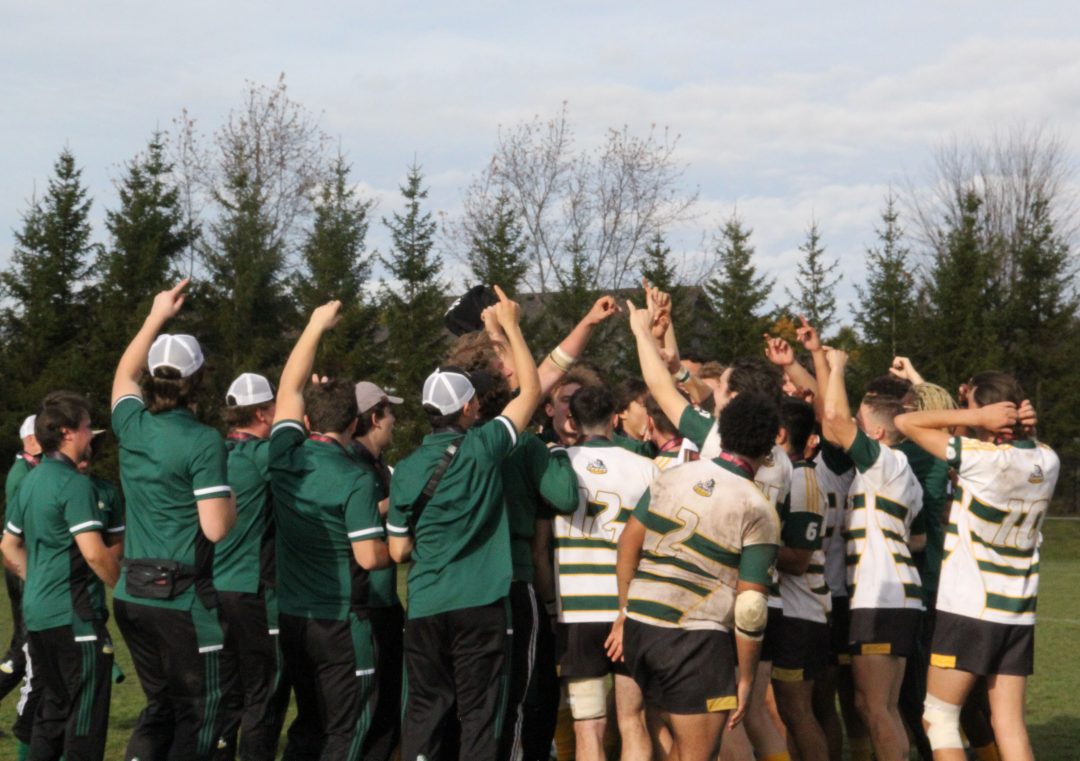 The team started training in August, building their values and setting goals for the season ahead of them.
"They worked extremely hard, and they were very, very committed, all 33 players on the roster," said head coach John Watkins.
For some of the Lords' players, this was their final season and the last time they got to represent Durham College or play rugby together.
Senior player Aaron Ramlochan has played rugby for eight years, four of them with the Lords. He has no aspirations to go pro, but he plans to take all the memories and friendships with him.
"There was a lot of emotions going into the last game," he said, "knowing that this is my last time putting on the green and gold and that this is a fight we are all going to have to endure together."

The Lords ended the match on an even higher note after sweeping up many of the OCAA awards.
Brendyn Beck was named men's rugby Player of the Year, scoring champion and a league all-star, along with Patrick Lynch, Jimmy Stockwood and Jack MacIntosh. Janes won OCAA Rookie of the Year and Watkins took home Coach of the Yaar.