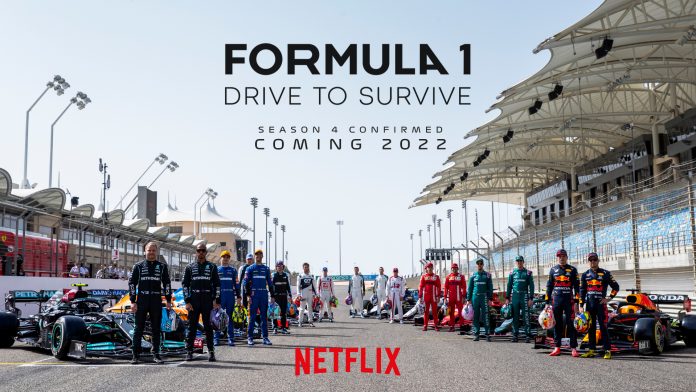 The plan to have a Netflix docuseries about men who drive in circles was one of the streaming service's best plans to date.
Formula 1 officially began in 1950 and has captured the hearts of people all over the world. As generations pass, the racing sport gains new fans and viewers.
Just as these speedy machines gain momentum, so did the fan base after Netflix released Formula 1: Drive to Survive.
With the first season being released in 2019, the docuseries looks at the drivers, the teams and the behind-the-scenes of lives on the track and off.
After a successful three seasons, Drive to Survive came back bigger and stronger with the fourth season, which dropped March 11, 2022, and had over four million viewers watch in the opening weekend.
Season Four is the best season to date. The pace is much more enjoyable than the previous seasons, which felt repetitive, and the drama was blown out of proportion. We see the comeback from covid, the take down of the winning team and, as usual, the clash between drivers, team principals and the FIA.
Covid-19 went from attacking our personal lives to embedding itself in movies and TV shows. With a show like Drive to Survive, which is based on real life, viewers saw the toll it took on Formula One and as a result, this made Season Three a tough watch.
Despite how terrible the pandemic has been, it brought a fresh audience into the world of Formula One. All that was possible because everyone was stuck at home looking for something to binge.
People easily became hooked and when the Formula One season started again, there was an increase in global views. The sport was known to be European-dominated, with some interest from North America. However, having the show on Netflix opened the sport up to a new audience.
Drive to Survive became popular in the Czech Republic, Ireland and South Africa. That goes to show the impact the show has had globally.
The thing with Drive to Survive is that many F1 fans hate the show. They find it inaccurate and overdramatized. Netflix has curated the show so that new people can get a taste for what racing is.
The docuseries will hook viewers then serve as a segue for people to learn more on their own.
After four successful seasons, Drive to Survive is not slowing down.
The fifth season was released on Netflix February 24, 2023, just ahead of the F1 2023 season.