Pierre Poilievre, who has served as the leader of the Conservative Party of Canada and the leader of the Official Opposition since 2022, recently called a "press conference" in which the press wouldn't be allowed to ask questions.
This didn't sit well with Global News' chief political correspondent, David Akin, who went off on Poilievre using some colourful language.
"We're not his f****** stenographers. And you can tell him that," Akin told Anthony Koch, Poilievre's press secretary.
Akin issued an apology to Poilievre. Was one returned to Akin and the media for calling a press conference then denying the reporters' ability to do their job?
No.
Instead, the leader, who ran on a platform of "national freedom", capitalized on the incident telling followers in an email he needs their help getting around the media.
Both journalists and politicians have a responsibility to public discourse, and as such, one side cannot wall themselves off from the other.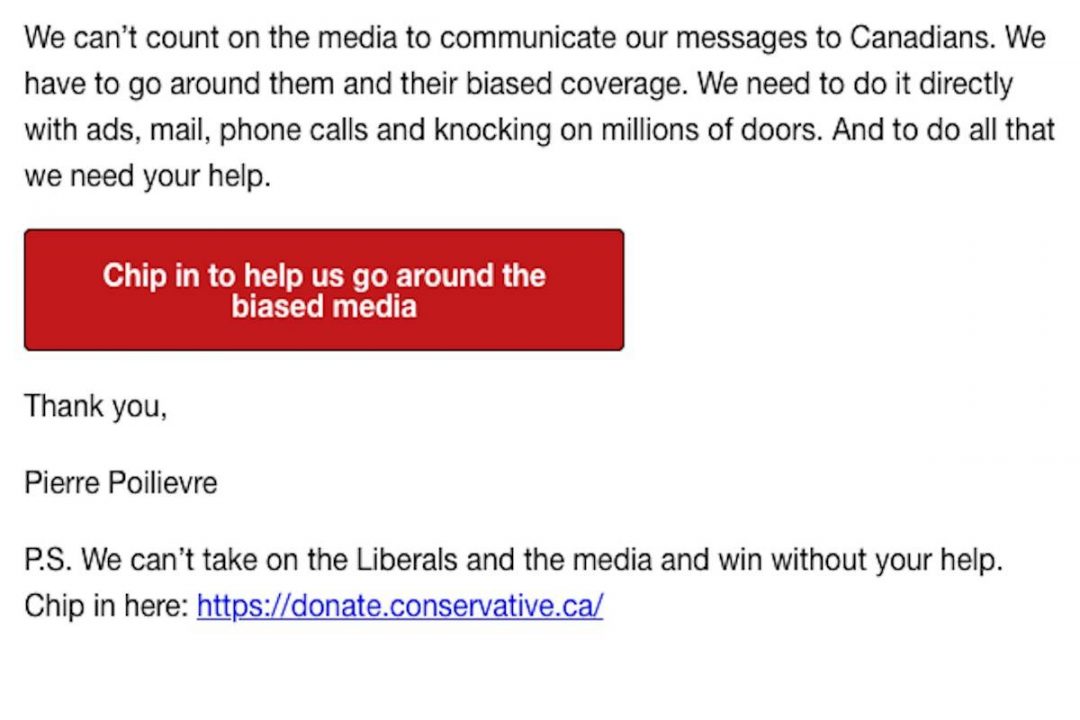 This blatant disregard for the public must stop. The public deserves answers and it is a journalist's job to ask questions to get those answers.
Ontario Premier, Doug Ford, has made a sport out of dodging questions from reporters: something he's not likely to stop any time soon.
At a campaign stop for Ford at the Hamilton International Airport in May of this year, Toronto-based lawyer Caryma Sa'd was arrested for allegedly trespassing while taking part in a public rally against Ford. Sa'd tweeted out that she wasn't even part of the protest. When pressed on Sa'd's arrest, Ford's response was anything but an answer.
"Do you believe that those who dissent or disagree with Doug Ford should be arrested or ticketed?" asked Global News' Sean O'Shea.
"Well again, we do these events all across Ontario, we had a really great rally here in Hamilton and I just really appreciate everyone's support in the Hammer," Ford told reporters at the time.
These types of non-answers are exactly why the public is losing trust in the government.
In 2021, a Canadian survey by The Edelman Trust Barometer, a yearly survey of trust in media, businesses and governments in 28 countries, revealed 46 per cent of those surveyed agreed "government leaders are deliberately trying to mislead people by saying things they know are false or gross exaggerations."
The same thing is said about journalists. According to the same study, 49 per cent of Canadians believe reporters are deliberately trying to mislead the public.
The broken communication between government and media is adding to the levels of distrust.
A free and open media is a crucial part of a democratic society.
If politicians can refuse to take questions at a press conference or provide non-answers to direct questions then journalists aren't able to hold government officials accountable. As a result, not only is the public is not getting information they need to be informed citizens, they are losing trust in both government and journalists.
That is a problem.
In a study done on June 8 of this year by Abacus Data, a research firm that helps organizations gauge public opinion and interests, 52 per cent of Canadians surveyed agreed "official government accounts can't be trusted."
In the time that we've seen the level of trust in the government dip, we have also seen some politicians resort to newer, and in some cases, more "extreme" tactics.
Maxime Bernier, leader of the People's Party of Canada, has his own way of dealing with reporters.
He posted the emails of three reporters and told his supporters to "play dirty" on Twitter last year. The tweet has since been deleted.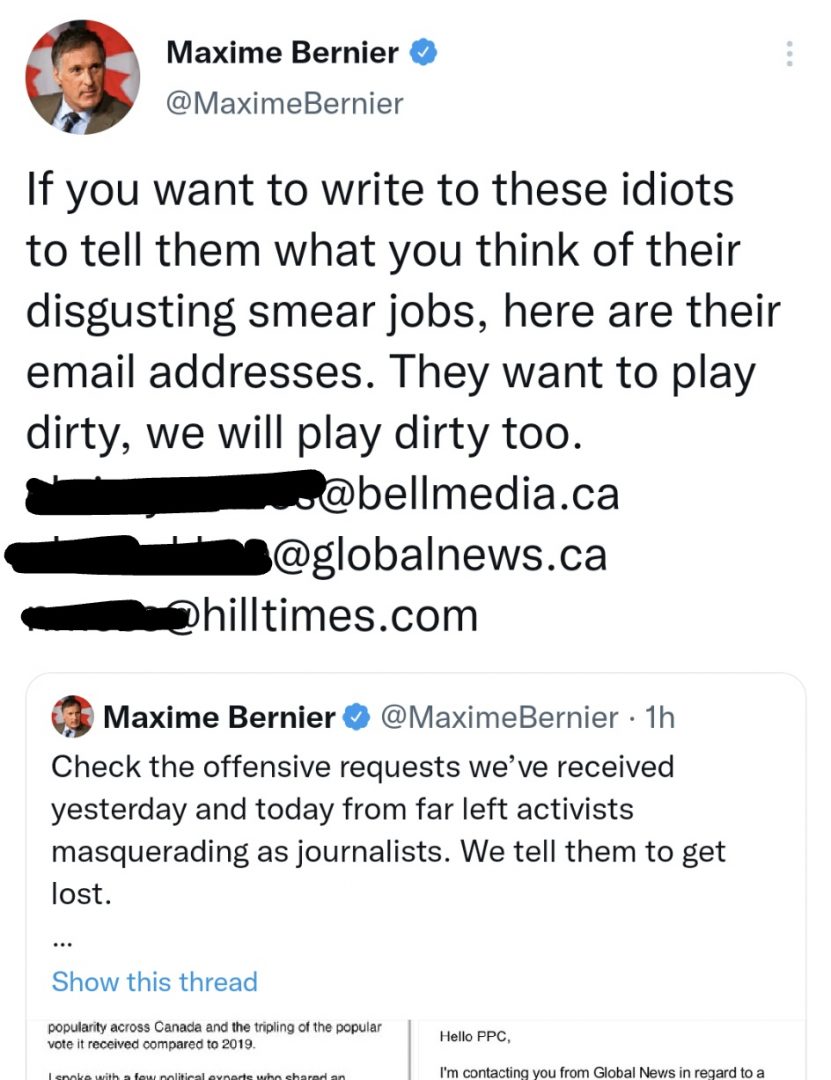 This is a big shift from simply refusing to answer any questions from the media.
Considering the rise in harassment towards journalists and politicians in recent years, it's never been more clear that the relationship between government, media and the public just isn't working.
This brings us back to the fact that journalists have a responsibility to ask questions on behalf of the public and politicians have an obligation to answer them truthfully.
If this process continues to be ignored, then this already delicate relationship will worsen.