Elder Dr. Shirley Williams shared her experience as residential school survivor with students and faculty as part of the college's second annual Day for Truth and Reconciliation ceremony.
Williams talked about being taken from her home at 10-years-old, and what she had to endure for years after that. She cried as she told stories of the gates closing behind her and the other Indigenous children as the bus arrived at the school.
"I heard this clanking sound that was never erased from my mind," Williams said. "Something happened to me there."
She learned what humiliation felt like and talked about the punishment she faced, such as times when she would get the strap, or when she was forced to sleep on a straw bed. She says she could hear young children crying in bed at night because they were missing their families.
"I learned in order to survive in an unfriendly world," she says.
Williams says she quit the residential school when she was 16-years-old, but not because she did not want an education.
"I could not endure anymore of what we were enduring in the residential school," she says.
Williams had to find her own way to an education. She says every child should have a good education and be accepted and understood.
Williams says she does not tell these stories because she is asking for sympathy. She tells them so people will understand, and so education can be changed.
"Education has a responsibility to correct the history, and also to correct the education, where they made a mistake," she says.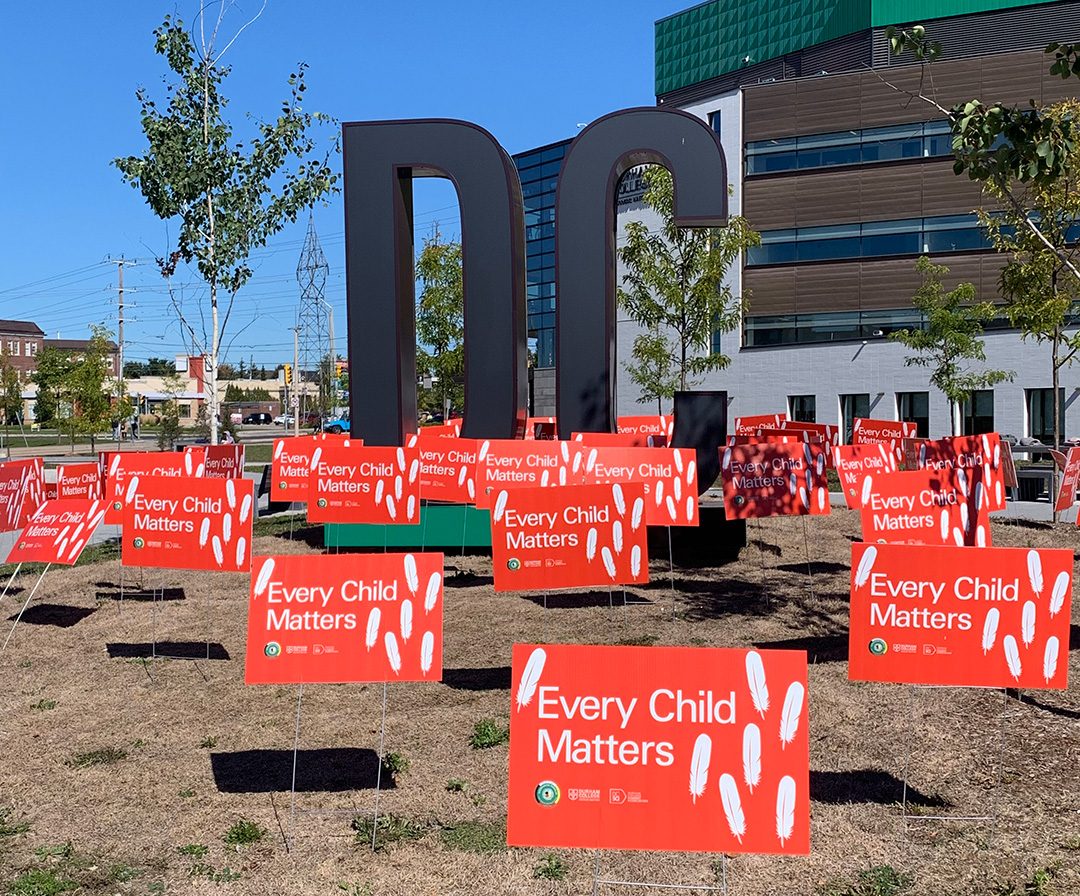 One way DC is working towards that is with new QR codes installed throughout the Naanaagide'endamowin Courtyard, according to Lucy Romao Vandepol, student development manager at DC.
"There are seven of them in total, the first one is in the First Peoples Indigenous Centre as an introduction to the 'QR Pathways for Pause and Reflection,'" she says, "and the other ones are throughout the courtyard to encourage people to take a moment, to pause, to reflect and to enhance their education."
Romao Vandepol says the QR codes brings up information about things such as sacred medicines, the Land Acknowledgement, and the Indigenous reconciliation modules accessible to all students.
The courtyard was named last year by Williams on the first National Day for Truth and Reconciliation.
This year, along with the QR codes, DC is revealing a naming stone. It will be placed on the west side of the garden because in medicine wheel teachings the heart is represented in the west, according to Don Lovisa, president of Durham College.
Lovisa says the hope is visitors will come to the space to seek knowledge and to learn more about truth and reconciliation.